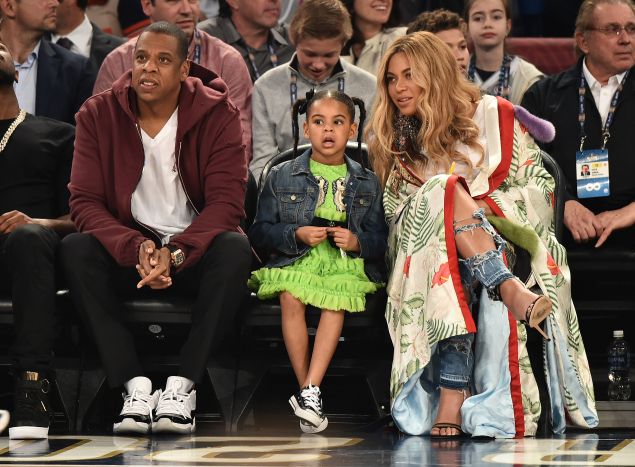 A growing family often means one needs to expand their living quarters, so when Beyoncé and Jay Z announced that they were expecting twins, of course the pair decided to check out some new homes.
And in typical Beyoncé and Jay Z fashion, they are not looking at any old abode. The pair reportedly just put in a staggering $120 million bid on an extravagant Bel Air home, per Page Six. It comes with all the necessities, like space for a recording studio and no less than six separate structures, to create a compound-like feel. It makes Angelina Jolie's reported $25 million offer on the Cecil B. DeMille estate look like pocket change…
The couple is reportedly planning on moving their family from New York to Los Angeles this June, once their twins arrive, for more privacy. If they get this eight-bedroom, eleven-bathroom home, that surely won't be an issue, considering there are bulletproof windows and a metal security gate. It's located atop a hill in Bel Air's East Gate area, further adding to its secluded and safe nature.
The abode encompasses approximately 30,000 square feet of interior space, as well as 10,000 square feet of outdoor living quarters. All of that is spread over nearly two acres, so there is surely enough room for Beyoncé and Jay Z, Blue Ivy and their growing family.
Architect Paul McClean designed the home, which is also equipped with spa, complete with a hot tub, sauna and steam room, as well as a media room and a garage with space for a casual fifteen cars.
The $120 million offer the couple made isn't even the full listing price—in fact, the manse is being shopped around off-market for $135 million, but it's not known if there are any other offers on it at the moment. And really, who would make better owners than these two?
They aren't the only couple both changing up their house arrangements and expecting twins, though—George and Amal Clooney reportedly bought an apartment at 100 East 53rd Street, just one floor below Clooney's pals, Rande Gerber and Cindy Crawford. However, the Clooneys have since decided to make the move to London, where they plan on raising their children for a few years.