Selena Gomez, surprisingly enough, has been the reigning queen of Instagram, despite her outspoken distaste for the app. Now, it looks like Queen B is coming for her throne. Over the weekend, Beyoncé's popularity, and ability to generate revenue for potential #sponcon, surpassed Gomez's previous Instagram prowess.
Beyoncé's current valuation was decided by D'Marie, the social media analytics firm that previously figured out that Selena Gomez's social media posts could be worth half a million dollars. D'Marie uses a 56-point algorithm to deduce a celebrity's ability to generate revenue on the app. The algorithm's factors include followers, reach, engagement, posting frequency and potential sales conversion.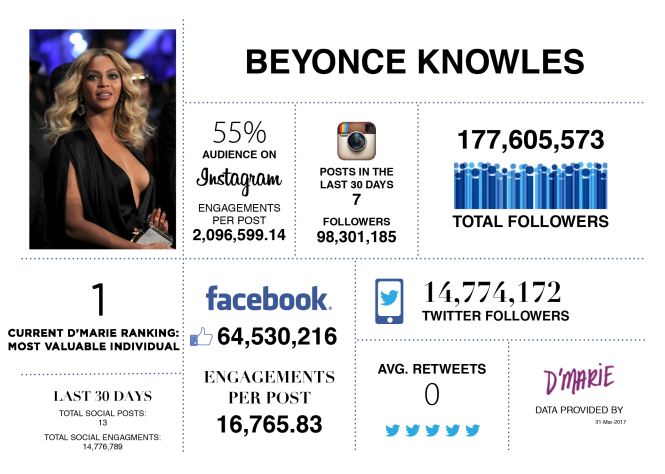 After Beyoncé unseated Gomez's most-liked photo of all time with her pregnancy announcement, the pop star has been posting up a storm. Her recent spike in engagement made her Instagram even more valuable than before. Now, if Beyoncé started advertising fit tea and mirrored sunglasses like an influencer, she could make up to $1,000,000 per post.
While it's less than likely that Beyoncé is going to start posting like a Bachelor contestant (and she's certainly not going to start posing in a ruffled romper), there are plenty of opportunities to advertise and increase her personal brand subtly, whether it's by promoting her athleisure line Ivy Park or teasing her proteges Chloe x Halle's music—and they won't even have to pay her a million dollars.