It may seem like the Riesling-soaked curtain has fallen on HBO's mini-series adaptation of Liane Moriarty's novel, Big Little Lies, which concluded its seven-episode run two weeks ago. But luckily for all you Canary Row real estate porn fans out there, Moriarty is already dropping hints about a second season, which would ostensibly continue following the same characters past where the original story ended. (As opposed to a True Detective-esque anthology.) Which is great, since despite all the breathless reviews of the show's finale, I was left with a BUNCH of questions I would love to see addressed in Big Little Lies Season 2:¿PROBLEM?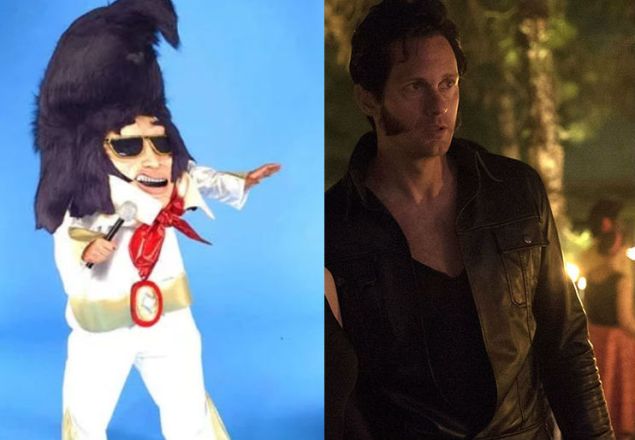 The Mystery of How to Get Out of Monterey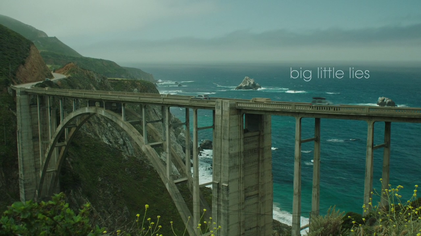 As someone who has lived in California for all of 12 days, I know that winter floods have made it impossible to travel on Bixby Bridge, which is the one BLL uses a lot in its establishing shots. There's other ways to get to Monterery, according to at least five friends who claim to be experts on the matter, but none are quite so scenic. Which COULD be a cool plot device: Celeste (Nicole Kidman), Madeline (Reese Witherspoon), Jane (Shailene Woodley), Renata (Laura Dern) and Bonnie (Zoë Kravitz) trying to keep that big, terrible secret between them with an open investigation, a townful of gossipy parents, and nowhere to run. But more than likely it will just turn out Ed (Adam Scott) knows how to fly prop aeroplanes or something. Speaking of…
2. The Mystery of Why Ed Wasn't Played By A John Carroll Lynch-Type
Ed MacKenzie is supposed to be Madeline's shlub of a second husband, the guy she overlooks and takes for granted and finds so lame and boring that she has to get it on with the guy from Heroes. Look guys, I know we all loved Adam Scott as the affable Ben Wyatt on Parks and Recreation, but he's mostly wasted playing second fiddle to another chirpy, ambitious, Alpha-Blond. And it's a complete visual disconnect: Ed is so much hotter and younger (and a better, if completely implausible, Elvis impersonator) than Madeline's first husband that it undercuts his whole "I'm just a shlubby loser" shtick and makes it REALLY hard to suspend one's disbelief about his supposed lack of sexual virility.
3. The Mystery of How Jane Chapman Can Afford to Live in Monterey
Big Little Lies establishes pretty early on that its characters live in the IRL equivalent of your Dream Vacation Pinterest board. It's also established that Chapman is a single mother who can't even find part-time work as a bookkeeper. So how is she living in the same school district as women who literally live in glass houses?
4. The Mystery of How a Whole City Can Confuse 'Trivia' for 'Definitely Not Trivia'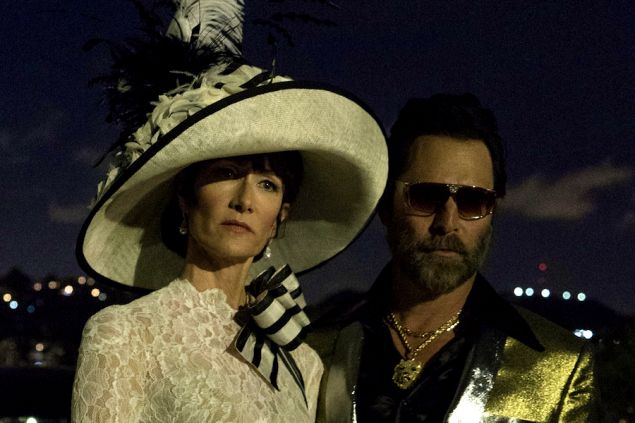 Ironic for a mystery show that uses its townspeople as a Greek chorus, Big Little Lies' first season mystery was hinged on a school-sponsored "Trivia Night" murder. But as Dana pointed out in a recent piece, trivia is in no way a part of that Audrey Hepburn/Elvis-themed event (which…ugh, we'll get to that in a moment). Which is a total disappointment, as I was ONLY watching the show to see if Trivia Night was going to limit itself solely to Breakfast at Tiffany's-themed questions or if it was just regular trivia where everyone is dressed up. PLEASE ADDRESS, SEASON TWO!
5. The Mystery of Who Coined the Term 'Helicopter Parent'
The principal on Big Little Lies tells the police he came up with the term "Helicopter Parents" in his dissertation, which begs the question: Does this show take place in a reality where Foster Cline and Jim Fay never existed? (Thanks Wikipedia!)
6. The Mystery of What Perry Did For a Living
Traveling…tennis player? Watch model? Self-salesman?
7. The Mystery of Renata's Husband Not Being Greg Kinnear
HOW is this not Greg Kinnear??? (Apologies to Jeffrey Nordling.)
8. The Mystery of What Audrey Hepburn Has in Common With Elvis, Anyway
Did Elvis and Audrey Hepburn ever meet? What is the connection there? Based on some preliminary Quora research…maybe?
Elvis was very self conscious about people watching him eat (note: other than those who he trusted, loved, befriended, knew well, etc.), and a perfect example of this is the photographs/video of Elvis during his Jaycees Award in 1971 where Elvis appeared in person to accept this award and to speak (note: this was one of the awards that Elvis cherished and his emotions speak volumes on the video and audio recordings) Elvis was very hungry and everyone around him was enjoying the great food but Elvis just picked at it as he was always aware that all eyes were on him, and in this case he was surrounded by his friends and he said (in part) "my she is tiny" and " I don't normally like short hair on women but on her and Debra (meaning Paget when she appeared with Elvis on the Milton Berle TV show) it's something else".

As she was leaving, as she had arrived there much earlier than Elvis, she made eye contact with Elvis just as he was biting into his second cheeseburger and in later years he fondly recalled the visual impression she left on him.
Okay, that's a legit great story. Nevermind.
10. The Mystery of Why No One is Talking About How Much Big Little Lies Bites Off The Affair
I mean, if Ed singing "The Wonder of You" wasn't a direct lift of Scotty Lockhart singing "The House of Rising Son" in the eerily prescient season 2 finale of Showtime's least fun drama (besides all the others), I'll eat my hat. Plus, the whole "it takes a town" model as applied to murder? That's some straight Solloway shit.
10. The Mystery of Why Everyone Thinks Big Little Lies is Sooooo Good
It's like…okay. Fine. Passable, even. But seven episodes is SO FEW EPISODES! It's the least amount of programming a TV show can have. If you only have seven hours to tell your story, maybe tone down the amount of dream sequences and straight-through Avenue Q numbers and focus on dealing with these big, gaping plot holes? Just a thought.