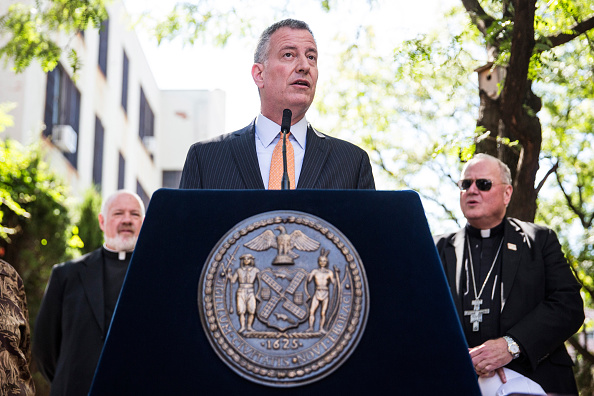 On the final day of his five-day "City Hall in Your Borough" sojourn on Staten Island, Mayor Bill de Blasio asserted that the stopover in the conservative borough—the only one he lost in the 2013 election—was meant as an "action week," not a "listening week."
On Monday, de Blasio kicked off the week-long visit that falls during an election year for the mayoral post that aimed to provide him and his administration with an opportunity to speak with community leaders and residents. Calling into his weekly "Ask the Mayor" segment on WNYC from Staten Island Borough Hall, he disputed host Brian Lehrer's characterization of the junket as a listening tour.
"It's been much more of an action week than a listening week," de Blasio insisted. "This is literally moving all of the operations at City Hall out to Staten Island to intensively focus on the issues of Staten Island, expedite a lot of the solutions."
"But the biggest impact of the week, I think, was having commissioners of all the agencies out there," he continued.
During his week on Staten Island, de Blasio announced a preliminary progress report for the NYPD's neighborhood policing program, which pairs officers with local leaders. He also joined a road repaving crew on an overnight shift repaving streets in the pothole-plagued borough and announced a long-term plan to address the congestion in the ferry terminals.
Finally, last night, he also hosted a town hall meeting with Staten Island Councilwoman Debi Rose with Staten Island residents and met with a Staten Island family to discuss water rates.
He also held office hours for constituents at Staten Island Borough Hall, met with Staten Island Borough President James Oddo on priority issues in the borough and he, along with First Lady Chirlane McCray, joined a meeting of Oddo's substance abuse task force—intended to address the borough's heroin epidemic. And he toured the community center at New York City Housing Authority's Harbor Houses, making an announcement about the Cornerstone Program, year-round programs for adults and young people in 94 NYCHA community centers throughout the five boroughs.
During this week's segment of "Ask the Mayor," calls were reserved exclusively for Staten Island residents—both those who voted for him and those who did not.
De Blasio said that many people on Staten Island are registered Republicans and politically conservative so he is not surprised that they would not vote for him, noting that people usually "vote their values." He also recalled that, over decades, many people migrated out of the Democratic Party and into the Republican Party.
He maintained he knew plenty about the borough even before this jaunt across the harbor.
"I learned about some specific issues I didn't know enough about," he said. "But the basic realities of Staten Island—I had a good take on."
Still, a group of protesters standing across the street from Staten Island Borough Hall on the first day of "City Hall in Your Borough" called on de Blasio to save Skylight Center, a Staten Island-based not-for-profit psychosocial rehab program for people who have a mental illness. And a man de Blasio noted is a "professional heckler" showed up at his press conference on neighborhood policing saying that he prefers former NYPD detective Bo Dietl, who is running for mayor as an independent candidate.
He stressed that while the Rust Belt region of the United States has "too many areas that unfortunately have had too many failing economies," Staten Island has overall fared well.
"Staten Island overall in the scheme of things is an area that's doing well and a lot of people have good jobs and a lot of people in public service have good and secure jobs," he said.