World-weary is an attitude that Bill Nighy—not the Science Guy, the British star—often projects on camera. "I do faded pretty well," Nighy confesses, although he may be best known globally for villain Davy Jones's florid face of gnarly tentacles in the Pirates of the Caribbean franchise. In person, at midtown's tweedy new Whitby Hotel, the relaxed 67-year-old presents as that self-effacing charmer who perches at a party's fringe, spinning stories and effortlessly entertaining the guests that gravitate to him.
Endeared for memorable roles in Love Actually, Harry Potter and the Deathly Hallows, The Best Marigold Hotel and Hot Fuzz, Nighy currently pitches strong support in the WWII drama Their Finest, opening tomorrow. Lone Scherfig's female-driven homage to movie-making under fire stars Gemma Arterton (Prince of Persia, Quantum of Solace) as a naïve young copywriter who unexpectedly becomes a screenwriter for the British Ministry of Information. While the film focuses on sexism and the way women stepped up to responsible positions in the absence of able-bodied men, it also insightfully treats ageism.
Nighy portrays Ambrose Hilliard, a former leading man past his matinee-idol prime now reduced to playing an alcoholic uncle in the propaganda film within the film. "He's a chronically self-absorbed pompous actor in his declining years and they came to me because, you know…" He shrugs, pushing his prominent black specs up the bridge of his nose as a photographer snaps his picture, another packs their gear, and a waiter makes a racket delivering tea and water on a tray far too small for his beverage burden.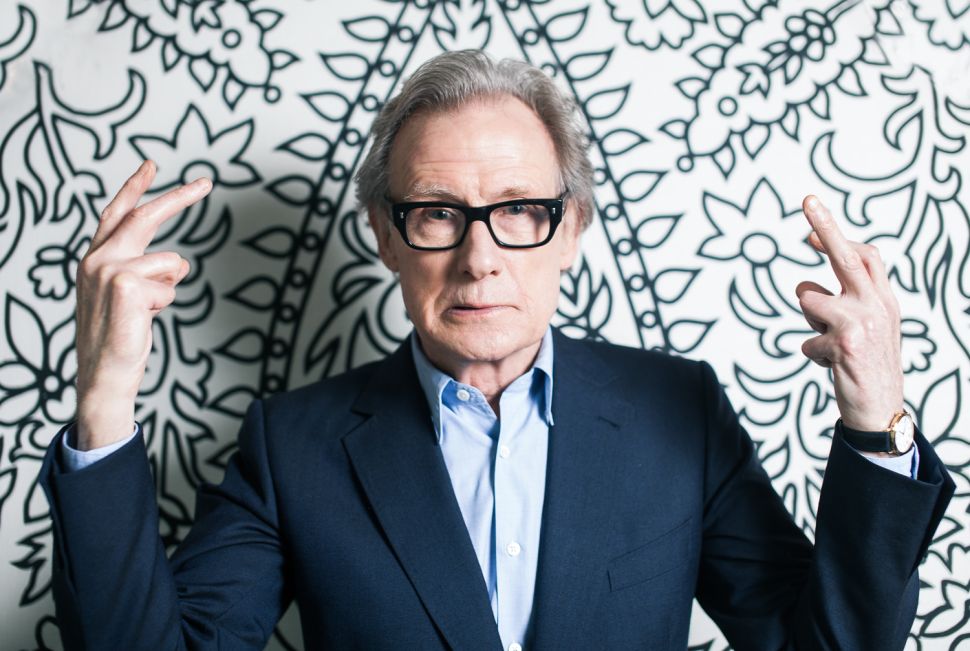 Undistracted, Nighy continues discussing the inevitability of aging, sighing: "It's hard to process on a bad day. But it's a very, very nice part, and I get to play two roles: the pompous actor and the part he's playing in the movie we're making."
The transition the fictional Hilliard undergoes—from leading man to supporting character who carries the buckets rather than the narrative arc—is one with which Nighy can identify. "I remember getting a phone call when I was about 39 from my agent, and she said, 'It's Hamlet, and it's Moscow, Tokyo.' She got halfway through, and I said, 'I don't wanna play Hamlet.' She said, 'No, no, no, not Hamlet, darling. Claudius.' And then you realize you've become Hamlet's uncle, and that's a big day in the life of any actor. And there was always that tricky period around your late 30s, early 40s where, you know, on a good day you look 36 and on a bad day you didn't."
Reminiscing, Nighy says that, following an audition, "you'd wait for the phone call that said, well, 'they liked you a lot,' you know, maybe, nobody ever says it but you know that they mean 'you're too long in the tooth for that particular role.' But I never really worry because I was never really good at being what you might call a romantic leading man. I could never take myself very seriously in those days. And it took me a long time to work out that you didn't have to be a romantic person. Or, I mean I am a romantic person, but you didn't have to be incredibly good looking or—you just had to act it. It took me ages to work that out."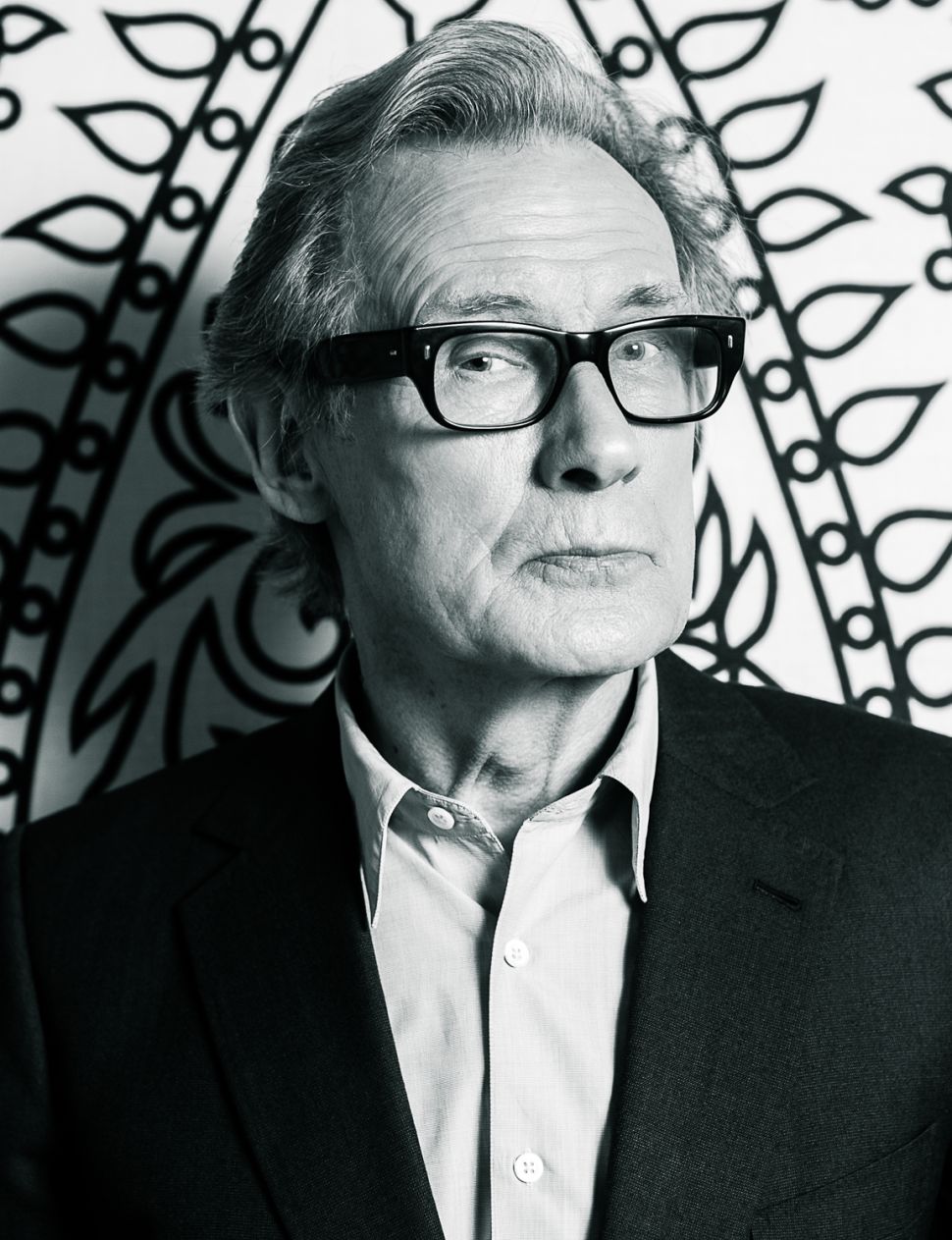 But clearly, he has. And it's his work ethic and prep that drew him to Scherfig. The Danish director, who broke out with the Dogme 95 hit Italian for Beginners and earned as Oscar nomination for An Education, praises Nighy: "He has a pretty strong feeling for what he's good at and how he can keep things lively. He has a very strong intuition and musicality that he can feel if things will land on both legs and therefore he's willing to take risks. If he was a violin player he would know the music by heart, and that enables you to improvise or phrase things differently."
Co-star Arterton chimes in: "He's just a dream, isn't he? Bill on set is full of surprises. I think his technique is he works very, very hard on the script and the rhythm but then makes it seem like it's off the cuff and it just came to him in the moment. And maybe bits of it do. So it's a dream to work with him because you can just react and he's the loveliest man and he just exuded generosity and charm and humor."
He's a trouper, adds Scherfig. "You see him drowning in ice cold water without ever complaining."
And Nighy has absolutely no complaints about working with a female director, looking a bit befuddled that this would even be a question: "I've worked with women in the past, and I mean, to be perfectly honest with you, I don't think it even occurred to me to think about it in those terms really. I've always just thought of Lone as Lone. I never worried about what gender she was. And I'm very accustomed to working with what might be broadly speaking described as feminist material given that I grew up through that revolution, you know. So I was fortunate."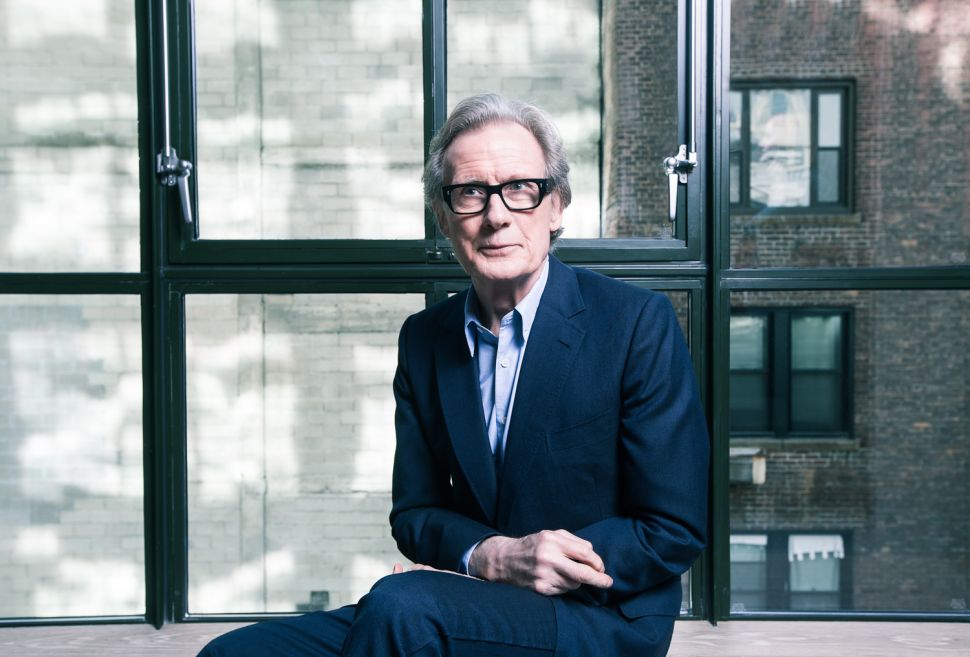 What revolution? Nighy's referring to the sexual revolution of the '60s and '70s. "The most important drug during the '60s and '70s was the pill," he recalls. "It was the thing that had the greatest impact. All the other drugs impeded progress because they were just bullshit short circuiting. But the pill is actually a progressive development."
Born in Caterham, England, in 1949, Nighy hailed from a traditional working-class family, imprinted by the straight-laced 50s. He explains, "My mom and dad were marvelous and very decent, straight-forward people. They had an arrangement which was very familiar to everyone in our street, everyone in our town, like everywhere in the world, like everywhere in America, like everywhere in Europe, you know, because they were working people. They needed two jobs to get by. But that was a familiar thing since the war. There was no lack of respect there or dignity for either of them. My parents were what you call a love affair. And whatever forms their lives took, whatever else they were, they were an expression of that."
Although Nighy was born in peacetime, the memories of bombed-out London and environs and the wartime privations depicted in Their Finest were still fresh. During the war, his mother worked on busses at night. "You didn't want to be on nights during the Second World War. It was a terrible idea."
Meanwhile, his car mechanic father volunteered for the Royal Air Force. "He worked on Spitfire airplanes during the Battle of Britain. And Spitfires were effective because they were made of balsa wood or something and they had a Rolls-Royce engine," Nighy says. "And if you started them up without any weight on the wingtips they would flip. So, what's the easiest thing to do?  Throw a couple of young mechanics like my father on the wingtips. That's what they used to do and start up this Rolls-Royce engine and then they would go and fight Germans. So, my father caught double pneumonia. He spent 18 months convalescing and was given the last sacraments three times."
The war was in many ways a great leveler—allowing women to work in increasingly responsible positions and, to a certain extent, shaking up the existing British class structure. While Nighy's father was recovering in a convalescent home, "he spent a lot of time for the first time in his life with officers," says Nighy, "which is one of the great phenomena of the war: the working class and the upper class in those days came in to close contact in a way that they hadn't before."
Of course, Nighy has an anecdote: "And I always remember him telling me that there was one officer that he became friendly with—and you can't overstate how big a deal that was then. Funnily enough, this officer took the time to try and teach my father how to tie a scarf as if it looked like he didn't give a damn. And he would give my father lessons in this art of very carefully arranging a scarf to look like you just threw that thing on and that's…" Nighy laughs. "The thought of my father as a young man taking instruction from a scarf-wearing pilot has always amused me."
Describing the war as basically occurring ten minutes before he was born, Nighy says, "The Second World War is obviously the big event in our lives and in European, in modern times, in modern history. All my family was involved. All my uncles were in the services, and food rationing had only just stopped when I was a kid. So it was a very fresh memory, and you know, the whole country had to recover."
While he doesn't look back at the time portrayed in Their Finest with nostalgia, making the movie allowed him to focus on that pivotal era that shaped his identity "when things were simplified. People didn't have time for any of the things that divide us, you know, the kind of petty squabbles. A war, albeit a dreadful experience, does provide an opportunity for people to combine with courage and compassion and focus on the things that unify them rather than the things that divide them."
This arc—from petty self-absorption to an individual of hidden strengths—describes Nighy's character, Ambrose Hilliard. Throughout Their Finest fans repeatedly approach Hilliard on the street or in the pub requesting he repeat his signature lines as a famous screen detective. Similarly, strangers frequently accost Nighy to repeat iconic lines from his greatest hits like Davy Jones from Pirates or the rocker Billy Mack in Love Actually.
Says Nighy, "People come up to me and ask me to say, 'Hiya kids, don't buy drugs. Become a pop star. People give you them for free.' And when I die, if I get an obituary, that's going to be the headline."