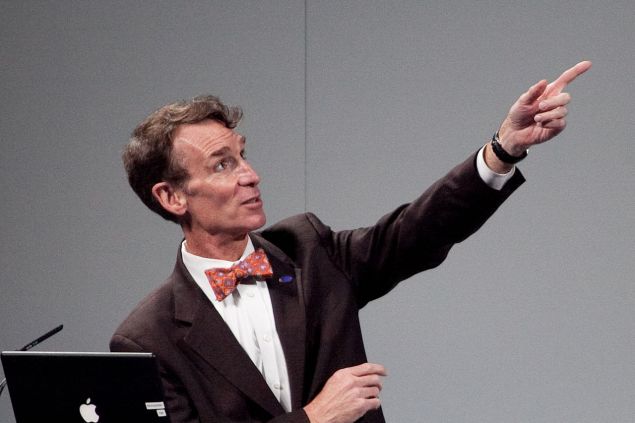 To '90s kids, Bill Nye is the happy, bow tied scientist who taught kids about everything from invertebrates to volcanoes.
But in 2017, he's apparently the personification of the "old man yells at cloud" meme.
That, at least, seems to be the consensus now that the Science Guy's Netflix show Bill Nye Saves the World has been online for almost a week. The show, which features correspondents ranging from "Space Gal" Emily Calandrelli to supermodel Karlie Kloss, aims to teach viewers of all ages about relevant scientific issues.
So far, however, tech and science reporters are comparing it to "being berated in front of a live studio audience by a bombastic old man." So what went wrong?
Some of the show's bits are undoubtedly cringeworthy, especially "My Sex Junk," a segment in which Crazy Ex-Girlfriend star Rachel Bloom sings about how "(her) vagina has its own voice." Over 40,000 people have given the video a thumbs down on YouTube:
https://www.youtube.com/watch?v=Wllc5gSc-N8
Others are admittedly kind of clever, like when Kloss taught rapper Desiigner about climate change by making his chocolate and sushi disappear:
https://www.youtube.com/watch?v=3979-fuAYXI
But while the exploits of Nye and his friends were considered educational fun in the '90s, it looks like the haze of nostalgia has lifted. For proof, just look at the show's Reddit thread, which (as usual for the site) is filled with trolls and haters.  Here are some of the most passionate comments:
"I think it's very telling that it's Bill Nye Saves the World. They dropped the science guy because he's evolved into a political activist that rants and raves instead of does science."
"Hearing Bill Nye say he was a 'cis-male' made me throw up in my mouth a little bit."
"He has a Steve Buscemi 'Hey there, fellow kids' vibe about it, and his panel discussions are useless."
"There will be people here on Reddit who pretend to like it, because they've been circle jerking to Nye for as long as they can remember. But the honest ones will call it what it is: a full-blown abomination. Someone took an agenda, gathered up some money, and slapped Bill Nye's name on it. Like putting a very old, shriveled up cherry on a shit sundae."
But as Polygon's Julia Alexander pointed out, things like this have been a part of Nye's schtick since he began making instructional videos. He may act like he doesn't know a lot about the internet, but he's actually a real life meme and late night fixture who ironically has held several Reddit AMAs in the past. He even won a Shorty Award for one of his climate change videos, and took the opportunity to joke about Snapchat:
Another common criticism of Nye is that he's become preachy in recent years—a so-called "social justice warrior" who rails against climate change deniers. But given that 97 percent of scientists agree that climate change is real, and that Netflix has given him a platform to educate almost 100 million people, it shouldn't be too surprising that Nye gets on a soapbox.
The outcry over Nye's new show using celebrity correspondents instead of kids does have some validity—nobody wants to see a nerd take off his pants and vogue next to Rachel Bloom. And admittedly Nye is no one's idea of natural talk show host—but that's kind of the point.
"It might not work for the scientist, and based on the criticism Nye has received it's apparent that it's not," Alexander writes. "But if you go in wanting a total revamp of Bill Nye the Science Guy, you're going to be disappointed."
Translation: If you want '90s nostalgia that doesn't make your brain hurt, watch Fuller House instead.