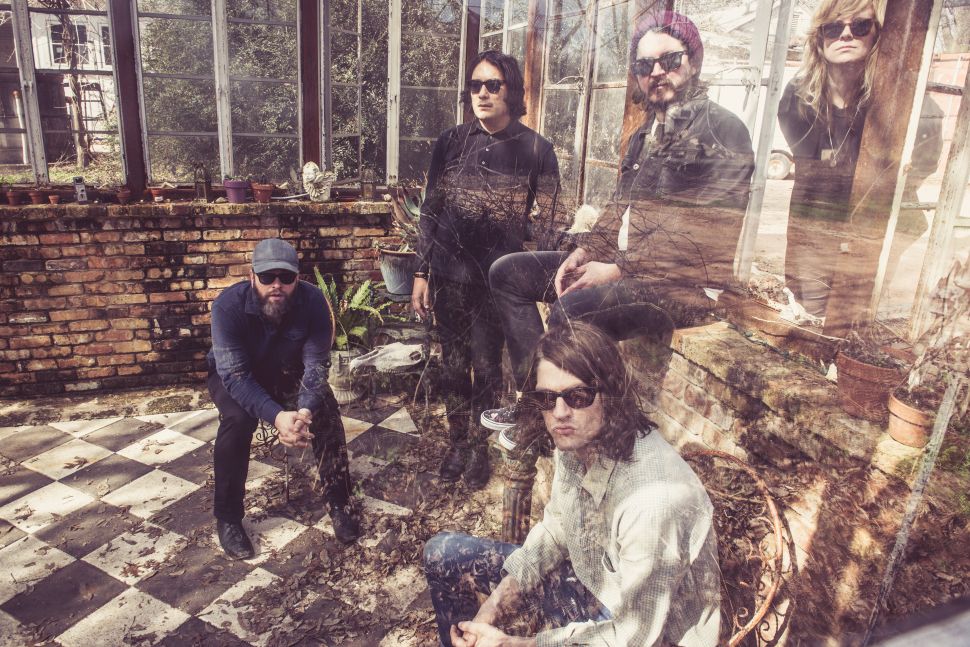 Embedded in its longwinded, found-footage narrative, filmmaker Adam Curtis' 2016 BBC documentary Hypernormalisation suggests the grim veil over what we consider to be counterculture ought to finally be lifted. How much of the art and culture we consume is truly independently conceived, and how much is brought forth by creators operating at the behest of the very commercial infrastructures they seem to be railing against?
Now that the business of protest music is booming, these questions merit further investigation. Advocating resistance and opposition is all well and good, but echo-chamber art ultimately feeds into the very buckets of identity-based consumption that divide us further.
It's important to remain pissed off and engaged, but it's also easy to just stop there, in self-satisfied smugness, clinging to the vast majority of songs that don't actually look problems directly in the eyes. My gut's already telling me to resist—of much more interest to me is the question of how to live in this new world, and how to survive.
On the surface, Austin, Texas, psych band The Black Angels don't seem like the sort of group that would have any stake in this discussion. Their sludgy, stoney riffs and plodding, slow-burn anthems build worlds wholly distinct from ours, weaving in an array of sonic touchstones from psych's rich, genre-hopping history to create an attitude of otherness that sounds unconcerned with modern existence.
But as stalwarts of Austin's music community since 2004 and harbingers of the current garage-psych revival, The Black Angels have managed to carve out their own scene in a city that's rapidly become home to cottage industries of tech startups and music business, of new millennial money and old capitalist ideas.
Alex Maas and Christian Bland started Levitation Fest, formerly Austin Psych Fest, with James Oswald and Rob Fitzpatrick in 2008 as a catch-all gathering of everyone weird under the sun, and have been feeding its panoply of new sounds into their heads ever since. They've recruited locals like projectionist Bob Mustachio to tour his liquid light show with the band, projecting sacred geometry visuals behind their performances and keeping the community spirit with them on the road.
And through the Reverberation Appreciation Society label, also founded Oswald and Fitzpatrick, they've also nurtured younger artists like fellow Austinites Holy Wave who are equally committed to actually keep Austin weird, not just on T-shirts and shot glasses at the airport, but in practice, too.
[youtube https://www.youtube.com/watch?v=qryaZmxdK1A]
This tremendous perspective on their own microcosm becomes half of the picture on The Black Angels' Death Song, their fifth album and an intentionally cheeky wink to anyone who's ever asked them if they took their name from that The Velvet Underground & Nico track.
While The Black Angels have always sounded heavy, Death Song finds the band pulling back on the sludge a bit, and putting a strong dose of heaviness into their lyrics and themes instead.
From opening song "Currency," which repeats the Federal Reserve's M.O. as some perverse mantra over swirling riffs, the album's concerns echo both their own community and the world at large, seeking to understand how larger systems affect their local universe. "Print and print the money that you spend, spend and spend the money that you print," intones bassist and lead singer Alex Maas with a presence that's urgent but detached.
"These threads throughout the record make up the larger blanket or quilt," Maas says.
"Let's call it a quilt, that's more comforting. It's an intertwine between how the world is working, relationship wise, on a micro level and a macro level. How we're communicating with each other on a day-to-day basis, and then how the world is communicating with each other, how politicians are communicating with each other, how we're trying to communicate our message to people in power…the whole communicative-based theme there is all one in the same, I think. There are a lot of relationship issues because of communication breakdowns, and you can hear that across the world, on a global level. On a micro level you have a lot of divorces, people that aren't able to work through their differences."
"We called it Death Song, but for me it's kinda the opposite," says guitarist and singer Christian Bland.
"In 1984 they have 'War is Peace, Freedom is Slavery.' The album for me is kind of 'Life Song' [also the name of the closing track]. I feel like the record is a manual you could give to somebody that's coming to the planet for the first time to give them a sense of what goes on here, what to expect…maybe how to figure things out for yourself."
Those plain truths don't always present solutions, but they present problems in a way conducive to epiphany. A lover decides he will no longer kill for another early on in "I'll Kill For Her", which also may be about America, and our singer is left paranoid and confused when that relationship disintegrates and he's left alone on the stunning "Half Believing." The marching rhythm of "Estimate" plays as a dirge to the natural order or the world, apocalypse pop written from the safety of a bunker after some unnamed catastrophe has already gone down.
[youtube https://www.youtube.com/watch?v=8YCxyLR6cv0]
Maas attributes this newly honed sense of thematic scope to the band's fascination with indigenous cultures, not in the way that an Austin transplant might disrespectfully don a tribal headdress as an accessory at a music festival, but rather through an appreciation of music as a practical tool for understanding the world.
"Using the mind to tell a story from generation to generation," he says. "Where are you supposed to fish? What's the time of year to plant your crops? This methodology of making a song a story about how to survive is an approach we've taken. In Native American culture they would be encouraged to write a death song, and in times of peril or danger, people would chant these songs they'd created since they were young. These death songs would help them get through really fucked up, hard times. If they were about to die they would chant this song, and it would help ease them into the afterlife. Or if something was completely chaotic or tragic, and the white man came to destroy their family, they would sing these songs to help them cope with it."
"I think this record has that notion applied to it—these are chance chants. Then you take a step back and look at other stuff we've written as not focused on one package, but those elements are a thread throughout our other records. A lot of people compare this to Passover because Passover spoke on these topics that are a little bit more dangerous, but again, the thread goes throughout. As a musician, it's O.K. and fun to go outside of those parameters. You don't wanna put parameters on your art."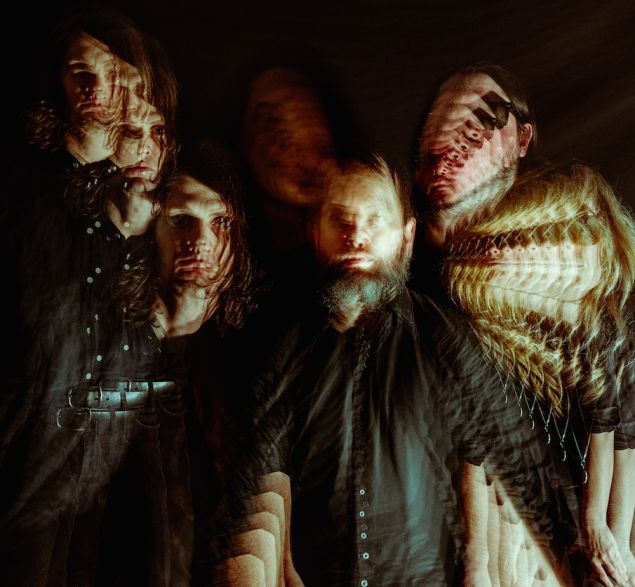 The Black Angels famously supported Austin's original psychedelic rock cosmonaut, The 13th Floor Elevators frontman Roky Erickson, acting as his backing band for years and taking him around the world on tour with them before reuniting The Elevators at Levitation Fest a few years ago. Bland says that beyond genre or style, Erickson's philosophy has taught the band how to remain open and keep growing, even when the same themes of distrust and paranoia that run through Death Song creep into their neighborhoods.
"Talk to everybody, don't keep a closed mind," says Bland. "One of the things we try to think about with our music is what the 13th Floor Elevators said [on 'Roller Coaster'], 'Open up your mind and let everything come through.' Be open and willing to hear people out instead of judging based on looks or whatever. Be open at first, talk to somebody, and if you find out they don't agree with you, stand your ground."
Standing their ground took on a literal relevance last year, when Levitation Fest was cancelled at the absolute last minute by Travis County due to the impending weather after Austin saw more rainfall than usual. The Colorado River runs through the city, but it's normally dammed off, and last year they let the dams down when the river got too high. That weekend forecasted heavy rainfall, and the authorities didn't want Carson Creek Ranch, where the festival held, to flood.
[youtube https://www.youtube.com/watch?v=BSB3ur1c5vE]
"Our insurance for the festival didn't end up covering everything, so there was this horrible position this year where we just weren't able to have it," says Bland. "Our goal is to go back to square one about the way that we did it the first year, we're gonna have to build it back up to what we had. And it'll be easier to build back up because we have people that wanna come to it, and people know about it, so I'm hoping that the process will be quicker and we can get back to how we had it."
Not discounting the community around Levitation, Bland, Maas and the other Angels understand that maintaining a healthy dialogue with the weirdest people in town is essential to keeping their own music pulsing with fresh ideas.
"What we listen to we soak up like a sponge, and it comes back out filtered through us, so naturally, it's gonna sound a little different," says Bland. "If we're writing something for instance, one way is, 'Do a Grace Slick wail right here' or in a song we'll be like, 'You know how at the end of Sgt Pepper's 'A Day in the Life' it starts to crescendo? Let's try and do something like that.' Everything that we've ever listened to somehow gets filtered into the music."
"Seeing where that psychedelic community was 50 years ago, where it was 15 years ago and where it is now…" begins Maas. "I've lived in Austin 17 years, so I have seen this influx of ideology and this movement toward psychedelia, toward the sound of it. It's interesting to me because I see psychedelia in all types of music—I hear it in Wu-Tang. And when I listened to Death Song, there were psychedelic moments, but I don't hear a psychedelic record."
Maas' perspective on the record makes a whole lot of sense. Death Song lives in the moments when the trip ends, when the illusory utopia has vanished and the traveler is left feeling disappointed, insecure, paranoid or lonely.
Madness has long been a theme for The Black Angels. They learned from bands like The Elevators that you can't dose yourself every time you play a show or your mind melts. But even implied by the red, white and blue color scheme of Christian Bland's kaleidoscopic Death Song cover, with its cartoony typeface resembling the Bazooka Joe lettering, is the idea that The Black Angels are pulling back the reverb just a little bit and letting the haunted house keys of the mellotron make pop music for a new society, heavy epiphanies gleamed from self-induced states of insanity, packaged with riffs and hooks that beg to be revisited.
It's another trick pulled from the rich canon of American psychedelia, best exemplified for me in the apocalyptic pop of Aquarian-age bands like Quicksilver Messenger Service.
"Did you ever listen to that Relatively Clean Rivers record?" asks Maas. "In many ways this is a toxic country, a toxic world. What we're putting in our bodies, what we're putting in our food, just every single thing is cancerous. That's what I see, and I feel like you blame the FDA that's made up of the heads of Pepsi and all these people making decisions for us and our kids. No wonder no one can study in class, no wonder everyone's bouncing off the walls and shooting up the place. We are what we eat—insane, bullshit food."
The great hat trick of The Black Angels' Death Song, then, becomes its ability to function as the most thematically resonant, timely work the band has ever made, while simultaneously functioning as a record full of hooks and grooves that requires no deeper context or understanding to appreciate.
"For us, the stomach and the brain are one and the same. I think we're probably firstly body music, but the brain is always connected to that. It's necessary. If we were a band that was just starting off it might be heavy one way or the other, but now it's all-encompassing."
Death Song is out on April 21. The Black Angels play Brooklyn Steel on May 2.