"It really makes me feel old when people your age come up to me and say 'oh my god, your first teen book changed my life,'" Bobbi Brown explained. I didn't want to make the goddess of no-makeup makeup feel old by any means, but that book did have a huge impact on my approach to makeup. In fact, Bobbi Brown Teenage Beauty, which was published in 2000, has inherently shaped the pared down makeup look I apply every single morning. I find no greater compliment than when people tell me that it looks like I'm not wearing makeup, when I know that I spent a full 30 minutes painstakingly applying foundation, coverup and just the subtlest smudge of eyeliner.
Even my mom is a fan of Brown's beauty tomes; she recently told me that she still has Bobbi Brown Beauty, first published in 1997, on her bookshelf. Brown told me that she considers that book to be an "early blog and early Instagram, using a lot of photos that existed already." Exactly 20 years after that cosmetics guide hit the bookshelves, Brown is releasing yet another book, Beauty From the Inside Out. As expected, the beauty maven's life has changed significantly since then, most notably due to the fact that she is no longer associated with her eponymous range of cosmetics. She stepped down from her role at the Estée Lauder owned company at the end of 2016, to much chatter about what her next steps would be.
Clearly, this book, which happens to be her ninth, was one of them. Actually, Brown was working on it well before leaving Bobbi Brown Cosmetics, but it had little effect on the final product. "If you look at my other books, I rarely had my name on products, because even though I was the founder of this company, I was also known as a beauty expert and I never, ever, ever promoted my own products." Though the colorful pictures do depict some unbranded products from her former brand, there are no direct references to the name of the bronzer used or the color of the lip pencil pictured.
In fact, the whole book happens to be pretty light on makeup tips. The first 125 pages are all about food, wellness and fitness, with kale-heavy recipes to replicate and interviews with fitfluencer Hannah Bronfman, professional volleyball player Gabrielle Reece, models Elle Macpherson and Maye Musk, plus actress Olivia Munn.
"The only reason I even have makeup in there is because the publisher insisted," Brown admitted, pointing out that there are only so many times she can tell women how to use eyeliner. She based the concept of Beauty From the Inside Out on her own experience of seeing how the food she put in her body was more important than the makeup she was putting on her face. As she puts it, treating your body properly is better than any concealer out there. But Brown still considers herself to be a foodie and dines out often with her husband, who's not such a huge fan of eating "hippie food."
When she goes to a restaurant, Brown will tell the waiter that she's on a special diet, requesting steamed veggies, plain grilled fish, a side of avocado and a dash of olive oil. She will not use table salt; only sea salt. And finally, for her most fun request: "I put cucumber in my vodka, I figure that's kind of a health food," she laughed. Some of her favorite food spots in New York are Café Clover ("it's literally health food, but they serve alcohol") and Omen ("I love sushi restaurants").
But what are her go-to indulgences? A good martini, an amazing basket of Balthazar French fries and a slice of pizza with a Diet Coke, from John's of Bleecker Street, which she eats only once per year. As it turns out, she has some beauty indulgences, too.
"I'm such a curious person that if I see a crazy Instagram post that says 'buy something,' I try them. And if it doesn't work, I give them away." She has repeatedly purchased skincare off of her social media feed, most of which promise to erase lines and many of which are from indie skin care companies. But nothing beats her current favorite product: coconut oil. She uses it as a makeup remover, slathering the natural product on her face, wiping it off with a tissue or warm washcloth and following up with moisturizer, if necessary.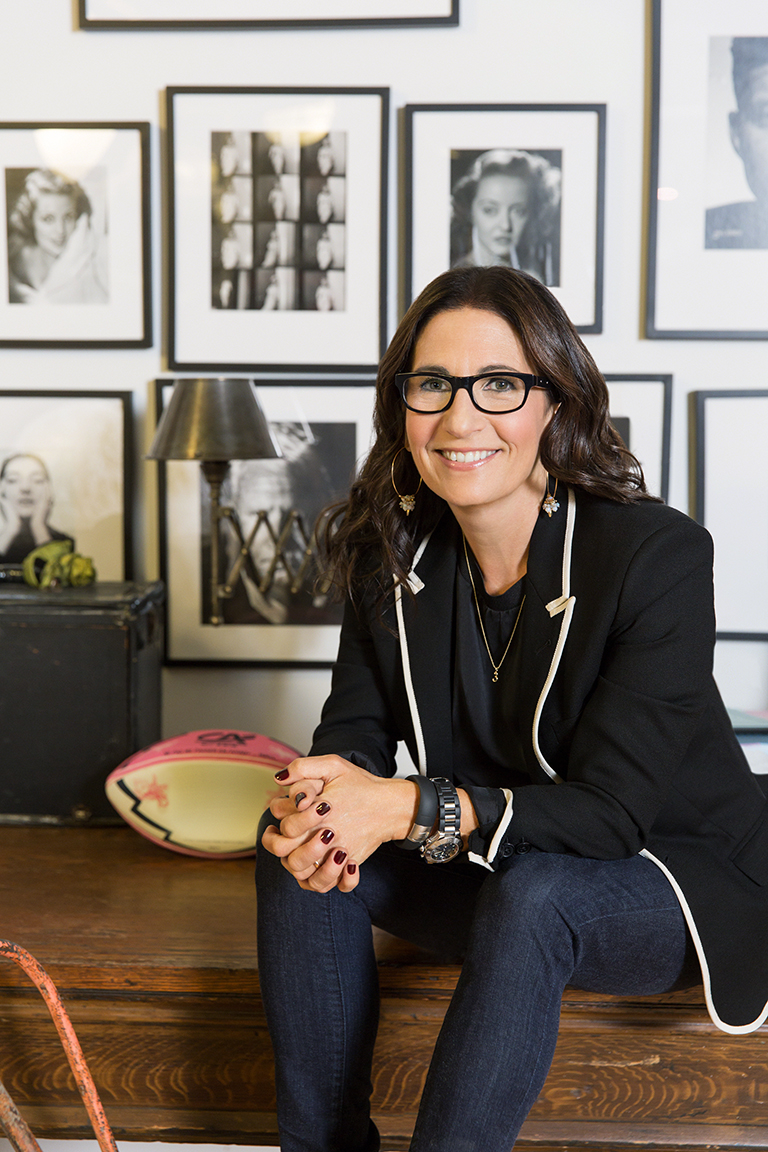 If you still feel like you need more Bobbi Brown in your life, even after scooping up this book, there's one more thing that could help: stopping by your closest Lord & Taylor. Today, Brown was appointed as a creative consultant for the department store, coinciding with the launch of justBOBBI concept shops across the country. They will be stocked with t-shirts from good hYOUman and n:Philanthropy, jeans from Hudson and beauty items mentioned in BFTIO, including Super Elixir and Dr. Frank Lipman supplements.
You could also book a stay at The George Inn, the 32-room hotel in Montclair, NJ she is renovating with her husband. Though it's not open just yet, Brown is helping with the "tone" of the property, including the sheets on the beds, the furniture in the lobby, the merchandise in the pop-up shop and of course, the products in the bathroom. Though nothing has been confirmed for the hotel commodes, she hopes to include Hairstory shampoo and Dr. Bronner's Peppermint Soap. Hopefully the hotel restaurant will have at least one kale salad on the menu, for beauty purposes, of course.
Buy Bobbi Brown Beauty from the Inside Out on April 18.