Cellphone and human communication being precarious and imprecise, it takes a while to find out exactly where Brian Wilson is speaking from.
Considering Wilson has spent the past year playing the Beach Boys' iconic 1966 masterpiece Pet Sounds in its entirety to sold-out crowds from California to China, it's not unreasonable to inquire where he is on any given day.
But even after several repetitions the question is misheard and instead Wilson recounts what he did that Friday in late March: "What did I do today? Well, I was supposed to do some music, but I went to the doctor and had a physical, and I am healthy," he announces cheerily.
We both agree this is good news. Especially because Wilson returns to playing concerts in the U.S. this spring for the final leg of the "Pet Sounds 50th Anniversary Tour," which includes a performance at NJPAC in Newark on April 28.
It turns out the California native is back at home in Los Angeles, a fact that is confirmed as small voices and gentle domestic hubbub play out in the background.
But, there is also the fact that Wilson, 74, has suffered with deafness since he was a child, something he talks about, along with his struggles with anxiety and mental illness, in his latest autobiography, I Am Brian Wilson: A Memoir, which was published last fall by De Capo Press.
Beyond the oft-trod story of the Beach Boys' fame and Wilson's decline into drug and alcohol abuse, and his years under the tyrannical Doctor Eugene Landy, Wilson's autobiography reveals him as an avid music fan and musicologist, who gives a colorful history lesson in American popular music as he goes along.
But it's his time in the madcap mid-1960s that's pivotal—Wilson was a young man struggling through mire of marriage and raising children as his role in one of the most famous groups in pop culture history was coming into public focus. He was a young artist struggling to make his own benchmark.
That benchmark, to most people, is Pet Sounds and the still glorious songs—"Wouldn't It Be Nice," "God Only Knows," and "Sloop John B"—are each a symphony of keen vocal harmonies, lilting melodies, and accessible but incisive lyrics, captured in lush sonic layers and reverb. But if you ask Wilson whether it's his favorite album, he doesn't hesitate in choosing another record: "No, my own personal favorite is Summer Days, Summer Nights," he says with what seems like typical directness.
That record was released the year before Pet Sounds, and it was created before life became extremely complicated during what Wilson refers to as the year of everything—1965. That was the year when everything became too much and Wilson's blackout panic attack on a flight to a gig in Houston put him off touring. Today, he seems reluctant to rehash all that.
[youtube https://www.youtube.com/watch?v=DVUBpzlELOg&w=560&h=315]
Of 1965, he simply tells me, "That year I took LSD and it improved my ability to write songs. As soon as I was done with my trip I wrote 'California Girls.' "
He agrees 1965 was a monumental year—"Absolutely!"
Mind blowing even: "Linda, we had a ball recording Pet Sounds," he recalls with immense tenderness.
As much as I Am Brian Wilson reveals a man smitten by nerves and self-doubt, troubled by voices and demons, and how it ground him down, in the end we have a man at peace: a man and his music. He is Brian Wilson and he is whole.
In the book, he tenderly recalls his younger brothers, drummer Dennis and guitarist Carl, and how much he misses them since their untimely deaths. But as Beach Boys members Al Jardine and Blondie Chaplin are along for the Pet Sounds dates, the band's once-fractured legacy is now whole, too.
"It's been 20 years since we first started touring again," Wilson says of reuniting with his bandmates. "When we were all younger we didn't know how to play as good as we do now. We've had a lot of practice and became better players than we were back then."
In his book, Wilson praises so many people he has collaborated with, or simply admired, and that includes his backing band, which plays with him consistently these days, both on record and for his solo shows, and for this current tour. Wilson met those musicians, who make up the power pop group The Wondermints, at one of their concerts in Los Angeles.
"I like playing with my band more than I liked playing with the Beach Boys, because they're younger and they're better players," he adds—there is no filter with Wilson.
As he says about writing his book: "I told the truth, the whole story of my life. It was all about how I learned to make music and the history of the Beach Boys," he says. But it is about so much more.
Though Wilson will always be a Beach Boy, his solo career kicked into gear during the late 1980s, and that has kept him going. There is no separation between Wilson the man and Wilson the music maker. But his return to Pet Sounds this century, and also the "unfinished" album Smile, was clearly therapeutic.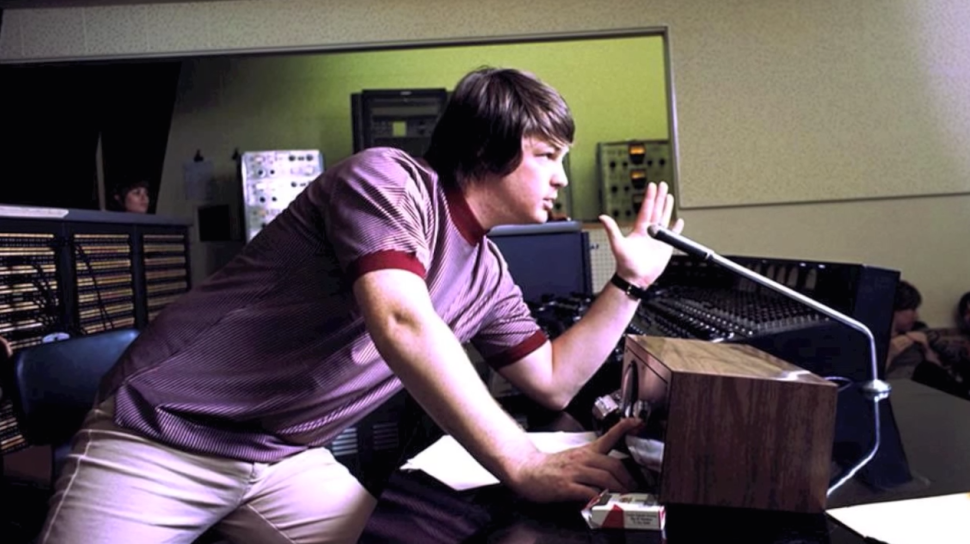 Besides, it is a past much written about and even documented in the film Love and Mercy, which ends with Wilson singing his song of that name: "I thought it was very well portrayed," he says of the movie. "Paul Dano did a great job portraying me in the studio doing Pet Sounds. John Cusack did a great performance of me when I was older."
Wilson sounds content and healthily immersed in the present.
"It should be fun," he says of the spring dates. "When we end this tour I'm going to go into the studio and make a rock 'n' roll album!"
A rock 'n' roll album!
"Riiiight!" he declares zealously.
Wilson says playing concerts is more fun than working in the studio: "It's more fun being on stage than the studio because we get to make people happy." That's surprising for an artist who virtually quit touring at the peak of his Beach Boys career to concentrate on working in the studio—an artist who is renowned as a studio genius.
"That's a nice thing to call me. A 'studio genius'?" he ponders briefly. "I'm very proud to have people say that. The album I'm about to do is going to be a great rock 'n' roll album about all the great rock 'n' roll artists of our time."
Chuck Berry's death was announced just the week before we talked, but Wilson had already chosen to have him on the record: Berry's iconic rocker "Johnny B. Goode" will be included. "I was really sad to hear that he died," Wilson says. "I thought he was a great performer and I learned a lot of rock 'n' roll songs from him.
"After that album," he adds, "I will probably make another record called Brian Wilson Sings the Ballads."
Such tributes to fellow artists are not surprising: in I Am Brian Wilson we hear from the man, the music maker, and the music fan. There is no separation, as he puts it, quite simply, "Well, music comes from my heart."
Brian Wilson performs at New Jersey Performing Arts Center, Newark, N.J., on April 28.