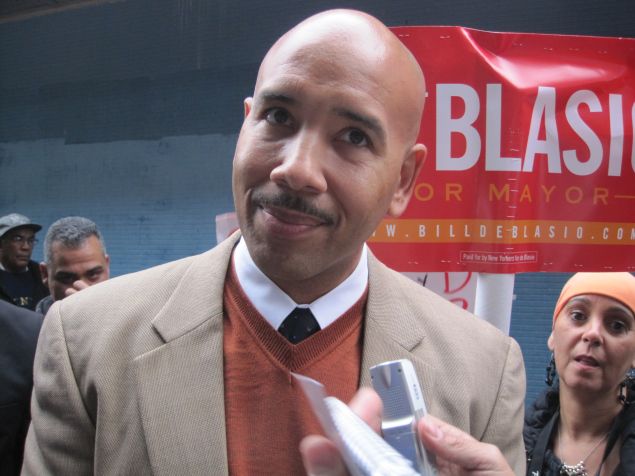 Bronx Borough President Ruben Diaz Jr., who teased repeatedly that he might take on Mayor Bill de Blasio in this fall's Democratic primary, is now openly raising money for re-election to his current position—and deferring his undisguised ambitions at Gracie Mansion at least four years.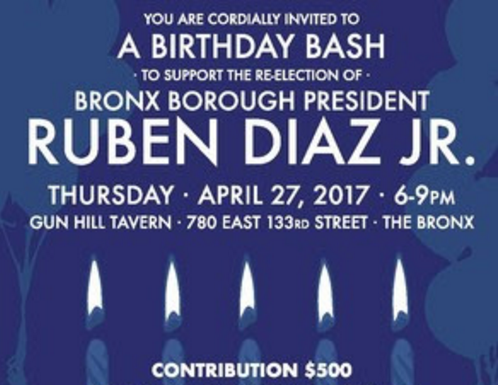 The eight-year incumbent's account is still registered as "undeclared" with the city's Campaign Finance Board. But the Observer obtained an invitation Diaz sent to supporters for a birthday fundraiser tonight, which explicitly states the money will go "to support the re-election of Bronx Borough President Ruben Diaz Jr."
A close ally of Gov. Andrew Cuomo, Diaz has rarely missed a chance to hit de Blasio during the latter's first term, and refused to rule out a challenge as recently as January. But in March, acting U.S. Attorney Joon Kim and Manhattan District Attorney Cyrus Vance announced they would close long-running criminal probes into the mayor's political fundraising without filing charges.
The announcement effectively deflated any chance of a competitive primary in September. City Comptroller Scott Stringer, seen as the other Democrat most likely to try to dislodge de Blasio, has also announced he intends to simply seek four more years as the city's chief financial officer.
Both Stringer and Diaz would have had to forfeit their present posts had they chosen to launch chancy bids to beat de Blasio.
The only members of the mayor's party vying against him are State Senator Tony Avella and former Brooklyn Councilman Sal Albanese—both relative conservatives who have failed to gain traction in past attempts at the city's highest office—and police reform activist Robert Gangi. All three have struggle with fundraising and name recognition, and have little institutional support.
Popular in his home borough, Diaz never gained much of a foothold in polls that pitted him against the mayor and other potential Democratic challengers, even with de Blasio's chronically weak approval ratings. Should he run in 2021, Diaz will face a crowded field that will almost certainly include Stringer and Brooklyn Borough President Eric Adams, and possibly Brooklyn Congressman Hakeem Jeffries and the next speaker of the City Council.
Nonetheless, the borough president had some good news to report today: his office announced this morning that unemployment in the Bronx had fallen to 5.7 percent, its lowest level in recent history.
Even as the Democratic field has contracted, the GOP one has swelled. Staten Island Assemblywoman Nicole Malliotakis has filed to compete against real estate executive Paul Massey and Jets lineman-turned-minister Michel Faulkner.
Celebrity cop and investigator Bo Dietl botched his voter registration papers, and is seeking special permission from the county GOP organizations to run on their line.
But each would face a steep disadvantage in a city where Democrats massively outnumber Republicans.