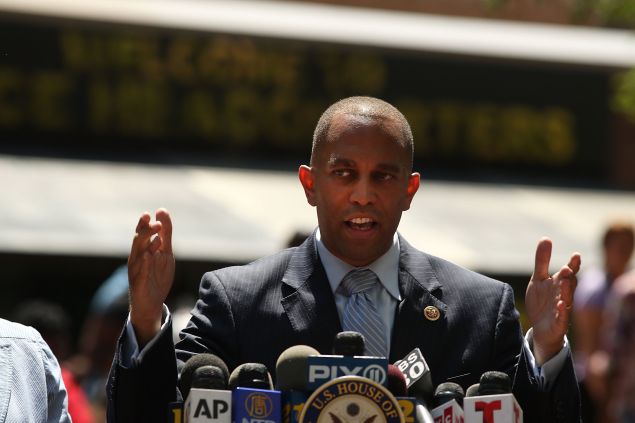 Brooklyn Congressman Hakeem Jeffries asserted that members of his party on the Hill should be ready and willing to vote down any spending plan that either takes funding away from Planned Parenthood or allocates it to the construction of President Donald Trump's promised barrier on the Mexican border—even though such a vote would mean the federal government being unable to spend the money to operate.
In the absence of a larger budget agreement, last December, the House, Senate and former President Barack Obama passed a so-called "continuing resolution" that authorized the U.S. Department of the Treasury to keep funneling resources to most federal agencies. But that resolution expires next Friday at midnight, leaving GOP House Speaker Paul Ryan and Senate Majority Leader Mitch McConnell scrambling to shepherd through a new spending plan—either another continuing resolution or a larger budget package—that could clear both legislative chambers.
But some congressional Republicans hope to use impending crisis as an opportunity to deny tax dollars to family planning services, and Trump has pushed to get $3 billion for his border wall, both of which Jeffries labeled unacceptable.
"I have taken a position, and many of my colleagues in the House, Senate, have taken a position, that we don't think a penny of taxpayer dollars—he's asked for $3 billion—but a penny of taxpayer dollars should go for a downpayment on his stupid, silly wall," said Jeffries, a member of the House Budget Committee, to the raucous applause of the audience at Bedford-Stuyvesant's Boys and Girls High School. "We will not allow a budget that defunds Planned Parenthood to pass."
Jeffries is a member of the largely inert Democratic minority, and he seemed to acknowledge that the real game of brinkmanship will fall upon Senate Minority Leader Charles Schumer. The senior senator from New York oversees a 48-seat conference in the 100-seat Senate, and the body's by-laws require 60 votes to close discussion on any matter.
The congressman argued that a shutdown, which would shutter federal parks, furlough thousands of workers, delay tax processing and even impact unemployment payments and veterans' benefits, would be preferable to submitting to the GOP's policy priorities.
"If we've got to shut down the government, shut down the government," he said. "Do we really want the Trump government, anyway?"
On the campaign trail, Trump promised that Mexico would pay for the border wall. The Central American nation's government, however, has balked at that suggestion.
The government last shutdown in 2013, when a group of Tea Party Republicans sought to include language denying funding for provisions of the Affordable Care Act in a continuing resolution, which led to deadlock between the then-Democratic Senate and GOP House. The conflict severely damaged congressional Republicans' popular approval ratings.