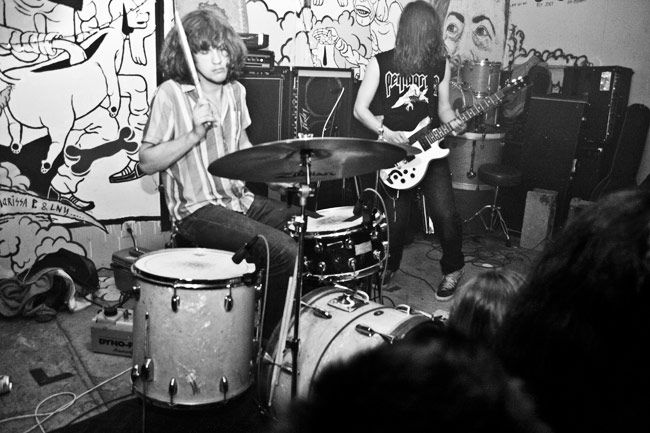 Just as some who frequent the cramped, makeshift show spaces of Brooklyn calcify their memories into hallowed, exemplary moments of underground perseverance, there are others who wave their critical haughtiness around, point out the fleeting nature of it all, and don't care.
"Contrarianism will always be good for hits and shares," ubiquitous Brooklyn show promoter Todd P told Observer of that Vice article, which dismissed ascribing too much importance to the closing of DIY space 285 Kent.
"Truth be told, the coverage of that venue closing was way over the top, to the point of obnoxiousness. So when you have that kind if internet meme-level repetitive echo chamber press coverage it becomes a smart move for an editor to say, 'You know what? Let's do a piece shitting on this whole thing for all the guys in their cubicles getting annoyed that this story keeps popping up in their feed.' "
We had that conversation when his beloved Market Hotel was re-opening after spending much of its money and resources to bring the DIY venue up to code, which soon proved to not be enough. And as 285 Kent's neighbor Death By Audio was forced to close down too (along with Glasslands) so that Vice themselves could move their new offices in, a camera crew showed up to document DBA's final days.
Along with that documentary, here's the other big DIY news from April.
[youtube https://www.youtube.com/watch?v=ckNpN7F_xw4]
Goodnight, Brooklyn: The Story of Death by Audio hit Hulu last Friday, and if you ever frequented that venue there's a good chance you or some of your friends are standing in line during the show's opening moments, not getting into its final performances.
Goodnight, Brooklyn does a great job at not only explaining why DBA was more than just another show space, but how the people who came to run it set it apart—including Oliver Ackermann, whose pedal company Death By Audio had set up shop in the building before it ever started hosting shows, giving it its name and propping his band A Place To Bury Strangers up to house band status that soon made them internationally renowned; Edan Wilber, who lived at DBA, worked doors and sound at countless DBA shows, and could be found moshing or dancing with the crowd just the same; and Todd P, who acknowledges that Edan's love and care for the overall experience of showgoers is what made DBA special.
It kept getting better because it was done with love, asserts Landlady's Adam Shatz, while Sam Herring from Future Islands serves as a reminder that DBA, and places like it, became a gathering place and incubator for forward-thinking bands like themselves and performers like Ty Segall way before that Bowery Presents money came along.
Goodnight, Brooklyn also does a solid job explaining the Vice conundrum, when the media megalith first moved in upstairs but it soon became clear they wanted DBA's space, too.
This is despite the fact that many of Vice's employees found themselves at DBA on the regular, which the documentary asserts didn't matter to interests like Hearst, Disney and Rupert Murdoch, who all own stakes in Vice and are more than willing to "exploit cultural relevance in the interest of revenue."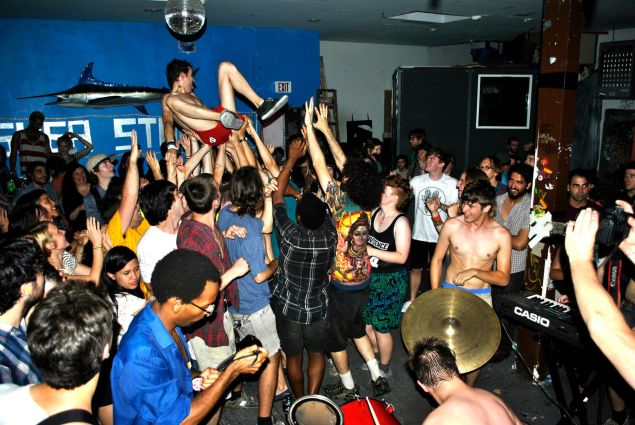 Bushwick DIY space Shea Stadium had been raided by the popo several times, and shut down several times, before announcing a Kickstarter for funds to get the place nice, sparkly and up to code. But though they met their goal in less than 24 hours, they now need an entirely new space, as their lease has expired.
They shared the following message on their Facebook page:
"Last week, we were set to file our first paperwork with the city when our landlord, who had supported our cause since day one, revealed he was no longer on board with our plans," wrote Shea on its Facebook page. "Without his signature, it's impossible for us to move forward with our mission to bring Shea back. After a fantastic near-decade relationship with our landlords and their family this reversal comes as a complete surprise.
"So why did they choose to deny us so suddenly? Sadly, their brand new plan for 20 Meadow Street includes a nightclub of their own on the ground floor and no Shea Stadium upstairs. By refusing to sign the paperwork they're using this moment as an opportunity to force us out of the space and off of the block we've called home since 2009. We've exhausted our options over the past week, presenting several scenarios in which the two spaces could potentially coexist, but they've made clear that their intentions are to move forward with their foray into nightlife without us in the picture.
"While we're disappointed by this ironic turn of events, we consider it a lucky break that we were able to get this news *before* the end of the Kickstarter, and to allow everyone to consider that their donations will be re-purposed to find and lay our roots down in a new space. The work and costs involved with moving to a new location hang on a much larger scale than our previous goals and while we're cautiously optimistic about our future in another location, we're faced with a whole new degree of uncertainty. We promise to keep you posted on our progress with full transparency and to refund all pledges if we're not able to find a new headquarters that does justice to our time on Meadow Street."
Have you ever heard the word "transparency" used by a venue before?
Also worth noting is that there's simply no way the old space's landlord has an iota of the cultural pulse that the Shea family has; their nightclub is born to lose.
When Observer wrote about Shea's Kickstarter campaign initially, we strongly felt that crowdsourcing efforts such as these could fortify DIY spaces with all the tools they need to become community hubs of music and art education, gatherings for symposiums and cultural growth, the lot. This will become increasingly important as the National Endowment for the Arts becomes more threatened by Trump.
Market Hotel's daytime events, including everything from after-school care and a Vegan market to a town hall on repealing the Cabaret Law, are already putting this idea into practice.
Here's a story covering the event (from Vice, no less!) that doesn't make mention of the interdepartmental "MARCH Program," which may have shut down Market Hotel in the first place.
The event organizers noted "orchestrates coordinated multi-agency—NYPD, Fire Department, Department of Buildings, State Liquor Authority—raids on arts spaces. Disbanding or increased transparency on these operations would foster a stronger sense of trust between organizers and the city, resulting in safer conditions."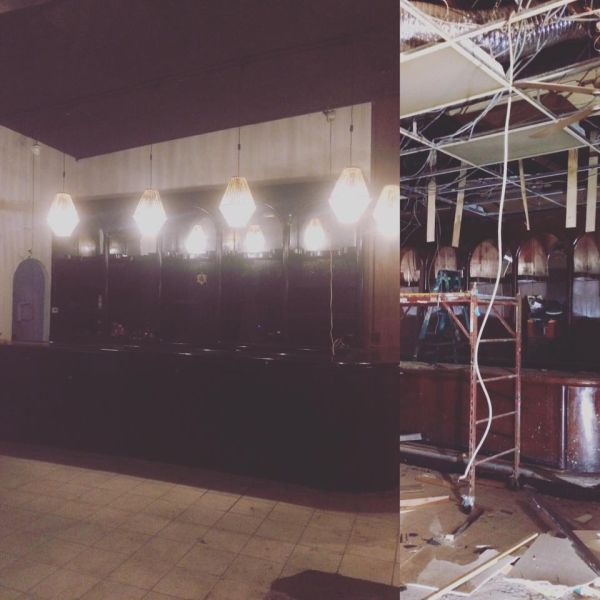 Finally, we end on a bit of good news.
The beloved Secret Project Robot, whose owners also run the great bar Happy Fun Hideway, has signed a 10-year lease on a new space in Bushwick at 1186 Broadway, right near the Kosciusko J stop. SPR was a true Brooklyn original, operating out of Williamsburg's late Monster Island Basement before moving to Melrose Street in Bushwick, and having to leave there last summer. "We are ourselves to blame," they said at the time. "We've helped to create a hipper safer neighborhood and higher rents, as so often do, have followed…"
The grand opening of the new Secret Party Robot is next week, on May 4, and promises free champagne alongside DJs, kicking off at 7 p.m.
"The new space, a 2,500-square-foot converted warehouse, to bar, to art space will be an exploration of not only dynamic and experimental programming in emerging youth culture but also a test run of how to make artist run spaces sustainable in a city that thrives off of culture but also greed," said SPR in a statement shared by BrooklynVegan.
"The space is entirely self funded, by both the hard work and financial savings of the eight partners who have toiled ceaselessly since signing the 10-year lease on December 21, 2016.
The goal of the founders was to distill the essence of Secret Project Robot into a palatable and engaging space that is welcoming to all, and feels more like an ongoing 'house party' than a bar or institution. For physical functionality, the gallery is divided into two rooms with a large and airy exhibition/performance space that can hold around 150 people and opens onto a patio and soon to be sculpture garden which is then also adjoined to the bar, thus nicknamed 'cuckoo.' 
To make this enormous endeavor possible the founders, Erik Zajaceskowski and Rachel Nelson, artist in their own right, who will be curating art installations and events, teamed up with longtime friends and collaborators. The partners will put forward a diversity in programming ranging from installation art, to film, to performance art, to bands, to the parties which Secret Project Robot has become known for over the past 13 years.
Monica Mirabile of FLUCT and co-founder of Otion Front will be collaborating with Kathleen Dycaico, also of Otion, to bring emerging artist in the movement world into the programming. Jake Diebeler performance artist and member of electro-band Bottoms will be curating film and happenings at the space.
Dave Kadden, of Invisible Circle, will be bringing in an eclectic mix of experimental music and DJ's. Adrian Diaz, DJ and cultural curator, will be seeking out the latest talent in international partying, while William Schmiechen, artist, musician and booking/logistics expert will be helping to bring the best in up and coming and established music to the space.
Secret Project Robot will only hire artists, so it will be, not only creating a cultural space for art, but also helping to keep artists thriving in a New York City landscape that is less than financially friendly to the creative. The partners, with the help of the servers, door people and a/v team plan to lead a seminal history of supporting diverse collaborations and dynamic programming for the decade to come."
Sounds good to us.
Engaging the creative community to create an ecosystem of financial support, education and actual creative practice has always distinguished venues like SPR, Market Hotel (especially when people used to live there), Shea Stadium and DBA from existing as mere rooms, and no opportunistic, contrarian freelancer can deny that.
These places take years to make legit and to get up to code, so rather than acting cool and nihilistic about the fact that there will always be another DIY music venue, the far more considerate thing for anyone who purports to be a real music fan to do is to get involved themselves, or keep their mouths shut.