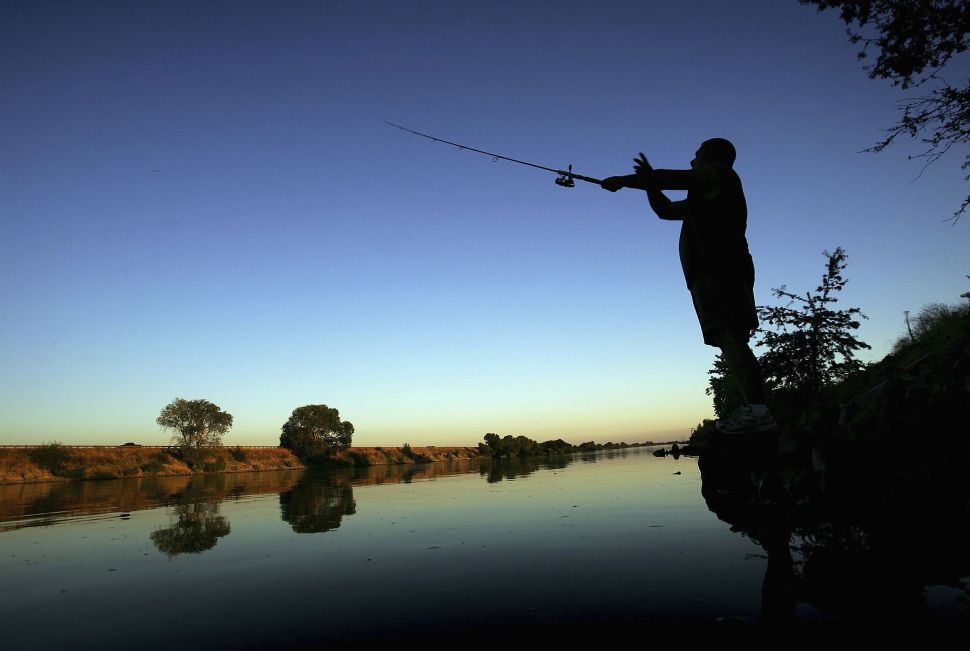 The drought in California is over, thanks to a flood of atmospheric rivers. These narrow bands of water vapor move with the swirling currents of the weather, and when they make landfall it usually rains or snows. According to the Center for Western Weather and Water Extremes at Scripps Institution of Oceanography, there were 45 separate atmospheric rivers making landfall on the West coast in 202 days (from October 1, 2016 to March 31, 2017). The current water year, which lasts from October 1, 2016 to September 30, 2017, is the wettest on record.
But one rainy season won't wash away a raft of rules. The State Water Resources Control Board still prohibits people from watering their lawns for 48 hours after it rains. Municipal water districts have to report to the state water board how much water they're using. The Sustainable Groundwater Management Act of 2014 will require areas with severely overdrawn groundwater to make the supply up by 2020—so some farmland will undoubtably go out of production. And people have gotten used to lawn-free lives.
So what? This kind of winter—while good for smashing water records—is not great for California's long-term, for two reasons. First, because all the rain California gets in the cooler months (generally November through April) has to last all year, having an abundant snowpack means melting and runoff to get through the warmer months. Secondly, California's current water storage infrastructure is underfunded, under-maintained, and incapable of storing more water. Atmospheric rivers dump a lot of water as rain—meaning that snowpacks melt earlier, more water runs off that could have been stored, and the state's not holding water it may need when dry years come again.
Who cares? Californians do. And it's not just the folks who are hoping people will stop narcing on them for watering their lawns.
Two big constituencies have been battling over water policy for decades—farmers and fishermen—and the drought has armed them with new resolve.
For fishermen, 2017's salmon season is going to be a disaster. Warm water has been killing off chinook eggs for years—and that's not even the worst of the salmons' problems. Salmon rely on being able to swim up rivers to spawn, and the young smolts rely on being able to swim down rivers to get to the sea. Rivers have dried up in California, and while the state tried trucking 12 million teen salmon to the Pacific Ocean, it hasn't been enough to provide an abundance of mature fish. The commercial fishing implications are devastating, and so are the cultural ones. For native American tribes in the northwest, there is almost no fishing on the river, something Yurok, Hoopa Valley and Karuk tribes call "the very core of who we are and the core of what we do."
The tribal fishermen in California's northwest are fighting to remove four hydroelectric dams on the Klamath river, which would improve salmon migration. It would also reduce a source of irrigation for some farmers. The original deal to remove the dams—hailed as a "landmark collaboration" between environmentalists, ranchers, tribes, fishermen and farmers—required congressional approval. Congress preferred to let the deal expire. However, federal officials, state officials in California and Oregon, and dam owner PacifiCorp announced plans to move forward without congressional consent.
Farmers have their own concerns: Their water use invited intense scrutiny from the media (remember the great almond-growing debates of 2015?), angry community members, and California policymakers, so even as they lost billions of dollars due to drought-fallowed lands and groundwater pumping expenses, people eyed the statistic that agriculture takes up 80 percent of California's "developed" water (i.e. water not dedicated to environmental purposes) and muttered about whether or not that was fair.
There's also some intra-ag tussling. Thanks to a rider on the Water Resources Development Act of 2016, the Bay Delta's waters could be pumped out to the legally allowable maximum level—a move that's great for industrial agriculture in California's south and disastrous for smaller farms in the Delta region around Sacramento. (This rider also affects commercial fishermen, as the proposed Bay Delta pumping could decimate fish populations, thus ending the $1.4 billion commercial salmon industry and thousands of other fishing jobs in California. So, the fisherman have it coming from all sides.)
Infrastructure nerds are going to be concerned because it's not like everyone looked at the Oroville Dam crisis of February 2017 then ran a social media campaign to raise the $60 billion needed to repair America's aging dams and other infrastructure. On the plus side, California voters approved $7.5 billion to fund new reservoirs and stormwater capture efforts. So, there's only $62.5 billion to go. America!
Finally, anyone who lived through the drought, which was exacerbated by shifts in historic climate patterns, should be worried about next winter. Oceans aren't the only planetary water sources heating up—atmospheric rivers are, too. That means more rain, less snowpack—and a looming question of how to store enough water in anticipation of the dry spells.
Want more? There's a whole archive of So What, Who Cares? newsletters at tinyletter.com/lschmeiser. In addition to the news analysis, there are also fun pop culture recommendations.