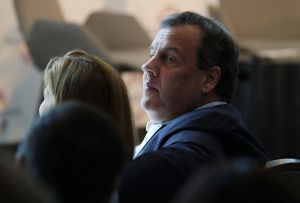 Gov. Chris Christie is joining the pitchfork mob bashing United Airlines for bumping a passenger off a flight and having him dragged off a plane.
Christie on Tuesday sent a letter to U.S. Transportation Secretary Elaine Chao, asking the federal government to suspend a regulation that allows airlines to overbook flights.
"The practice has been unconscionable by United and is abusing passengers coming through Newark Airport and around the nation without cause," Christie wrote.
A doctor from Kentucky, David Dao, was forcibly removed from a United flight traveling from Chicago to Louisville, Ky., on Sunday. Video of security officers dragging Dao off the flight went viral, sparking a backlash against United.
The airline says Dao's flight was not overbooked — passengers were bumped to make room for United staff — but Christie said the episode highlighted the need to clamp down on airline overbooking just the same.
"Passengers who have paid the fare for their ticket and reserved a seat should not be subject to this arbitrary 'bumping' except in the most extreme of circumstances, and certainly not to accommodate employees of United Airlines," he wrote.
State Sen. Linda Greenstein (D-Middlesex) also criticized United for having Dao dragged off the flight and said she would study whether New Jersey could outlaw that practice through legislation.
"It's one thing to deny boarding to passengers due to overbooked flights, and offering them the compensation they are due under existing federal regulations, but it's another to physically remove someone with such brute force after they've already been seated on a plane," she said.
United operates 70 percent of its flights out of Newark airport, Christie wrote. The number was slightly higher when United ran a flight from Newark to Columbia, S.C., at the behest of David Samson, a Christie mentor who was convicted of bribery last year for using his post as chairman of the Port Authority to get the airline to run a special flight that eased his commute to Aiken, S.C.
Christie also attacked United CEO Oscar Munoz for statements that seemed to cast some blame on Dao for defying airline instructions. Munoz wouldn't be the airline's CEO if the previous one, Jeff Smisek, hadn't resigned due to the Samson scandal.