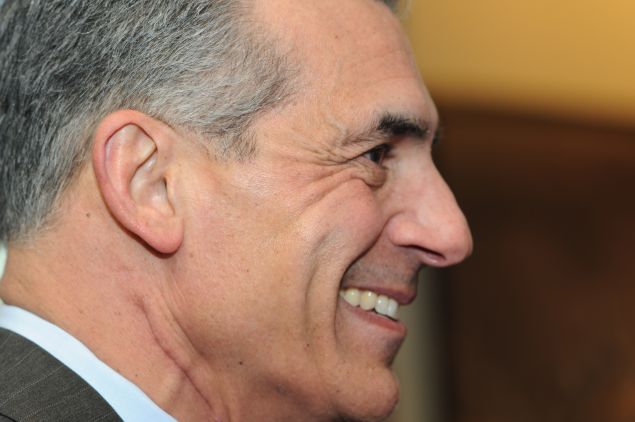 At his campaign kick-off in October, Jack Ciattarelli was sporting a new, hairless look familiar to many people who undergo cancer treatment.
But he was fine, he told attendees, explaining that he shaved off all his hair for a fundraiser supporting children's cancer research the week before his announcement.
It was a cold twist of fate when Ciattarelli woke up three weeks later — a newly minted candidate for the Republican nomination for governor — feeling a painful lump in his throat.
"What I was thinking is that God has a sense of humor in a lot of different ways," Ciattarelli, 55, recalled in an interview Friday.
"The notion of hearing that you have cancer is just a very shocking and surreal experience," he said, adding later, "After you hear the word cancer, the next question is, 'How much time do I have?'"
A state assemblyman from a swing district in Somerset County since 2011 and the founder of a medical publishing and marketing business, Ciattarelli is now recovered and vying with Lt. Gov. Kim Guadagno for the GOP nomination. Primaries are scheduled for June 6.
It's not every day that a politician runs for governor while fighting cancer. Ciattarelli agreed to be interviewed about the experience, saying he hopes to motivate people facing similar challenges and remind them to be vigilant about their health. "Even in the case of cancer, if it is detected early enough, there's really nothing the medical community can't solve, and such is the case with Jack Ciattarelli, I'm happy to say," he said.
Diagnosis
What Ciattarelli at first believed to be a swollen gland in his neck — "the kind anyone would experience when they have a head cold, a fever or sore throat" — turned out to be a tumor in one of his tonsils. The cancer had also spread to two lymph nodes on his left side, where it reached stage 4.
The same day Ciattarelli discovered the throat lump, a primary care doctor told him to find an ear, nose and throat specialist immediately. The next day, after a scope from an ear, nose and throat doctor, Ciattarelli got the oropharyngeal cancer diagnosis.
The specialist assured Ciattarelli that "because we had caught this so early, and with a new type of robotic surgery, this would be curable, and I would be able to continue with my life in every way, including the gubernatorial campaign," he said.
A good prognosis, but not enough to calm fears back home. Ciattarelli, a Hillsborough resident, has been married to his wife Melinda for more than two decades and has four children ages 21 to 15.
"Despite all the assurances of the doctors, the words cancer and death just seem to be tied together," he said. "And so, family members' initial reaction was one of shock and sadness. So it took some convincing that the doctors have said that this is a very, very curable form of cancer."
'Performed by a robot'
A PET scan in early November showed that the cancer had not spread to any other parts of Ciattarelli's body.
The next step was a surgery "performed by a robot" on Nov. 15, at Mount Sinai Hospital in New York. Ciattarelli had his tonsils and lymph nodes on both sides of his neck removed. "I've had more Jello in the past four days than forty years," he texted a reporter days after the operation.
The cancer had not spread to his right lymph nodes, only the left, but the robot excised the right-side nodes as a precautionary measure.
"Robotic surgery makes for phenomenal precision and an exceptional pathology, and indeed that was the case," Ciattarelli said. "The robotic surgery also just makes for a very, very speedy recovery."
Ciattarelli's surgery went off without a hitch and he did not need chemotherapy. The tough part began a few weeks into his radiation treatment.
Radio silence
After getting blasted with radiation five days a week since Dec. 21, Ciattarelli in mid-January began to have a hard time swallowing, which led to a loss of appetite, which led to a loss of weight, which led to a loss of stamina, he said. His doctors told him it was common and suggested he take it easy for three to four weeks. Otherwise, they warned, Ciattarelli could develop long-term fatigue issues.
On Jan. 12, Ciattarelli held a state house news conference to announce he was getting treated for cancer and would be putting his campaign on hiatus while he recovered. He had bumped into Guadagno that day in the hallways and told her, "You might be able to pick up some ground on me in the next month, but come February we're both going to be out there pounding away." (The radiation didn't affect his vocal cords.)
"For the first three weeks of radiation treatment, I felt no change in my body," he said. "But they had warned me that weeks four to six could be very challenging."
Recovery
Ciattarelli, who lost 25 pounds during the radiation treatment, has been cramming in three milkshakes a day on top of his meals to recover the lost weight, taking care to stop at any Burger King or McDonald's he sees for a refill while he campaigns around the state.
"I have since gained 10 back and have another 15 to go," he said. "And it's great to have three vanilla shakes a day."
The next PET scan to search for any cancer remnants is scheduled for May 1, he said. "Instances of recurrence with this type of cancer are extremely rare and when it does happen it's usually in men who were first diagnosed with this cancer at their 70s or 80s," he added.
For now, a packed campaign schedule is keeping him from his bicycle and pilates routine, Ciattarelli said.
"Having said that, I feel strong," he said. "I love the grind of the campaign trail. I love the physical, emotional, intellectual challenge of it, I love the competitive aspect of it and I just love getting out and pressing the flesh."