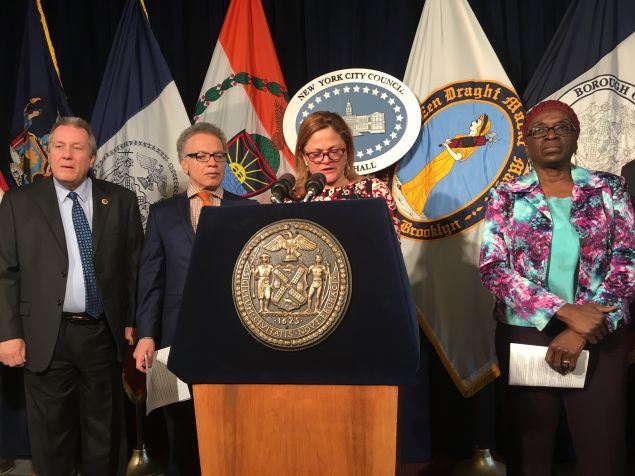 The City Council passed legislation seeking to curb the unauthorized practice of immigration law—part of what the liberal leadership described as a larger effort to maintain the city's status as a so-called "sanctuary city" for immigrants during the administration of President Donald Trump.
The bill, sponsored by Queens Councilman Daniel Dromm, would lay out stricter guidelines for individuals advertising immigration assistance services, in hopes of further safeguarding foreign-born New Yorkers against fraud and unlawful application of immigration law. The legislation calls upon the city's Department of Consumer Affairs to craft a "Bill of Rights" that service providers would have to incorporate in their contracts, along with specific language in their contracts regarding the provider's responsibilities and limitations.
Providers would also have to post required signage in English and in the languages in which they give or offer to provide services.
"Providers of immigration assistance services would be prohibited from offering and providing services that should only be provided by an attorney and from making statements that could lead an individual to believe that the provider is an attorney or authorized to give legal advice," said Council Speaker Mark-Viverito.
Dromm noted the prevalence of so-called "notario" fraud in Spanish-speaking districts like his own, which takes advantage of the misconception among some immigrants that the title "notary public" refers to an individual with a law license in the United States as it does in Latin America. This results in foreign nationals facing arrest and expulsion from the country to pay exorbitant sums to scammers who lack the training and certification to represent them.
"Since this bill was introduced in 2015, the situation has gone from difficult to dire," Dromm said, alluding to Trump's aggressive enforcement agenda. "When I first took office, I think it was 2011 on a Friday night about five minutes to five, 12 people walked into my office and said that they had paid over $5,000 for letters for things that the attorneys who did the letters knew were not going to move their case forward."
Thebill would also obligate the Department of Consumer Affairs Department to compile and provide periodic reports to the Council with information concerning the number, type, source and result of complaints against providers, as well as detail the agency's efforts to investigate providers in a satisfactory manner. The bureau would also have to offer outreach and education to communities about typical scams in which providers partake and how to report them as well as its services.
In their budget response to Mayor Bill de Blasio's preliminary spending plan, Mark-Viverito and Queens Councilwoman Julissa Ferreras-Copeland, chairwoman of the Council's Committee on Finance, urged de Blasio to allocate more than $25 million from his city budget to help immigrants who may be arrested and expelled under Trump, including $12 million to guarantee counsel to those seeking to stave off deportation.