Cobie Smulders and Taran Killam want to sell their penthouse at 2 River Terrace - click through to see inside.
Mark Davis/Getty Images
The couple purchased the apartment in 2011.
Douglas Elliman
The three-bedroom condo is located in a Battery Park eco-friendly building.
Douglas Elliman
Leo DiCaprio lives in the building, too.
Douglas Elliman
Each of the bedrooms has en-suite baths.
Douglas Elliman
Smulders and Killam have two children.
Douglas Elliman
The actors are moving back to Los Angeles in July.
Douglas Elliman
The private 650-square-foot terrace.
Douglas Elliman
There are custom bamboo floors throughout.
Douglas Elliman
There's a celebrity migration of sorts happening at a Battery Park building right now. Shortly after model Tyra Banks listed her enormous duplex at 2 River Terrace, actress Cobie Smulders also decided it's time to leave the eco-friendly abode behind.
Smulders, known for her nine-season portrayal of Robin Scherbatsky on How I Met Your Mother, and her husband, comedian and actor Taran Killam, bought their three-bedroom, three-bathroom penthouse for $2.07 million in 2011, per public records.
Alas, Smulders finishes her run in Present Laughter on Broadway in July, and she and Killam, who ended his own run as King George III in Hamilton earlier this month, are heading back to California.
Perhaps the couple, who has two children, decided that since they won't be in New York quite as frequently, they no longer have as much use for the 1,58-square-foot condo, which is now on the market for nearly $4 million. Yes, it's pricy, but that's almost a steal compared to the $17.5 million Banks is asking for her unit.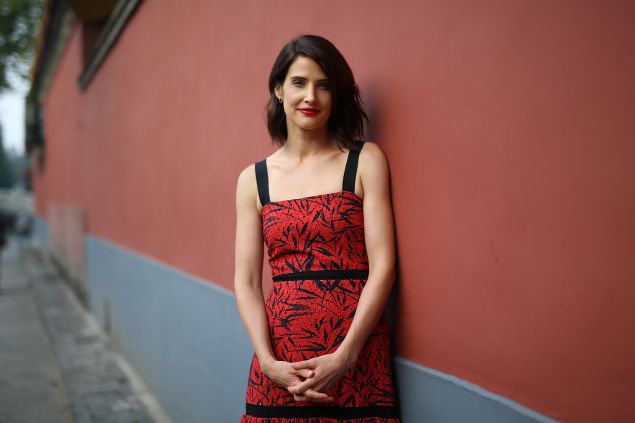 Smulders and Killam's apartment has 10-foot ceilings, bamboo floors and custom lighting throughout, per the listing held by Douglas Elliman broker Jason Walker, and from the photos in the slideshow above, Smulders went with a very different aesthetic for this Battery Park pad than the Upper West Side (or Brooklyn) apartment her HIMYM alter ego once resided in. Sadly, there's also no blue French horn, but we'll try and overlook that.
There is a Schiffini kitchen, which is equipped with Corian countertops and teak cabinetry, while the master suite includes a five-fixture bath, radiant heated floors and a full wall of built-in closets. There's also a 650-square-foot private garden terrace, and it's already landscaped.
And even though Smulders, Killam and Banks are attempting to vacate 2 River Terrace, it's not like the building will be left without celebrity residents. In fact, Oliver Stone reportedly just closed on a $4 million unit there, and let's not forget about the building's other mysterious inhabitant, Leonardo DiCaprio. Maybe you'll spot Nina Agdal in the gym…