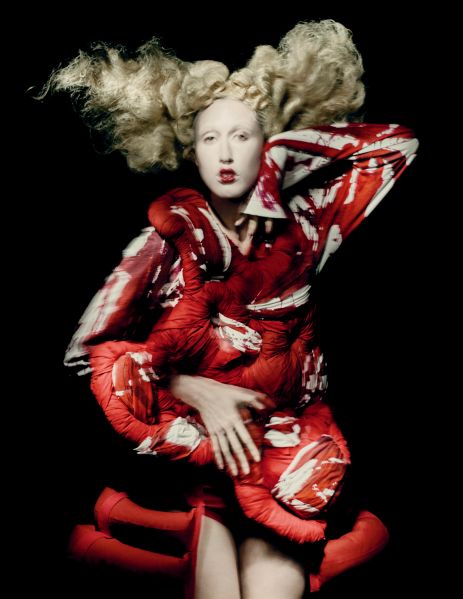 On May 4, The Met will open its Rei Kawakubo themed exhibition, which is also the theme of the corresponding Met Gala, famously helmed by Anna Wintour. The exhibit, called Rei Kawakubo/Comme des Garçons Art of the In-Between, will explore concepts that are visual, conceptual and somewhere in-between, all executed by the designer.
The exhibition holds a special place in history. After all, this is only the second time The Met and the Costume Institute have dedicated a solo show to a living designer (the first was Yves Saint Laurent, in 1983). Over 30 years later, Kawakubo feels like the right choice. Many have argued that she's one of the only designers who has managed to successfully merge art and fashion, while still raking in a profit.
"Since her Paris debut in 1981, Rei has consistently defined and re-defined the aesthetics of our time," curator Andrew Bolton told a crowd of journalists last month in Paris. "Season after season, she changes our eye by upending received notions of conventional beauty and by disrupting the defining characteristics of the fashionable body. For Rei, however, her clothes are simply expressions of her endless search for originality or what she calls 'newness.'"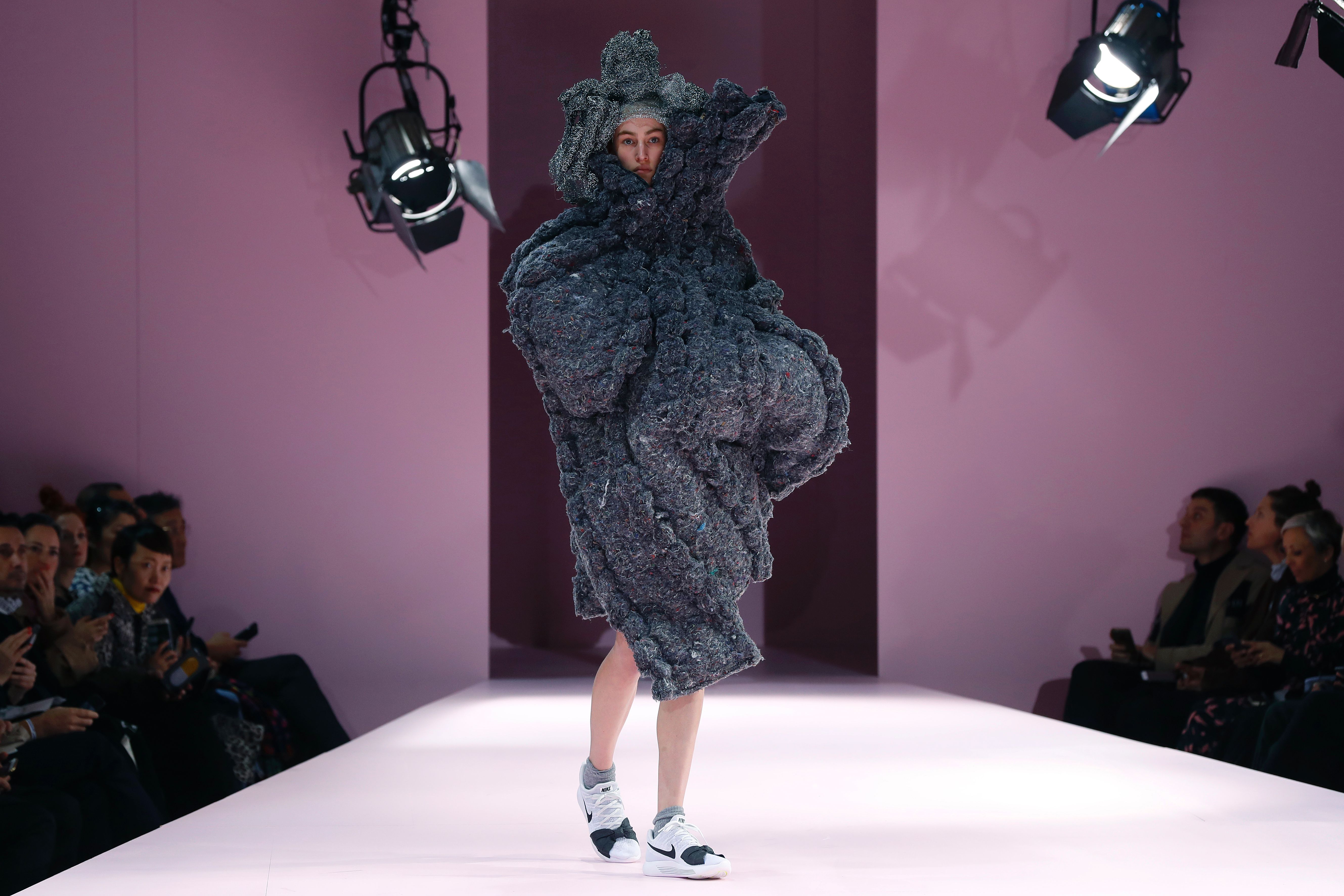 As such, Kawakubo has created some of the most shocking fashion—both in terms of garments and runway shows—of all time. Here are ten of her most memorable creations.
1) The "Lace" Sweater that Started It All
The designer's 1982 show was a game-changer for many reasons. Dubbed "Destroy," Kawakubo sent out models in leggings, oversized knits, tunics and sweaters with holes—her own version of "lace." Lipstick was displaced, but painted on the corner of models' mouths in a crisp, perfect shape. It was a very different look for the early '80s, and critics, not sure what to think, called the look "Hiroshima's revenge" and "Hiroshima chic."
2) Ink Dye, Stained Glass – Spring/Summer 1991
For one of the designer's most unconventionally feminine shows of all time, she created soft white dresses out of diaphanous silks. Some were covered in splattered prints, while others were embroidered with flowers; the models wore netted veils atop their heads. The final looks—with their complex prints—resembled the stained glass windows of Europe's Medieval churches. Sure, half of the collection was rendered in Kawakubo's signature black, but the romantic notions of pops of white, church window prints, veils and girlish dresses were, in some ways, groundbreaking for the designer.
3) Body Meet Dress – Dress Meets Body – Spring/Summer 1997
Often referred to as the "lumps and bumps" collection, Kawakubo challenged conventions with a slew of garments that were stuffed with filler and padding at the hips, waist, stomach shoulders and behind. The pieces were made of gingham printed fabric, jersey and even colorful transparent silks that revealed and concealed models' bodies. Many people, including Bolton, consider this to be one of the designer's most important shows of all time.
"It was and remains one of Kawakubo's most challenging and provocative collections," Bolton wrote in the exhibition catalogue.
"It's our job to question convention," Kawakubo told Vogue, post show.
4) Clustering Beauty – Spring/Summer 1998
For the first and only time, Kawakubo presented her collection with another designer. Together with Martin Margiela, the two showed their conceptual collections at The Conciergerie in Paris.
Kawakubo told The New York Times: "For me, the reason for presenting our collections one after the other is because I hope that our belief in the important of creation will be more strongly felt due to the impact of the simultaneous expression of our similar values. [Showing together] provides a kind of added tension and risk which is crucial to the creative process."
5) Abstract Excellence – Spring/Summer 2004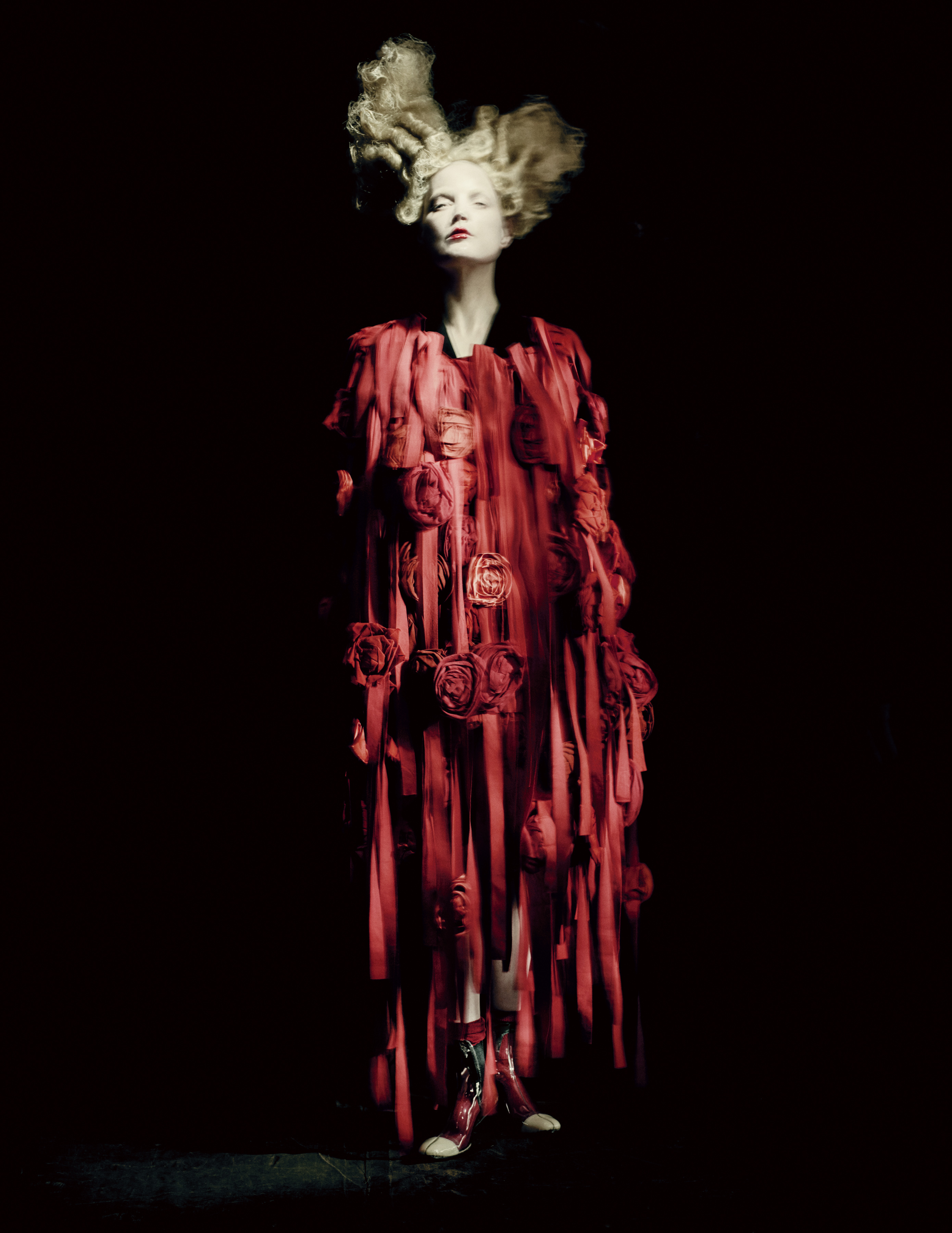 Kawakubo staged an entire collection that in theory, only included one single garment per model: the skirt. Aside from that, sheer gauze-like fabrics veiled torsos and breasts. Models were barefoot and wore dramatic, horn-like hats either printed with polka dots or in bold colors like scarlet and navy. Backstage after the show, the designer told Vogue the collection was about, "designing from shapeless, abstract, intangible forms, not taking into account the body." The skirts, which included dynamic folds and curves, certainly represented that.
6) Dark Romance, Witch – Fall/Winter 2005
An entire collection full of wedding looks dominated the runway in the most unexpected way. There were black ruffled dresses, white gowns inset with cream printed details and embroidered, fluffed petticoat skirts. Organ music played in the background. Faces were completely covered in white makeup, acting as sort of a different kind of mysterious veil. Delicate sequins lined models' eyes.
7) Cacophony – Spring/Summer 2008
"Clusters," "randomness" and "cacophony" were the three words Kawakubo used to describe her Spring/Summer 2008 collection. Ruffled tutus with African style printed insets, gingham fabrics patched onto asymmetrical trench coats and polka dotted fabric peeping out from under neon sculpted dresses were all the norm. A model wearing a pink pantsuit made of square drink coasters, her face made up like a clown, opened the show.
8) Crush – Spring/Summer 2013
British artist Graham Hudson created tall, exaggerated crowns from scrap metal, paint cans, toy cars and wing mirrors for this collection. Combined with long white wigs and a bold swaths of white makeup drawn over their eyebrows, the models were transformed into Queen-like archetypes, from Kawakubo's own mind. As usual, the designer didn't offer up much context about her collection. Backstage, she told reporters that it was about "Crushing. The energy of an explosion."
9) Blue Witch – Spring/Summer 2016
Kawakubo shaped the theme of her Spring/Summer 216 collection around "Blue Witches," which, as her husband and forever collaborator Adrian Joffe explained means "[p]owerful women who are misunderstood, but do good in the world." The idea of the witch is one that the designer experimented with in the past (the Fall/Winter 2005 collection referenced witches as brides), but it was the voluminous clothes that functioned as wearable sculptures that shocked and surprised even the biggest Kawakubo fans. Some of the cocoon-like dresses, complete with knots, pleats, ties and ruffles nearly grazed audience members in the front row.
10) The Future of the Silhouette – Fall/Winter 2017
Models walked out on the runway wearing bulbous forms that resembled something akin to a woman's body distorted. The "clothing" seemed to be made out of ordinary items one could easily find around the home—insulation material made into dresses, brown paper shaped into a gown and Brillo for headpieces. Alongside all of this, all models wore Nike sneakers, created in collaboration with the brand, and minimal makeup. But they didn't walk straight down the runway, they circled one another, starting one another down. Kawakubo said the collection was about "the future of silhouette," and, in some ways, the collection felt connected to the legendary Lumps and Bumps collection she presented 20 years earlier in 1997.