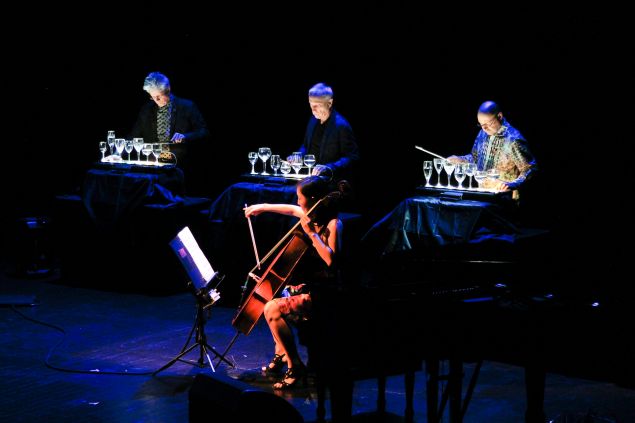 Record company executives are seldom loved, let alone adored, by the artists they work with.
So when a who's who of seminal modern composers and performers came together at BAM's Howard Gilman Opera House on Saturday night to honor Bob Hurwitz, the former president of Nonesuch Records who headed the label for 30 years before stepping down in 2015, the selections performed echoed not only the vast variety of sounds Hurwitz championed over the years, but his relationships with the artists.
Composer John Adams asked several composers with whom Hurwitz had worked with over the years to contribute a new composition for A Nonesuch Celebration, resulting in a variety of thoughtful, modern compositions that premiered throught the evening. Adams submitted his piece alongside Laurie Anderson, Randy Newman, Philip Glass, Steve Reich, Pat Metheny, Nico Muhly, Donnacha Dennehy, Timo Andres, Brad Mehldau and Louis Andreissen.
They were dispersed throughout an eclectic program highlighting Nonesuch's vast roster that included popular performers in their respective genres like Brazilian Tropicalia legend Caetano Veloso, Nickel Creek mandolinist Chris Thile, Magnetic Fields frontman Stephen Merritt, actor and singer Mandy Patinkin, and Devendra Banhart.
At the end of the evening, current Nonesuch President David Bither presented Hurwitz with the scores to all new compositions written in his honor.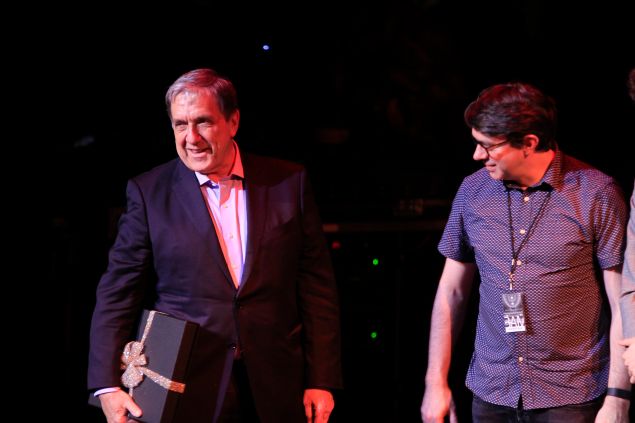 "Bob is not just a brilliant record company executive, but he's also been a key figure in New York's cultural life, the kind of person whose judgement and taste make you pause and think in an era when our online listening/reading habits have rendered our concentration habits down to about that of a fruit fly," said composer John Adams.
"Bob has helped affirm his belief in the powers of concentration and equality, and he knows that whatever the medium that we work in, it's gonna demand time, and attention, and a communicative audience. The current excellent health of Nonesuch is a measure of his brilliance."
Nonesuch was founded as a budget classical label in 1964, 20 years before Hurwitz took over with the intention of making Nonesuch a flagship label for contemporary composers. Aside from releasing works by the aforementioned artists, Hurwitz also championed the Kronos Quartet, who backed up Nonesuch artists k.d. Lang, Natalie Merchant and Caetano Veloso during the evening, while performing "God-music" from avant-garde composer George Crumb's Black Angels with three glass harps and a cello. It's a work that Kronos member David Harrington credits as his inspiration for founding the quartet in 1973, but one of the many legacies cemented by the guest of honor.
"There's two things I want to talk about with Bob—one is his absolute love of light," said Homeland's Mandy Patinkin, who won a Tony for the role of Che in the original Broadway production of Evita and has released several covers records of old standards on Nonesuch. "He attends to light like almost no one I have ever known. He sees it in places you can't imagine."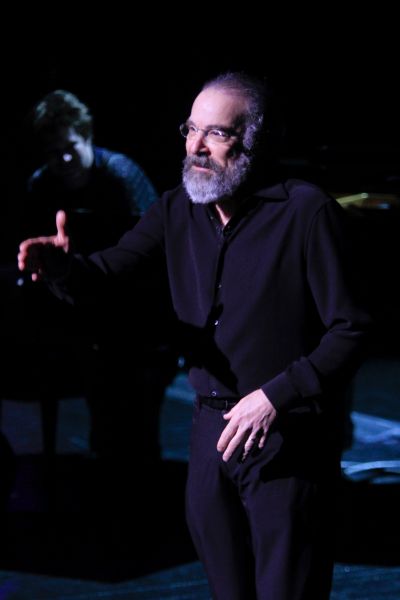 "The other thing that I love to live with Bob with is his love of baseball, because my father loved baseball," he continued, explaining how he used to go to games with his father but didn't go again until Bob took him to see the White Sox play.
"I sort of lost my attention for it, but then I watched it from Bob's eyes, and he makes you a kid…he said life, for him, is like baseball, because it's a game that can change on a dime. An emotional trigger can shift everything in an absolute instant. And if we ever needed to be aware of life, and baseball, and the possibility of change…"
He then he performed into an acappella "Take Me Out to the Ballgame" before launching into Randy Newman's 1972 satirical nuclear bomb provocation, "Political Science," followed by Newman's 2008 scathingly timely spoken-word piece "A Few Words in Defense of Our Country."
Younger artists shared similar stories of quality time spent with Hurwitz. "For our first record company president/potential artist meeting, Bob took me to a restaurant, sat down and promptly decided that the music was too loud," said Thile. "Instead we went across the street to MoMA and we talked about everything. We talked a lot about baseball, about Bach." He then seamlessly launched into "Gigue" from Bach's Violin Partita No. 2 in D minor.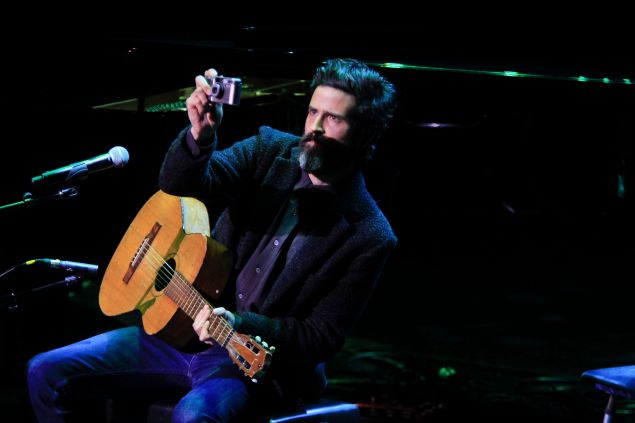 "This whole night is a love song for Bob," said Devendra Banhart, who played "Theme for a Taiwanese Woman in Lime Green" off his latest Nonesuch release, 2016's Ape in Pink Marble.
"It's a gift, but it's also a chance to say thank you for the gift of his friendship. I love this guy, and, to quote Bob telling me about Peter Sellers telling him about Caetano [Veloso], 'You sure look like your mom loved you a lot, and so do we.'"
Caetano Veloso didn't make any speech; instead, he simply closed out the evening with "Este Amor" off of 1989's Estrangeiro before Kronos Quartet came back onstage to join him for "Un Vestido y Un Amor" by Fito Paez, with Portuguese lyrics that translated to echo Hurwitz's light: "Everything you say is too much/The lights always light up in my soul/And when I'm lost in the city, you already understand."