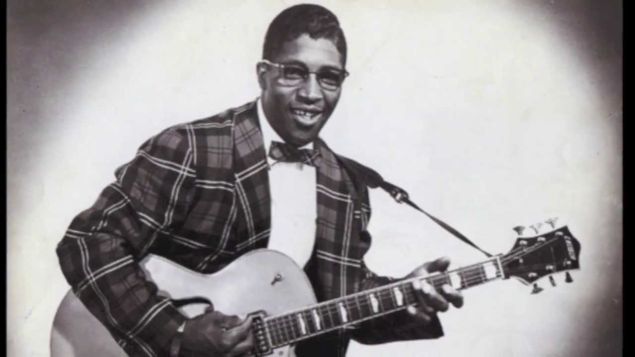 I've been reading a lot about Chuck Berry since his passing a couple weeks ago. An equally iconic rock 'n' roll guitarist, Bo Diddley's name is often mentioned in the same breath as Berry's in the obituaries celebrating his remarkable career, which reminds me of this story.
I was set to graduate from UMass in 1988, but had to go an extra semester after a bout of mono in my junior year laid me up so long that I had to drop a couple of classes. I was in no hurry anyway. My girlfriend was a year behind me and they didn't call the Pioneer Valley—home to Amherst, Northampton, and five colleges—the "Happy Valley' for nothing. I could have floated in the warm pool of academia and laid-back college towns as long as my parents' funds would support me. But my band Buffalo Tom was already going pretty well, so that seemed to be my pathway forward for the immediate future.
But sticking around Northampton for a spring semester after finishing classes meant I had to find a job. I answered an ad looking for drivers for a new food delivery place in neighboring Easthampton called Food Runners, which was run by this obnoxious, humorless kid from Long Island named David, whose father fronted him the money, and his pouty dishwater blonde girlfriend from upstate who wore cinched acid-washed jeans and fuzzy tops all the time. They had this grand idea to deliver an alternative to pizza and Chinese. So they had a BBQ chicken breast, some other stuff I can't remember, and what they called "BBQ ribs," which were about as good as you might imagine: some grilled ribs splashed with some BBQ sauce from a wholesale bucket.
The cook was some big dumb filthy-mouthed Irish guy from Medford with a shaved head and a goatee, who was probably only around 30 but liked to act wise to the world and told me that my smartass nerdy personality would get my butt kicked if I ever stepped foot into "Mehfeh." I wouldn't last on the tough streets there, he reminded me repeatedly.
I had a few regular deliveries to the nearby all-women's Smith College campus, which would often inspire the cook to unhelpfully suggest porno scenarios that might unfold when I reached the dorms, particularly the house called Comstock, which he felt was a hilariously suggestive name.
He found such notions hysterical and described them with great gusto and in fine detail. But the closest I got to a porn scene was delivering to a rooming house in Easthampton, where poor men who worked in the nearby brush factory lived. One guy with a wispy mustache and matted hair parted in the middle ordered frequently and would open the door to his room and ask me to step in. His walls were entirely plastered with pages from stag mags. One collage of men behind women was customized with a hand-drawn speech bubble coming from one of the models that said, "Whoah doggies!"
The delivery business wasn't destined to last long, but it did afford me one of the best anecdotes of my life.
The other regulars included some junkies and people working night shifts at various spots. Sometimes we got calls to go to motels out near the highway. One day, I came back from a run and heard the pouty girlfriend taking a phone order from one of the motels. She asked, "Can I get a name? A real name, please." She paused and looked up at me shaking her head. "O.K., sir."
She hung up and announced in a bratty voice, "Someone who said his name is 'Bo Diddley' just ordered some ribs. He wouldn't give me his real name, so I don't know if it is a prank."
It suddenly dawned on me that I'd forgotten Bo Diddley was playing around that time at the Pearl Street nightclub. "Wait, Bo Diddley? What did he give for an address?"
"He said the Super 8 in Northampton. But he just gave me that nonsense name."
"You know who Bo Diddley is, right?" I asked her.
She shook her head. "No, it is just some gobbledygook he made up."
I looked at her boyfriend regarding me with a crooked grin and half-shut eyes. "David?" I asked. "Don't you?" He also shook his head. I asked the cook and the other driver. No one registered any recognition.
"People," I said. "Bo Diddley! One of the early rock 'n' rollers! The Bo Diddley Beat, come on!" I started to pound out the Bo Diddley Beat on the desk. When I sang "Who Do You Love," they understood.
"I just thought it was a fake name he made up."
[youtube https://www.youtube.com/watch?v=MAGoqMZRLB4&w=560&h=315]
We would usually have two or three drivers working on any given night and took turns. I asked the other driver if I could take his turn. He didn't care, he told me. "It's probably a prank anyway."
I got the ribs and put them on the grate in the thermal box and loaded it into my car. I was a little nervous. But I thought maybe they're right. Maybe this was a prank. Maybe I had misremembered a Bo Diddley show. But if there had been a performance, I was already kicking myself for missing it. What the hell was I working at this shit hole for if Bo Diddley was playing in town? For some reason I had also missed a Ray Charles show in the area, something I have not forgiven myself to this day.
Driving over in the huge Impala I had inherited from my grandfather, I got even more nervous. But I reasoned, what were the chances it really was Bo? And even if it was really Bo, it will probably be someone on his crew or something who answers the door.
I pulled into the lot at the Super 8, took the thermal box out of the car, and started to walk up to the room on the second level. Butterflies. I knocked. "Hold on," came a voice that sounded an awful lot like what I thought was Bo. The door opened. It was Bo Diddley. "Hello," he said. He was taking out his wallet.
"BO DIDDLEY!" I shouted.
"Hey, man, yeah. What do I owe you?"
"Oh, man! Bo!" I looked into the room. There was no one there. I swear to God that my memory is that his iconic rectangular Gretsch guitar was leaning up against the wall and that his wide-brimmed black hat was on the TV. But this may very well not have been the case. You know how memories just seem too good to be true? Like you must have embellished them in your mind over the years? Might be a case of that, but I have been telling this story with these details as long as I can remember.
"Man, Bo! I can't believe it's you! What an honor! I am a musician and a fan, of course."
"Awww, that's really nice, man. Thanks. Now, what do I owe you?"
"No way, Bo. The ribs are on me," I said.
"What?! No, that's O.K., lemme pay you. Really?"
"Yeah, Bo. It is an honor. Least I can do," I said. "Would you mind signing this menu?"
He thanked me again, genuinely surprised at this small gesture, it seemed. He signed the Food Runners menu.
I giggled to myself all the way back. Bo Diddley! By himself in a Super 8! A giant, a legend! I pulled into the lot in front of the shop and came in with the empty thermal box. They were all milling around there and looked over at me. "Well? Was it a prank?"
"No! It was Bo fucking Diddley!"
They said, "wow" and all that, but still not properly impressed.
"I am paying for his ribs on my own. I got him to sign the menu."
David whined. "Oh, you have to let us have the menu for the wall."
"What? Why? You don't even know who he is. No way."
"Come on. We need it for the wall. You don't have to pay me for the ribs."
I didn't really care. I got to shake Bo Diddley's hand.
I'd really never cared about autographs. I let them have the menu for their shitty bulletin board and made them pay for the ribs. I quit a couple of weeks later and they went out of business by summer. I'm not saying it was related. I hope they kept the menu, though.