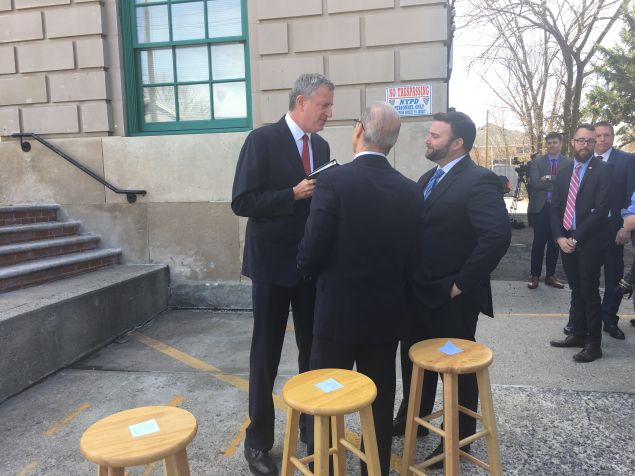 Mayor Bill de Blasio said that the recently-passed New York State budget is a mixture of "simple pros and cons" and vowed that he will lobby Albany on his proposal to impose a new tax on sales of properties worth $2 million and to see his administration's power over the city's school system extended at least another year.
The $153.1 billion budget, which the State Legislature passed on Sunday, raised the age of criminal responsibility to 18 years old, included Gov. Andrew Cuomo's free public college tuition plan, brought back the 421-a tax abatement program for developers and renewed the millionaires tax on people whose salaries are more than $1 million. Missing were de Blasio's "mansion tax" and a continuation of the mayoral control model for public schools, which Assembly Democrats attempted to fold into the spending plan.
The mayor noted that the state legislative session runs into June.
"So that fight's gonna continue," de Blasio said at an unrelated press conference on Staten Island today. "You know, I think we had some areas where things worked out, some other areas less so but we're gonna continue to fight through the legislative session on some of these items."
The mayor spent weeks aggressively hawking the mansion tax proposal, which he hoped would provide revenues for low-cost senior housing. The measure proved unpopular in the Republican-run State Senate, but he maintained that the "discussion is far from over."
Republican lawmakers similarly opposed including mayoral control in the budget. Former Mayor Michael Bloomberg convinced the State Legislature in 2002 to set up a seven-year receivership that allowed him to abolish the troubled Board of Education and replace it with the Panel for Education Policy, to which he appointed eight of 13 members.
The system temporarily lapsed in 2009, but Bloomberg quickly won a six year extension.
But during de Blasio's tenure, the hostile State Senate has refused to renew the program for more than one year at a time. The mayor stressed today that he "never had the illusion" that it would be "easy" to get mayoral control into the budget, saying that he expected the outcome.
Still, he argued that the opposition mainly comes from politicians from outside the five boroughs, and that it enjoys bipartisan support within the city limits—including business leaders who were "very forceful" in stressing the importance of mayoral control to the State Senate. 
"It's true there are some who are critics but I would also say there's a lot of people in the Senate who, you know, are clear, at least privately, that they're not promoting an alternative and it's not like they say they wanna go back to the old school boards which—as I remind people—was a system plagued with chaos and corruption," de Blasio said.
He also said that they have "another year under our belt" in which the high school graduate rate and test scores have both continued to go up, coupled with dropout rates continuing to go down.
"I think the bottom line is, there is no alternative structure that will work," he said. "This is the only thing that does work. We're proving it every day and in the end, you know, the most likely outcome is the same is old."
The governor's office did not immediately respond to a request for comment.