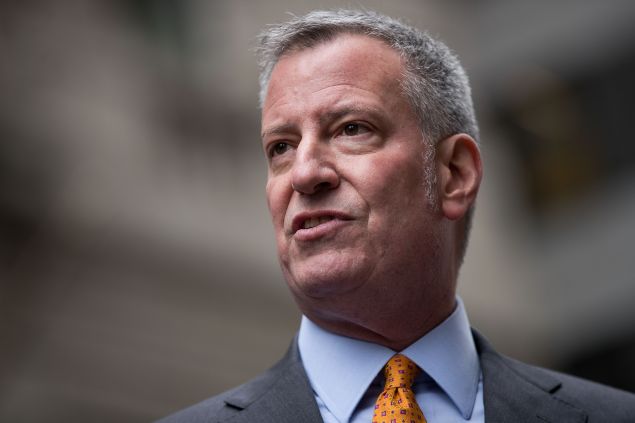 Mayor Bill de Blasio and the City Council announced new initiatives today aimed at cutting the number of smokers in the five boroughs by 160,000 over the next three years—mainly by raising the price floor for cigarettes and cigarillos from $10.50 a pack to $13, among other measures directed at the tobacco industry.
The bill, introduced by Councilman Corey Johnson, who heads the City Council's Health Committee, anticipates that such a step will yield a 6.4 percent decrease in adult cigarette smoking, reducing adult cigarette use from 14.3 percent to 13.9 percent. The legislation establishes the first price floor and tax for other tobacco products such as cigars, smokeless tobacco, loose tobacco and tobacco-containing shisha—and enforces a 10 percent tax on other tobacco products for the first time, with the resulting revenues going toward the beleaguered New York City Housing Authority, which faces federal funding cuts under President Donald Trump.
"It will bring us down to the lowest rate of smoking we would have ever had in our history, 12 percent of our population," de Blasio said today at the American Heart Association office. "And as with all initiatives, in terms of health and safety, that's not an endpoint. That's our goal for the next three years and then we intend to go farther after that."
The liberal Democratic mayor offered rare praise for the "extraordinary work" of the man he replaced, former Mayor Michael Bloomberg, who barred smoking in parks and established the minimum price.
According to de Blasio, the city still has more than 900,000 smokers—including 15,000 youth—even though smoking rates have dropped from 21.5 percent in 2002 to 14.3 percent in 2015. He also asserted that 174,000 adults and 42,000 adolescents use e-cigarettes.
The mayor noted that the top five causes of death in the city—heart disease, cancer, pneumonia, respiratory disease and strokes—can all be linked to tobacco. And he admitted that it's going to be a tough fight against the tobacco industry.
"Now I wanna be clear what we're up against: a multibillion dollar industry, a very strong industry, a very agile industry that should have been long ago knocked back on its heels but they keep coming back in new ways and that's why we have to go at this problem with a whole variety of tools and we have to be very, very aggressive," de Blasio continued.
The package of bills introduced by Johnson and Councilmen Brad Lander, Fernando Cabrera and Ritchie Torres will go before the City Council's Health Committee on April 27.
The other bills will slash the tobacco retail dealer licenses in each community district to half their current number, and create a separate license for the retail sale of e-cigarettes. They also require residential building owners to formulate a smoking policy, which they will have to communicate to both current and prospective residents.
Though buildings would not be required to adopt 100 percent no-smoking policies, all residential buildings with three or more units will be covered, including rentals, condominiums and cooperatives. Another piece of legislation bans pharmacies—or retail stores that have pharmacies—from selling tobacco products, including cigarettes, a longtime goal of anti-smoking activists.
Health Commissioner Mary Bassett said that tobacco companies particularly target youth with their marketing, calling the legislation a new way forward.
"We are here today talking about advancing the health and well-being of all New Yorkers, saving lives, preventing tobacco-related illnesses, saving money because these preventable illnesses are costly to care for," Bassett said.
Johnson, chairman of the Council's Health Committee, said that he has been "clean and sober" from both alcohol and drugs for eight years but that he has "not been able to quit smoking." He said that he has quit and gotten back into it multiple times—calling his experience "hard"—and noted the physical effects of nicotine as well as the "mental vice that it grips you in."
"For me, it's personal and I don't want to stand up here today and be the chair of the Health Committee and talk about all these important bills and not be honest about my own struggle as it relates to this because that would be hypocritical and dishonest," Johnson said. "But it's a real, it's a real thing."