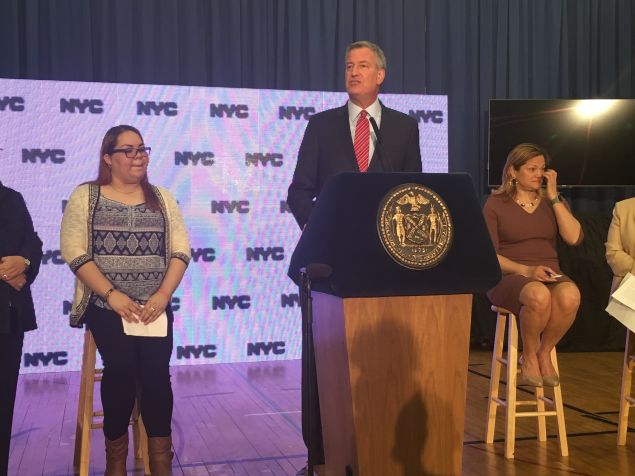 Mayor Bill de Blasio announced today that he would lobby Albany and Washington for roughly $700 million in funding for his latest initiative: free, full-day early childhood education for every 3-year-old in New York City by 2021.
De Blasio said that the city is already spending $200 million on the Administration for Children's Services EarlyLearn NYC child care program, which has provided full-day early care to 30,000 children every year since 2012. The city, he said, is committing an additional $177 million by fiscal year 2021 to roll out the new initiative, dubbed "3-K for All," but will need the $700 million from the state and federal governments.
The new endeavor is an extension of the universal prekindergarten initiative for 4-year-olds he championed during his 2013 campaign and his first year in office—an undertaking he said today was successful because of "tremendous public support" that persuaded Albany to provide the necessary financing.
"We're going to repeat that vision and we will take it to Albany and then we'll take it to Washington and as difficult and complicated as both places are, the world still works when it comes to something that the public demands and we think the demand for 3-K is gonna be intense," de Blasio said at the Courtlandt School in the Bronx this morning. "We think parents are gonna make [it] very clear they need this."
The mayor said he has already arranged meetings "with each of the key players in Albany" and spoken at length with Bronx State Senator Jeff Klein, leader of the Independent Democratic Conference, an eight-member faction that has a power-sharing arrangement with the GOP majority.
The State Senate Republicans have long been hostile to de Blasio, especially since his failed 2014 effort to help Democrats take over both houses of the State Legislature. Klein, a figure of opprobrium for many liberals, would thus prove crucial to securing resources for the 3-K program.
Another possible obstacle could be de Blasio's rival Democrat, Gov. Andrew Cuomo. The mayor said he would engage with the governor and his team "as this plays out."
The state legislative session ends in June, and de Blasio admitted that negotiations over aid from Albany would have to wait for next year. The city, he said, will present its proposals along with an "extraordinary body of evidence" that shows that it would be "one of the best investments we can make in the future of our schools and our city."
"We're gonna let them see what we're trying to achieve and let the legislative leaders tell us what is the most sensible way to proceed and go from there," de Blasio said.
A spokesperson for Klein confirmed the state senator had agreed to push for state funding for the program. Cuomo's office did not immediately respond to requests for comment.
But as the mayor's press conference was under way, Rich Azzopardi, a spokesman for Cuomo, tweeted a link to the governor's announcement in November 2016 that $10.4 million had been awarded to 25 high-need school districts to increase access to quality pre-K for more than 1,500 3-year-old students across New York.
As for federal funding, the mayor said that he has not yet had any conversations with the Trump administration about the initiative—but insisted that "that day will come." De Blasio has been an outspoken and bitter critic of the Queens-born chief executive since he announced his bid for the presidency almost two years ago.
"The federal situation, always interesting," de Blasio said, hinting that he might hold out until after the 2020 election, which could see the incumbent deposed. "I remind you we're talking about September 2021. That's a long way from now and a lot can happen along the way. But I will also say that one of the areas that has seen more and more bipartisan interest has been early childhood education."
By fall of 2018, the city plans to have a seat for every 3-year-old living in District 7 in the South Bronx and District 23 in Brownsville—and anticipates that it will serve 1,800 children in those two areas. The city will expand 3-K to at least six additional districts by the fall of 2020.
Each pair of districts will have a two-year expansion, with the last pair beginning in the fall of 2020 and getting universal access in the fall of 2021. The new initiative is part of de Blasio's Equity and Excellence for All agenda, which looks to have 80 percent of students graduate from high school on time and two-thirds of graduates college-ready by 2026.
City Schools Chancellor Carmen Fariña said that 3-year-olds will learn how to play with others and how to talk to one another.
"In very practical terms, this is what I see happening: A 3-year-old is a sponge, they pick up everything," Fariña said. "So why not have them in the best place where the stuff that they're picking up is the right stuff?"
City Council Speaker Melissa Mark-Viverito said that full implementation of the initiative will be difficult without the support of Albany and Washington, but said that the city will continue to fight for it.
"In a time of dramatic uncertainty, as has been mentioned many times, certainly over the future of our national education system, it is inspiring to see New York City lead the way in opening classrooms to more students than ever before," Mark-Viverito said. "But despite that federal uncertainty, we will not abandon our core values whether it's to our immigrant brothers and sisters or to our 3-year-olds across the city of New York."
Studies on the long-term impact of early childhood education have found mixed results, with some surveys showing its positive effects persisting well into grade school, but others suggesting the advantages fade after a year or so.