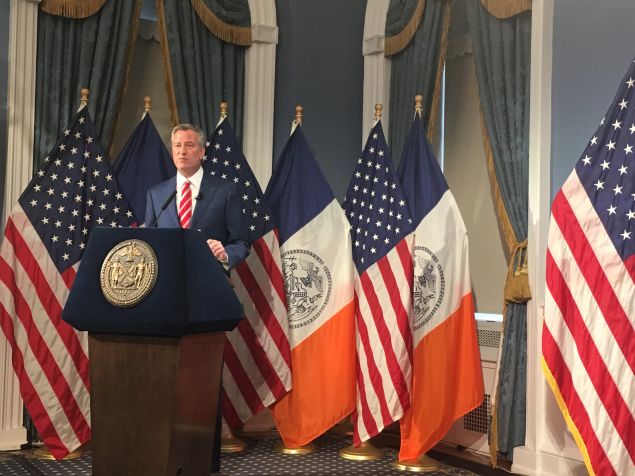 Mayor Bill de Blasio said he's not worried yet about President Donald Trump's plan to eliminate state and local tax exemptions on federal filings—and blasted the proposed national reform package as a "pipe dream."
Treasury Secretary Steve Mnuchin and Trump's chief economic advisor Gary Cohn unveiled the plan this afternoon, which calls for slashing the corporate tax rate, doubling the standard deduction individuals and couples can take and eliminating the estate tax. It would also end the longstanding practice of allowing taxpayers to deduct state and local levies on their federal returns, which would massively increase the burden on residents of places with high excises like New York—and possibly put pressure on Albany and City Hall to cut their rates, and thus their revenues.
De Blasio mocked the Republican administration for producing another policy paper with sparse specifics.
"'Plan' is really a very generous word," de Blasio said, holding up a copy of the proposal at the rollout of his own $84.68 billion budget proposal. "Here is the extraordinary one-page reform of American taxation. This is a pipe dream."
He asserted that changing the rules would  that that does not stop the federal government from raising people's taxes "at any given point along the way."
De Blasio added that Trump's tax plan will hurt the private sector by creating a change in the foundation of the real estate market given that "its work is based on a set of assumptions around taxation" and that Republicans as well as members of the business community will also raise eyebrows over the plan.
"For over 100 years, Americans have been able to deduct property tax from their federal taxes," de Blasio said, suggesting the tax plan would meet the same fate as the president's healthcare overhaul.  "I think Americans feel pretty strongly about their property and they're smart enough to realize that if you can no longer deduct those taxes, you'll never get that deduction back."
"It just creates a very negative domino effect where I think it's disrupting the ability of government at all levels to serve people," the mayor continued.
The liberal Democrat said he expects Trump's tax plan "to be met with a huge backlash," asserting many of its provisions would reap a windfall for high earners at the expense of domestic programs, and would involve an "immense amount of deficit spending"—supposedly anathema to conservative Republicans.
Trump's proposal isn't new. Late President Ronald Reagan made a similar proposal in the 1980s under the argument that it would help bring more money into the economy.
Senate Minority Leader Charles Schumer, the most powerful Democrat in Washington, indicated earlier this month that his 48-member coalition would be reluctant to negotiate tax reform so long as Trump continued to conceal his personal returns from the public.
At the presentation of his executive budget, de Blasio said the city isn't taking Trump's threats to cut federal outlays lightly, but insisted the "uncertainty" in D.C. wouldn't stop him from again boosting municipal spending. This year's spending plan includes provisions like subsidized legal counsel for tenants facing eviction and undocumented immigrants fighting deportation, and begins to implement the mayor's ten-year vision for closing the incarceration facilities on Rikers Island.
"We will not be paralyzed because Washington is paralyzed," he said.
In January, he revealed his first preliminary budget of the Trump era—$84.67 billion in expenses for Fiscal Year 2018 and $84.6 billion for improving and maintaining city infrastructure over the next decade. At the time, de Blasio said it would be "irresponsible" for him to curtail his fiscal goals given Trump's unpredictability and the unpopularity of many of his policy proposals
The mayor also announced a partial hiring freeze today, which he said is meant to serve as a precautionary cost-cutting measure. De Blasio resisted yielding details on how the hiatus would work, except that it would focus on administrative and managerial jobs, and on not filling posts left vacant upon the departure of current employees.
"We are in the situation that I think requires sustained vigilance and savings has to be an every year focus," he said.