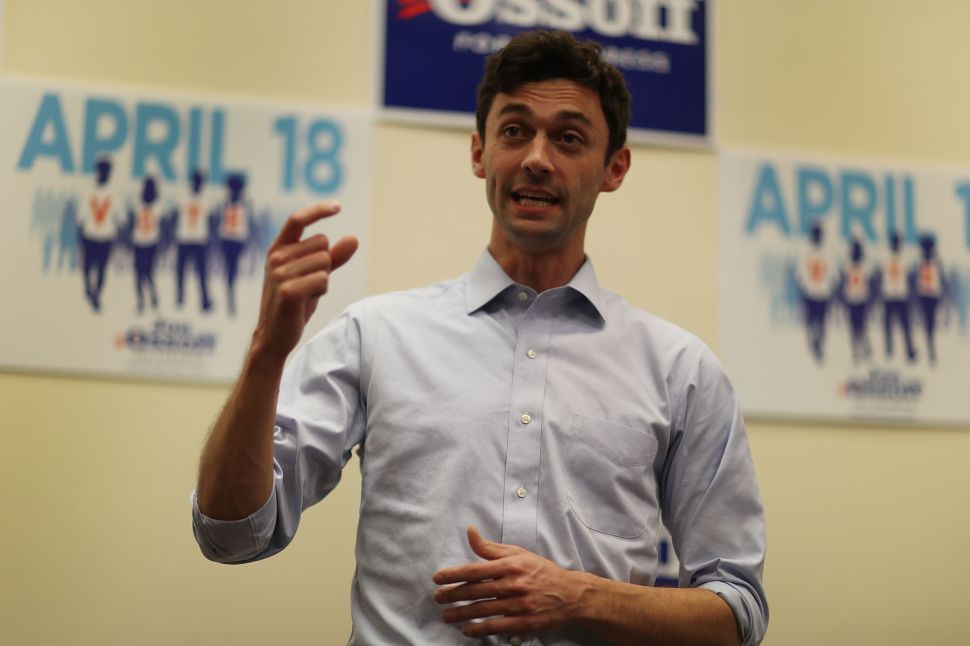 The Democratic Congressional Campaign Committee (DCCC) reported that it raised $31 million in the first quarter of 2017, yet it provided just $3,000 to the Democratic candidate in a special congressional election in Kansas. The race finished much closer than expected—the self proclaimed Berniecrat candidate lost by six percentage points in a district Trump won by 27 percent. Democrats excused their dismissal of the race and simultaneously appropriated it as a sign that the tide is turning against Republicans.
Kansas isn't the only Midwest region the Democratic Party has ignored in favor of more establishment friendly areas. In an April 4 race in Wisconsin for a decade long term on the State Supreme Court—one of two statewide elections in Wisconsin this spring—the Democratic Party didn't bother to run a candidate. Though Sen. Bernie Sanders announced that he will visit Montana to help congressional candidate Ron Quist in the special election race on May 25, the Democratic Party is ignoring this race as well.
Democrats are also refusing to help candidates in Ohio, where Barack Obama won in 2012 with under two percent of the vote but Hillary Clinton lost in 2016 by eight percent.
"Just months after the presidential election, they felt folks like them were being forgotten—again," reported the Washington Post on April 5 in a story about how Ohio Democrats are continually abandoned by the national party. "The party's comeback strategy was being steered by protesters, consultants and elitists from New York and California who have no idea what voters in middle America care about."
The Mahoning County Democratic Party Chair David Betras told the Post, "Every time Trump so much as sneezes, we as a party are setting our hair on fire and running around like it's the end of the world. Most people around here don't care. They are living paycheck to paycheck, just trying to hold on. After everything that's happened, if we as a party still aren't speaking to them, then we are never getting them back."
The Guardian's Chris Arnade reported that Trump narrowly lost Mahoning County, despite Obama easily winning it in 2008 and 2012, in part because voter turnout decreased by 15 percent in the county's largest city, Youngstown, which is younger, low income, and the population is almost half African-American. "To get out beyond successful neighborhoods in D.C., New York City and the elite college campuses—beyond where prevailing socio-political opinions are made—is to see another America," Arnade wrote. " It is an America that has been on a downward trajectory for decades, hurt by the loss of jobs and with downtowns emptied of energy and filled with drugs. It has made staying in these communities harder."
The national arm of the Democratic Party has gone in the opposite direction of reaching out to communities that have given up on supporting Democrats because of unfulfilled campaign promises. The DCCC switched their offices from Washington D.C. to Orange County, Calif. in a move they claim is an effort to win seats on the west coast but conveys out-of-touch elitism. Rather than engage with the disenfranchised, low income, and working class regions of the country, Democrats have moved to one of the wealthiest counties in the United States. They are repeating the Clinton campaign's failed strategy of targeting moderate Republicans in wealthy suburbs.
The DCCC's post-election strategy led by Rep. Sean Patrick Maloney has flirted with abandoning rural America altogether in favor of corporate Democrat candidates, like Georgia congressional candidate Jon Ossoff, who is receiving millions of dollars in support from wealthy Democrat donors and the party's establishment. The party is banking on Ossoff to pull off an upset in a traditional Republican county of a wealthy Atlanta suburb that Trump almost lost to fuel the narrative that resisting Trump can get results and that establishment candidates can still win utilizing a centrist message. However, the New Republic reported that either way Democrats should be weary of this race as an indicator of a bigger narrative, interviewing Ossoff's campaign manager who said, "I really think this race is actually about the community engagement we're seeing in the district. Whether that's something we'll see across the country remains to be seen…. I know the amazing people here in this district and all the amazing work they're doing. I don't know if that's going to be the case in every battleground district in 2018." The DCCC won't be able to provide candidates in the 2018 midterm elections with nearly as many resources as they are for Ossoff, who is benefiting from running in an open race rather than against an incumbent.
Democrats aren't going to recoup their losses if they don't reach beyond wealthy suburbs. Given the option of voting for a Republican or a Republican-lite in Democrat clothing, voters have traditionally gone with genuine Republicans. If the 2016 election was any indication, there aren't enough voters to switch party sides in these targeted areas of wealthy suburbs, even considering Trump's unpopularity. Ossoff came up short in getting to the 50 percent of the vote needed win outright and will face Republican candidate Karen Handel in a one-on-one special election held on June 20.