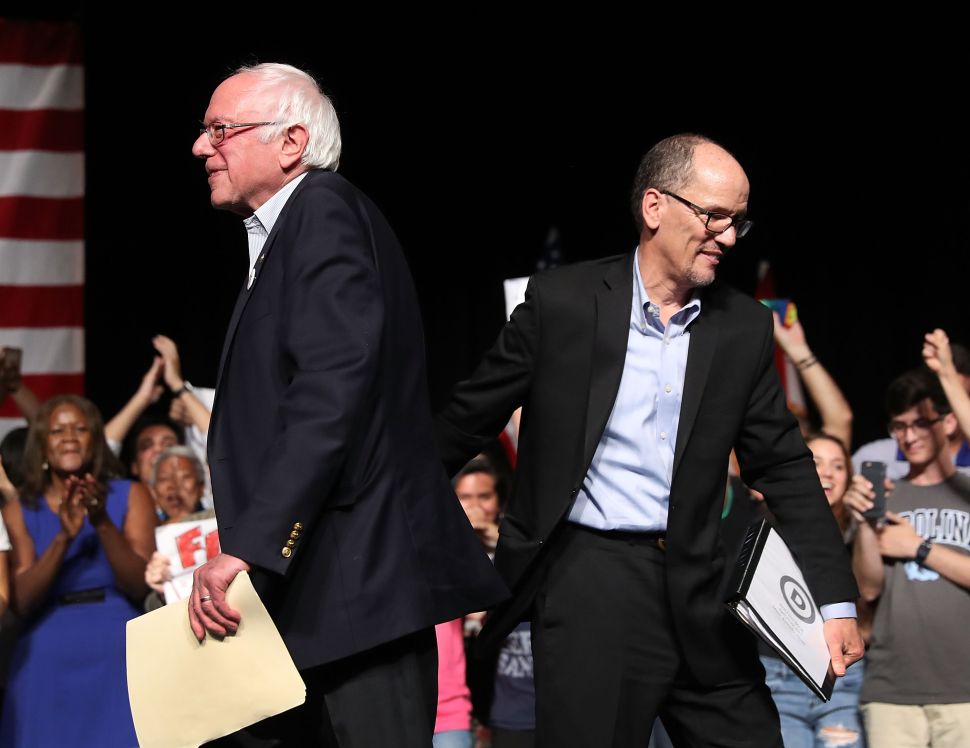 DNC Chair Tom Perez's "unity tour" with Sen. Bernie Sanders exposed his flaws and inability to lead the party. He was booed during the first stop of the tour and on several occasions throughout it. Toward the end of the tour, he was pooped on by a bird. Twitter users poked fun at the incident and compared it to Sanders' famous interaction with a bird that landed on his podium during his presidential campaign.
Proving how out of touch he is, Perez has desperately used swearing to attempt to gain favor with younger audiences. During the tour, he said that President Donald Trump "doesn't give a shit about healthcare." He has sworn in previous appearances as well, and the DNC is selling a shirt on their website born from one of Perez's comments with the slogan "Democrats give a shit about people." Perez's swearing comes off as forced, contrived, and insults the intelligence of Democratic voters. Instead of using brash marketing rhetoric, the Democratic Party needs to challenge billionaires and wealthy donors who incessantly pick away at democracy to expand their wealth and power. No one believes that Democrats give a shit about people while they further embolden special interests and big donors.
During the unity tour, Sanders and the DNC were criticized for scheduling a rally with Democratic candidate for mayor of Omaha, Heath Mello. In his role as state senator, Mello supported bills restricting abortion, which drew criticism from NARAL President Ilyse Hogue and several other Democrats. Perez once again demonstrated his inability to unite the party on a divisive issue.
Sanders, whose pro-choice agenda has received a 100 percent rating from NARAL, defended his support of Mello in an interview with NPR. "The truth is that in some conservative states there will be candidates that are popular candidates who may not agree with me on every issue. I understand it. That's what politics is about. If we are going to protect a woman's right to choose, at the end of the day we're going to need Democratic control over the House and the Senate and state governments all over this nation," he said. "And we have got to appreciate where people come from and do our best to fight for the pro-choice agenda. But I think you just can't exclude people who disagree with us on one issue."
Sanders' Democratic opponents criticized him for failing to initially endorse Georgia congressional candidate Jon Ossoff and call him a progressive, though Ossoff doesn't use the term to describe himself. Sanders supporters have cited that Hillary Clinton received little criticism for selecting Sen. Tim Kaine as her running mate, despite his mixed record on abortion. Many of the same people criticizing the DNC and Sanders for supporting Mello are the same ones who have attacked progressives for alleged "purity tests" against Democrats. In truth, this is yet another attempt to undermine the most popular politician in the country.
Instead of "uniting" with Sanders in his support of Mello, Perez issued a statement echoing NARAL's president but went even further by stating that abortion rights are non-negotiable in the Democratic Party, even though he initially argued in support of Mello. House Minority Leader Nancy Pelosi rebuked Perez's reversal in an interview on NBC's Meet the Press. "Of course," she said when asked if its possible for a Democrat to be against abortion. "I have served many years in Congress with members who have not shared my very positive—my family would say aggressive—position on promoting a woman's right to choose." Some of those Democrats include Sen. Bob Casey and former Vice President Joe Biden, who aren't pro-life but have previously advocated for restrictions on abortion, like Mello. However, Perez avoided discussion about what restrictions the Democratic Party would support, if any. For instance, during the Democratic primary town hall, Sanders argued his belief that it is entirely a women's right to choose without exception, while Hillary Clinton supported a late pregnancy regulation. Perez didn't bother addressing any of the semantics. Instead, he cowered to pressure from an outside organization and switched his position to a more politically expedient one, thereby exposing the weakness of his leadership.