Consider yourself officially absolved for any of the weirdness of having a crush on an animated character: with his floppy hair and John Cusack voice, Dimitri, the rogue-ish St. Petersburg street rat who trains Anya to pose as the lost Princess Anastasia, was most certainly a babe.
In a new Broadway production, Derek Klena (Dogfight, Wicked) takes on the beloved character (this time spelled with a "y") in an adaptation that replaces the zombified-Rasputin as the villain with a slightly more historically accurate but equally sinister Bolshevik commander. The major plot points you remember from your childhood are still there—auditions for "a girl to be Anastasia, a mournful music box, a train ride gone wrong—but the tone is more "romantic journey of self-discovery" than "cursed singing grubs bouncing through the underworld."
And with a fuller storyline and brand new songs, Klena creates a Dmitry that's just as crushable, but a little less… two-dimensional.
So did you grow up watching the Anastasia movie?
Derek Klena: Yeah, I definitely grew up with the movie. It was a favorite of mine and my family. I feel like it was the Frozen of our generation; everyone would sing the songs—"Once upon a December," "Journey to the Past…" I have a sister who's two years younger than me, and she used to sing it for her recitals. To have the adaptation of the musical come to fruition and to be a part of it, it's kind of surreal.
How is your Dmitry different from the animated character?
I feel like I've been given the great privilege of having a new structure to the character, and also all of this amazing music that Dmitry didn't have in the film. With Terrence McNally's new book and interpretation of the Romanoff story, it really is a completely different scope of the character that I've been privileged enough to work with. The trials and the journey that Dmitry goes on in our show are much different than the movie, and I think heightened. There's a lot more to him in the stage version, and getting to play those layers and the different plot points he goes through has been exciting and freeing, and it's allowed me to make him my own.
How do you think changing the villain from Zombie Rasputin to Gleb, the Bolshevik general, affects the show?
I think it grounds the show in kind of an amazing way, and in a human way. It's such a dark story at its heart, about this family who went through tragedy, and this country of people going through a lot of change. I feel like having Gleb, and having these realistic elements, really sheds light on the tragedy that the Romanoff family went through, and makes the audience even more intrigued by Anya's journey in finding herself and her family.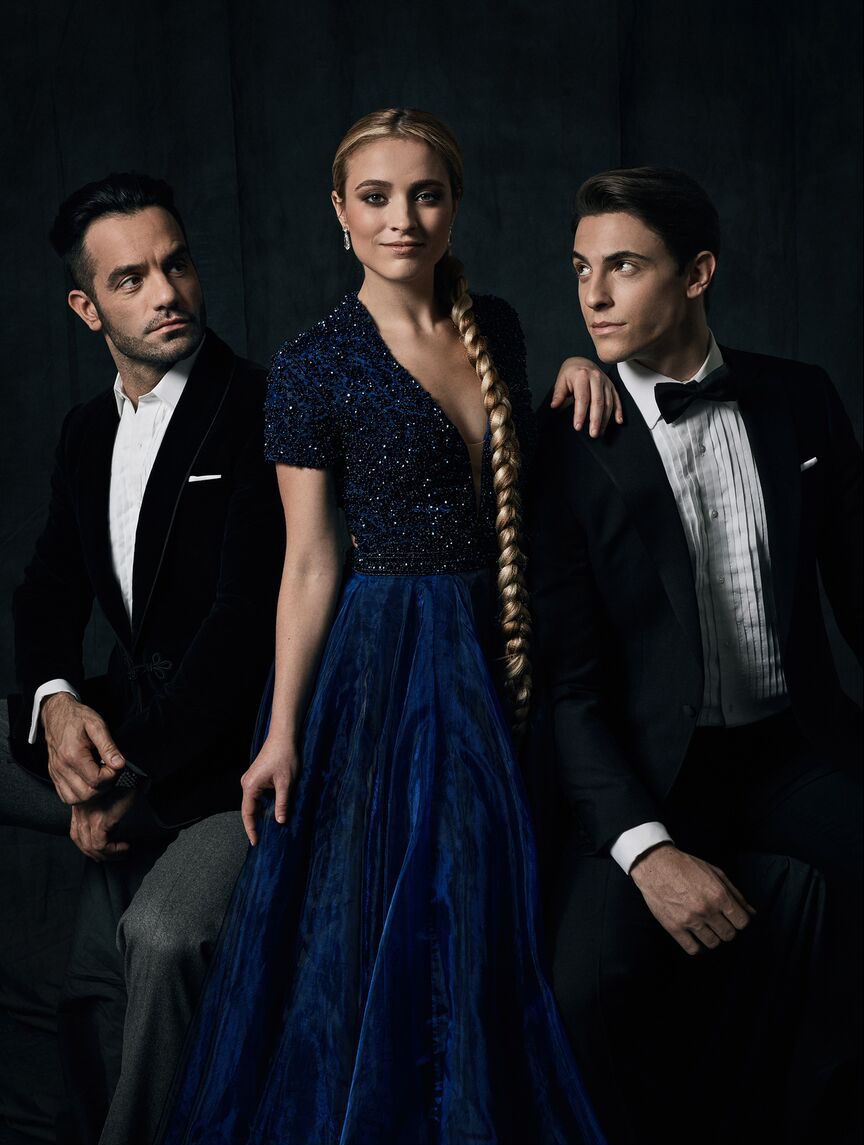 How was your experience originating a role different from getting to take on the role of Fiyero in Wicked?
It was always a dream of mine to get to play Fiyero, so getting to have that experience as my Broadway debut, and not having the responsibility of originating that role, was a gift and a curse. I was super lucky to have that opportunity, to go into a show and not have that amount of stress. I just sort of fit into the puzzle, and away we went. But for Anastasia, you know, everyone has a dream of originating a Broadway musical because of the freedom that you're given, and the developmental process; developing a character is a once-in-a-lifetime experience—working with the writers hands-on, getting new changes every day.
We did this in Hartford and now in New York, so to be on this journey and see it as a whole, and develop these characters basically from scratch, it's just so fulfilling, and the responsibility that goes along with it, yes it's stressful, but it's so rewarding, and makes your job on stage just so exciting. People ask me what dream roles I want to play, and I really feel like I am living that dream. Dmitry is everything I want to express, and get to do on stage in my career.
What about the Broadway musical do you think will be most surprising for fans of the movie?
I just think how much it has grown. Not putting down any other adaptations of animated films, but I feel like, ours especially—there are 19 new songs that weren't in the film. I think the amount of new score will surprise a lot of people, just how much they've expanded on the movie score. There's just a complexity that's been given to the show that I don't think people will anticipate seeing the movie: new plot points in the story, the darkness we've been able to bring to it, but still keeping family relevant. There's a fantastical element to the movie, and we've worked so hard at humanizing, and making our show historically accurate, that I think people will be blown away.