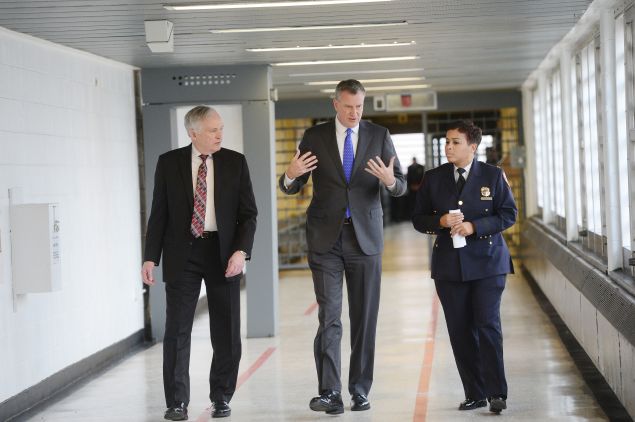 Department of Investigation Commissioner Mark Peters—the treasurer for Mayor Bill de Blasio's 2013 campaign—smacked down his boss over on-air claims that embattled Department of Correction Commissioner Joseph Ponte and his staff had gotten professional "guidance" telling them they could use their city vehicles for personal trips outside the five boroughs.
In a probe publicized today, DOI discovered that Ponte had spent 90 days of last year outside the five boroughs, and had repeatedly used his taxpayer-subsidized SUV and gasoline to travel to his native Maine, setting an example for "serious misuse" that 21 other jails officials followed. De Blasio took time during his weekly "Ask the Mayor" segment on WNYC to defend Ponte's record managing Rikers Island and the rest of the city's inmate facilities, and to claim that the commissioner's staff had informed him he was free to use public property for personal purposes.
"There's something wrong in the way that our commissioners are being instructed on the use of their vehicle. Commissioner Ponte, to the best of my understanding, was told by his own internal staff that this was the right way to handle things," de Blasio claimed. "He was advised, he followed that guidance."
The mayor repeatedly promised that the taxpayers would be "made whole" for the thousands of dollars in travel expenses the Correction leadership racked up on the city's tab.
Peters issued a statement claiming the mayor was "misinformed"—but also seemed to hint that de Blasio had sought to mislead the public. The DOI head noted that one of Ponte's staff cited in the report, Deputy Commissioner Gregory Kuczinski, had faced fines from the city Conflict of Interest Board for misusing his official vehicle in the past.
"Our investigation conclusively demonstrated that Commissioner Ponte and others did not receive official 'advice' that they could use their cars for personal trips out of state," Peters said in a statement to the press. "There can be no defense of this behavior and City Hall harms government integrity by even trying."
The report has already reverberated through the political sphere, as GOP mayoral candidate Paul Massey issued a statement demanding Ponte's termination. The real estate executive compared the corruption and violence on Rikers Island to the rash of child killings under the watch of the city's Administration for Children's Services.
"His dereliction of duty and absence during the ongoing crisis at Rikers Island is the latest addition to the laundry list of reasons we need a new correction commissioner and a new mayor," Massey said of Ponte. "Mayor Bill de Blasio's inept management and part-time attention to his full-time job has allowed this agency, and others including ACS, to devolve into complete disarray at the expense of hard-working New Yorkers and the people who need us most."