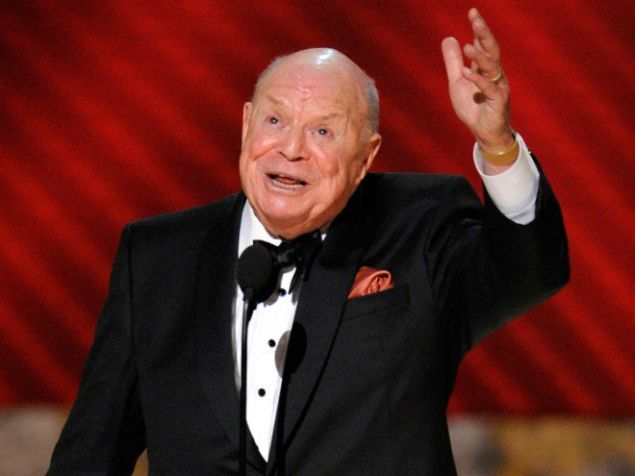 Don Rickles, one of the greatest standup comics ever, died of kidney failure today at his home in Los Angeles. He was 90 years old.
A merciless insult comic who was dubbed the "Merchant of Venom," Rickles held nothing back—he was an equal opportunity offender, and a real-life Archie Bunker.
Below is a compilation of some of Rickles' best bits (though we strongly recommend diving down a YouTube rabbit hole tonight to discover some more).
Ronald Reagan's 1985 Inaugural Ball
From the moment Rickles calls the event's host, pint-sized Emmanuel Lewis, "the first black kid I ever saw that'll definitely never play basketball," Rickles has the audience in the palm of his hand. President Reagan and the rest of the Washington elites had no idea what they signed up for.
Rickles the Roaster
In the 1970s, Dean Martin's celebrity roasts were the stuff of legend—and there was no one better than Rickles at making Hollywood feel the heat, no matter the target's age, race or gender. But as shown in the above clip, there was also no one better at mixing the venom with love.
Martin Scorsese Gets the Rickles Treatment
Rickles even brought his trademark acerbic wit to more serious affairs, most notably a 1997 American Film Institute tribute to Martin Scorsese. He told the legendary director that "none of his films were great" and declared that "I'm the biggest name here."
The Tonight Show Starring Johnny Carson
Rickles appeared on Carson's show over 100 times, and each one contained numerous laughs. But arguably their most famous interaction was unplanned. When Rickles guest hosted The Tonight Show in 1976, he broke Carson's cigarette box—but he conveniently forgot to tell Carson that. Once the late-night legend figured it out, he stamped across the studio lot to confront Rickles on the set of his sitcom CPO Sharkey, creating comedy gold.
Other Late Night
https://www.youtube.com/watch?v=8TR2klAqE-U
Despite his affinity for Carson, Rickles brought his A game to every talk show he appeared on. This was true as recently as October, when he made his final late night appearance on Jimmy Kimmel Live. Appearing with longtime friend John Stamos (who he called "lonely") he talks about how his daughter "majored in tennis" and jokes that Kimmel's  toddler son is "gonna come into a lot of money someday."
The View
Even though he's on a couch full of women, this interview focuses on Rickles' history with the mob. He describes how he asked one audience member "Is that the wife? Oof." The man wanted to retaliate, but one of Rickles' mob friends "talked" to him. The next night, the man returned to the club and told Rickles, "Son of a bitch, she is a moose."
Toy Story
Despite his penchant for very adult humor, Rickles was perhaps best known as Mr. Potato Head in the Toy Story movies. In this classic moment from the first film, Rickles utters his trademark insult "You hockey puck" while talking to…an actual hockey puck.
One Night Only
https://www.youtube.com/watch?v=MOcWkUxbP8s
A fitting epitaph: Spike TV hosted an all star tribute to Rickles in 2014, featuring David Letterman, Jerry Seinfeld, Robert De Niro and (randomly) Johnny Depp. But Rickles himself got the last word, and he did not disappoint. Since the event was held at the Apollo Theatre, he joked that one of the black audience members "was in my hotel room robbing me." But in the end, he was all heart, declaring that "I'm a Jewish kid from Jackson Heights, Long Island and God gave me a big chance." He sure took it.