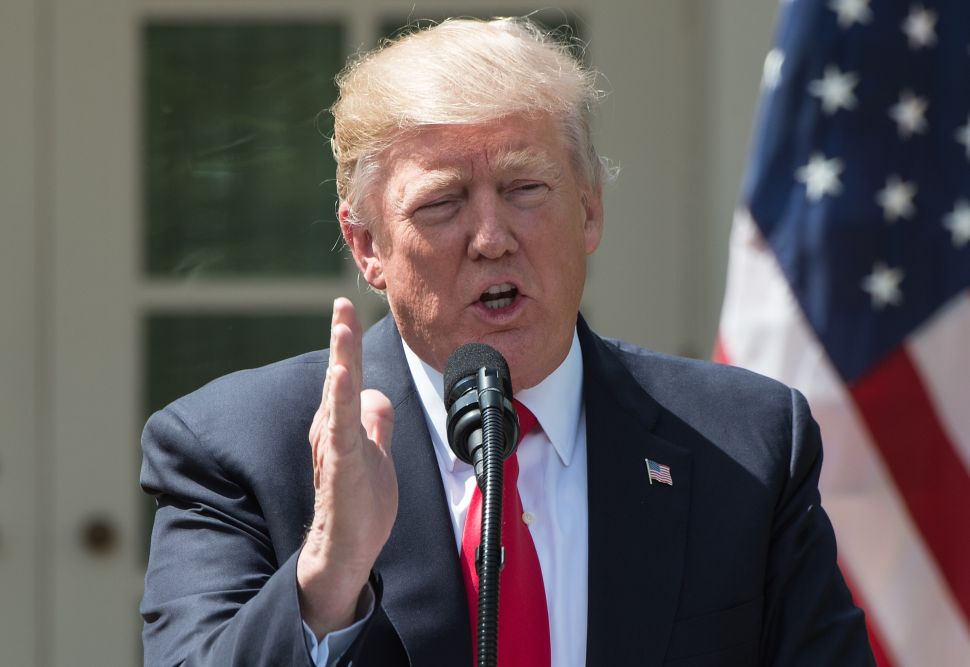 President Donald Trump stunned Americans—and the world—with his bold attack on Syria after their use of chemical weapon on their own civilians. In doing so, he sent a message to the Syrian regime, Russia, North Korea and Iran that he is tougher than his predecessor President Barack Obama and will retaliate President Bashar al-Assad's regime—with or without congressional authorization.
Trump Clearly Changes Obama's Stand on Syria
In 2013, Obama also expressed outrage at Syria's use of chemical weapons. He announced that a line had been crossed, but sought congressional authorization for a military mission to attack Assad instead of going-it-alone. He never got it.
Obama knew that such a mission would be unpopular, as much within his own party as with Congress as a whole. In seeking permission from Congress, he probably figured he wouldn't have to attack Assad and could point to inaction on Capitol Hill as the excuse.
Early into his presidency, Trump showed that he was no President Obama. Less concerned with approval ratings, the opinion of Congress, or even his own party (some of whom oppose any foreign adventures), Trump ordered the launch of dozens of Tomahawk Cruise Missiles at Syria, not long after U.S. Ambassador to the U.N. Nikki Haley outlined the case against Syria.
Supporters of Obama will no doubt point out that America has been conducting airstrikes in Syria since 2014, trying to rebut charges of inaction. However, these airstrikes have targeted ISIS, not the Syrian government. Last night was the first time that any American attacks have been launched against Assad for his barbarous actions.
Notably, the chemical attack that led to 100 or more deaths is hardly an isolated incident. To this date, Assad's war against his opponents has led to nearly 400,000 deaths, five million refugees, and six million residents who have fled their homes within Syria hoping to find a safer spot. The most recent chemical attack is the straw that broke the camel's back—not a little accident or misunderstanding.
Donald Trump Also Sends a Message to North Korea and Iran, Not Just Syria and Russia
This isn't just a message to Assad and Russian President Vladimir Putin that America won't tolerate the use of Weapons of Mass Destruction (WMD). It's also a message to North Korea and Iran that America will take a more assertive policy against countries that flout international standards on WMDs.
North Korea has repeatedly rattled neighbors with missile tests that land near these countries in their obvious attempts to intimidate. And while Iran's regime under President Hassan Rouhani has been more cooperative with America, it's a different story for Iran's Revolutionary Guards and former President Mahmoud Ahmadinejad, the bombastic ex-leader attempting a political comeback. Ahmadinejad's dangerous rhetoric against Israel and actions triggered the nuclear crisis that convinced the world of the threat Iran's nuclear program posed.
Other presidents have found success in making an example of one country to deter dangerous behavior by other countries. During the 1990s, U.S. attacks on Bosnians Serbs and against Serbia over their brutal campaign against Kosovar Albanians showed that our position on human rights abuses since Rwanda had changed. No longer could countries get away with slaughtering their populations. Indonesian Muslims did not slaughter East Timorese Christians during the latter's independence bid, a reversal of what happened in the 1970s when tens of thousands were slaughtered on the island of Timor. They didn't want cruise missiles or airstrikes from the U.S.
It was a similar story in the 2000s, when America went to war with Iraq over the latter's attempt to illegally procure a nuclear WMD. Libya got the message and shortly thereafter abandoned their chemical weapons program.
It's worth noting that neither of these actions by Bill Clinton or George W. Bush were very popular with the American public. In Clinton's case, his policies on Bosnia and Kosovo received a tepid response from the public and Congress. Bush's war in Iraq shifted from popular to unpopular very quickly.
Trump has shown he's less concerned about public opinion and congressional control of the issue. Since the airstrikes, he's received public support from senators, like Marco Rubio and Democrat Bill Nelson. Sen. David Perdue issued this statement in an email to supporters: "Assad is a tyrant and his chemical weapon attack against innocent civilians this week was beyond inhumane. This will not be tolerated. After six years of inaction by the Obama administration, I am glad to see that President Trump is willing to stand up for these innocent victims and stop those responsible for this violence. I commend our brave servicewomen and men who are carrying out this vital mission tonight."
Will America and world public opinion support this presidential action? They might. Will Congress continue to back Trump, even if there are complications? Maybe. But regardless of either outcome, Trump has demonstrated that he is very different from Obama. A message has been delivered to Kim Jong-un and Iranian hardliners—not just to Assad and Putin. America's policy on WMDs and human rights have clearly evolved with the changing of administrations.
John A. Tures is a professor of political science at LaGrange College in LaGrange, Ga. He can be reached at jtures@lagrange.edu.