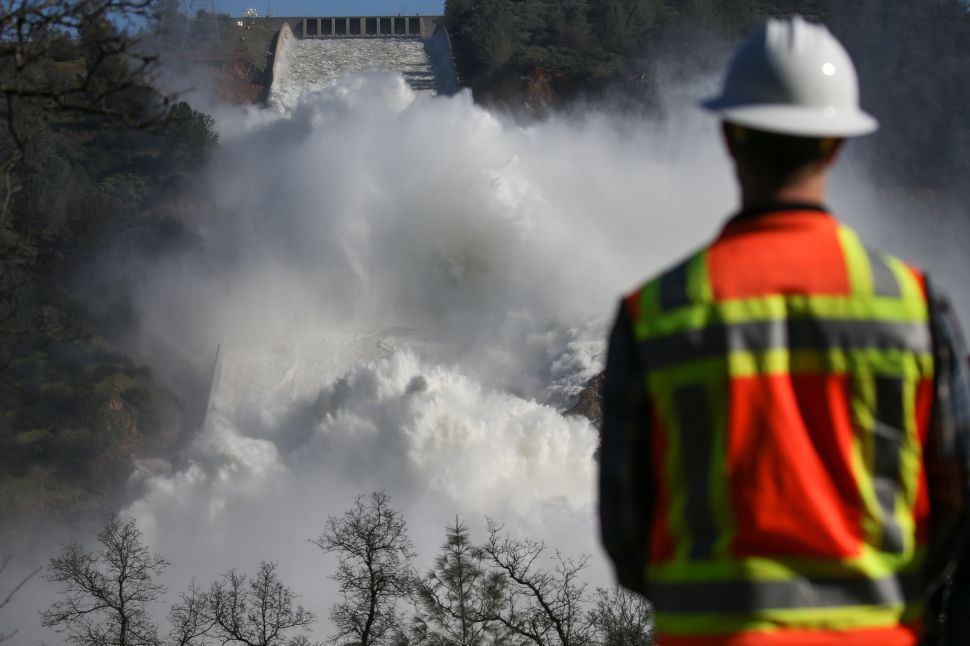 A major section of Atlanta's I-85 collapses in a fire. A California dam threatens to burst. Bad drinking water in Eastern Kentucky could turn the area into the next Flint, Mich. All of these critical collapsing infrastructure entities could be rescued by a bipartisan plan—if President Donald Trump and Democrats are willing to look past their differences and flank the Freedom Caucus.
Can Donald Trump and Democrats Defeat The D+?
When you live outside Atlanta and you hear about the collapse of the downtown interstate, it impacts you. Alumni from our school driving through Georgia's biggest city reported insane delays a part of the fallout from the fire that caused a major portion of I-85 to crumble. Fortunately, no one was killed.
Trump contacted Georgia Gov. Nathan Deal to authorize $10 million in aid, which is a good start. However, Atlanta is just one case of our nation's failing infrastructure, which will only cost more to replace if it is ignored.
Remember the Oroville Dam crisis? The California colossus hasn't made headlines in a month or more, but that doesn't mean the threat has gone away. In fact, safety experts have claimed that the next rainy season could make the possible calamity worse.
What about the Flint, Mich. drinking water debacle? It's about to be repeated in Martin County, Ky., where years of coal waste and sewage threaten the drinking water of residents. A series of ineffective patches simply isn't getting the job done.
These are hardly isolated incidents. The American Society of Civil Engineers (ASCE) just gave the United States a "D+" for meeting infrastructure needs for 2017. This isn't a new problem; the United States had a grade of "C" back in 1988. It fell to a "D" in 1990s, improved to a D+ by 2001, and fell a grade level back to D in the 2000s.
In some areas, the U.S. is doing better. Rail earned a B, while bridges and ports and solid waste disposal garnered a C+ each. Wastewater, transit, school infrastructure, roads, public parks and recreation, levees, aviation, inland waterways, hazard waste disposal, energy, drinking water, and dams all received a D+ or worse.
Flanking the Freedom Caucus
Republicans and Democrats are at an impasse. Democrats want more infrastructure spending but don't like the Republican method of paying for it with tax breaks for private sector infrastructure investment. Republicans—especially the Freedom Caucus—are reluctant to spend more, despite the critical needs. GOP leaders in Congress haven't prioritized infrastructure the way President Trump has.
As the Obamacare reform debate demonstrated, Trump is just as much at odds with the Freedom Caucus in his own party as he is with Democrats. Infrastructure was a signature piece of Trump's campaign, and Democrats want these needed fixes. The solution is obvious.
To get there, Democrats may want to forego their opposition to Trump's financing plan, if he'll accept a higher infrastructure rescue package. The deal could be broadened to other logjams. If Democrats allow Judge Neil Gorsuch's nomination to go through, perhaps Trump may put off the border wall construction in favor of these pressing domestic road, dam and drinking water problems.
Trump got elected on the promise of making big deals. He should make this one.
John A. Tures is a professor of political science at LaGrange College in LaGrange, Ga. He can be reached at jtures@lagrange.edu.