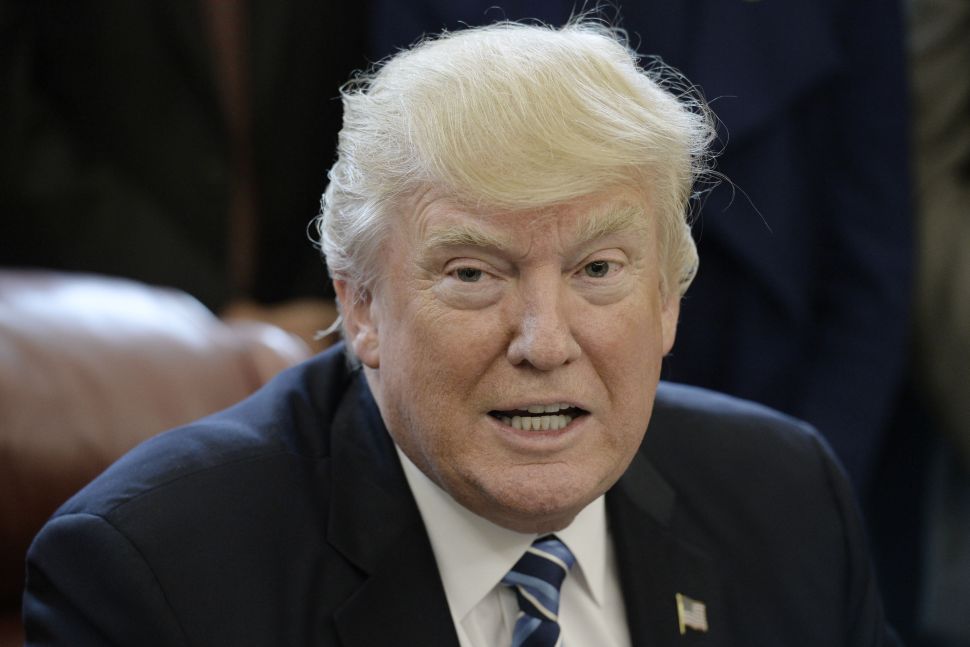 No one really knew what to expect of the Donald Trump presidency. We have never elected an outsider quite like this.
While his first 100 days have unquestionably been a roller coaster, Trump is clearly trending in a positive direction, growing into the job, and appears likely to have a better second 100 days than the first.
The symbolic construct of 100 days was created by Franklin Delano Roosevelt.
In this environment, either of our presidential nominees would have experienced difficulty in their first 100 days after surviving the uniquely divisive presidential campaign.
National unity proved elusive. And while Trump crucially developed an enthusiastic base and won over the white working class in the Midwest, he has remained mired in the low-40s in job approval since taking office.
There is no question that failing to pass major legislation in the first three months is unusual, and historical precedent tells us that this is the most opportune time to pass your agenda.
But that presumes that a new President will have a honeymoon period with the public and with the opposition party—which Trump didn't.
Setbacks aside, there are many positive aspects of his first 100 days.
The most enduring will be the Supreme Court service of Justice Neil Gorsuch, an eminently qualified judge of experience, judgment, high moral character and scholarship, who earned Democratic votes in the Senate and should have been confirmed with more than 60 votes.
Gorsuch will likely serve several decades on the court, and it would be impossible to overstate the significance of that fact. Conservatives may have been leery over Trump when it came to judges, but they are no longer.
President Trump has moved deliberately on delivering on campaign promises, mostly through the use of executive orders and the Congressional Review Act.
These actions are beginning to unleash the American economy and set the foundation for negotiations which he promises will benefit the country, especially on trade.
The stock market is up over 11 percent since Trump's election, consumer confidence is at a 16-year high, a majority of the club Bret believes we are headed in the right direction (for the first time in a decade), hundreds of thousands of jobs have been created, and a recent national survey found that small business owners have renewed confidence.
The Dakota Access Pipeline is running, the Keystone XL Pipeline is approved, and President Trump is unleashing the power of American energy—especially oil, natural gas and coal. This will result in economic growth, job creation, and lower energy costs for consumers.
With his commitment to stopping illegal immigration, President Trump is already beginning to build the wall, and interior enforcement efforts are up. His administration will punish sanctuary cities and stop illegal hiring. Illegal entries are down over 70 percent since his election.
There is no area where a new direction has been more meaningful than in foreign policy. President Trump's bold and morally correct decision to proportionally respond to Assad's chemical weapons attack sent a clear message to our enemies that our country is under new management.
The absurd organizing principle of "strategic patience" is gone. President Trump will act.
His foreign policy and national security team—which is very strong and should give all Americans confidence—is cohesive and sending clear signals to Iran, Russia and North Korea. Perhaps no single American official has acted with greater moral clarity and courage than U.S. Ambassador to the United Nations Nikki Haley, who represents the best of our country's values every day.
President Trump has strengths and weaknesses and at his age he will not change. But we are seeing him grow into the office and learn on the job in ways his critics never would have imagined.
Like every President, in real time he is working to reconcile his campaign rhetoric with the reality of complex issues.
He gave up on torture when he listened to General James Mattis. He has persuaded China to finally pressure North Korea in real and new ways, and that required moving in their direction by not labeling them a currency manipulator, and by demonstrating support for the "One China" policy.
What will the next 100 days look like?
With President Donald Trump, we cannot be certain.
But now there is real momentum behind health care and tax reform, and Republicans need to move their agenda. If they think these issues are politically difficult, just wait until they need 60 votes in the Senate.
Here's what I would like to see in the next 100 days: North Korea freezing their nuclear program, multilateral progress toward a political solution in Syria, passage of a repeal and replacement of Obamacare and tax reform, momentum behind an infrastructure bill and movement toward funding for border security and rebuilding the military.
I admit the first 100 days have been uneven, and at times the President and his team have lacked focus, discipline and cohesion.
But even Democrats need to admit that this President has found his footing at a time of global upheaval and domestic challenge.
We can overstate the importance of the first 100 days. In reality, Trump's first term is about eight percent over. There is a lot of time left.
The Trump administration certainly can have a successful 2017, even with no help (yet) from Democrats.
The trend line is positive and that is a fact.
Matt Mackowiak is the president of Austin-based Potomac Strategy Group, a Republican consultant, a Bush administration and Bush-Cheney re-election campaign veteran, and former press secretary to two U.S. senators. He is the host of a new national politics podcast, "Mack on Politics," which may be found on iTunes, Google Play, Stitcher or at MackOnPolitics.com.