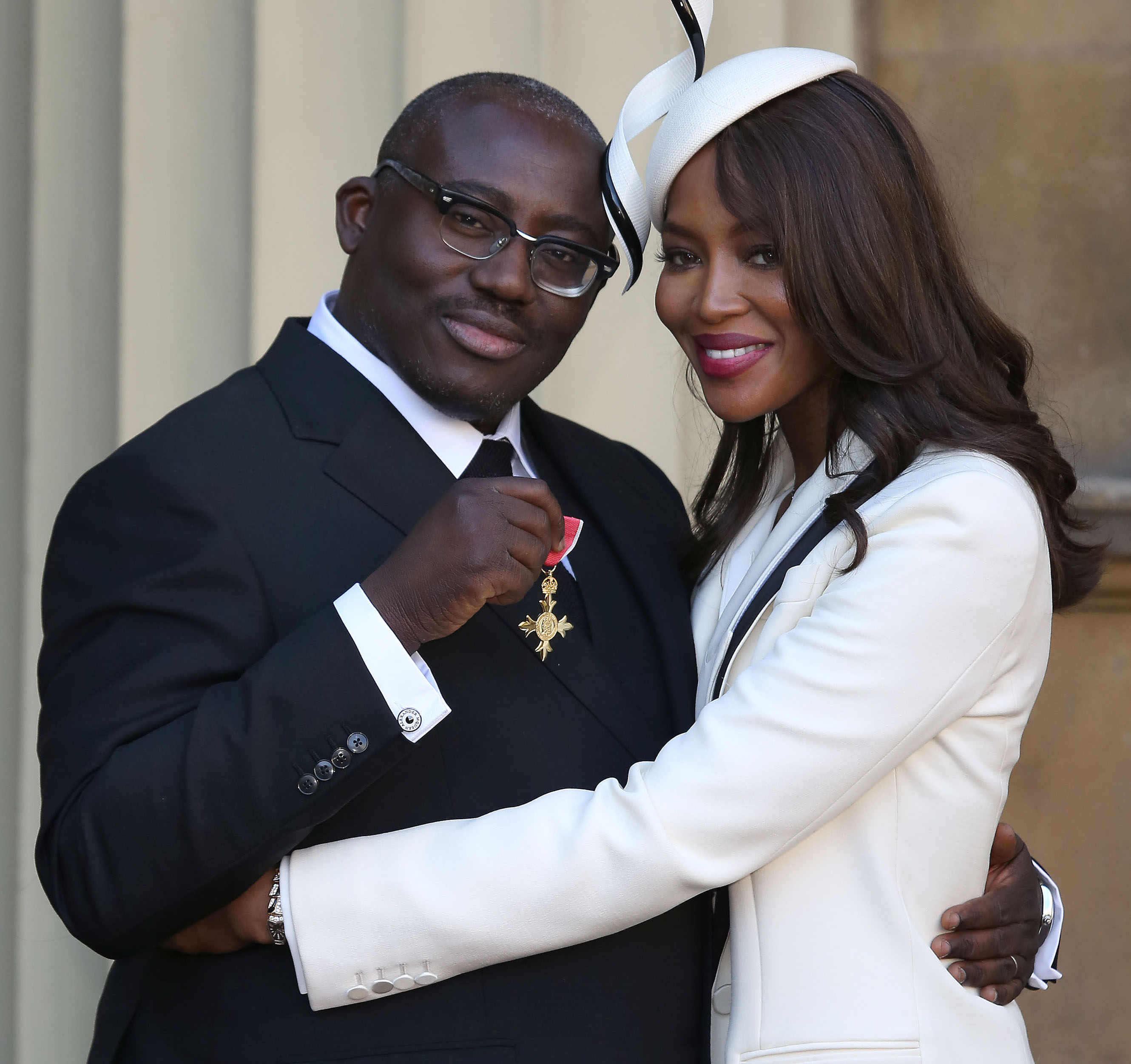 For the first time ever, there will be a man editing British Vogue, as Edward Enninful was just appointed editor-in-chief of the magazine. He will be replacing Alexandra Shulman, who announced her intentions to leave the magazine this January, after 25 years at its helm.
In the official announcement of his appointment, Condé Nast International chairman and chief executive Jonathan Newhouse called Enninful "an influential figure in the communities of fashion, Hollywood and music which shape the cultural zeitgeist."
Currently the creative and fashion director at W, a role he has held since 2011, Enninful will start his new position on August 1. We expect that his crew of A-list fashion friends, including Kate Moss and Naomi Campbell, will be showering him in celebratory bouquets.
For now, learn a thing or two about Enninful, who has been an influential stylist and image maker, ever since he first arrived on the scene.
He got his start as a model.
Born in Ghana and raised in London, Enniful's first taste of working in fashion began at the age of 16, when he was scouted by Simon Foxton on a train. His modeling career lasted for two years and included shoots with Nick Knight and music videos with Neneh Cherry.
He never thought he would work in fashion.
Enninful thought that he would grow up to become a lawyer because he came from "a family who put a lot of emphasis on academics." His mother, a seamstress, was also skeptical about allowing him to enter the industry, but she eventually came around.
He was the youngest fashion director of an international magazine.
At the age of just 18, Enninful was appointed to the role of fashion director at i-D in 1991. He first got a gig at the English glossy by assisting its co-founders, Trish and Terry Jones. Eventually he was promoted, as the duo recognized his talent.
He got a job at American Vogue thanks to Grace Coddington.
The celebrated editor called Enninful in 2005 to see if he would be interested in joining the magazine as a Contributing Fashion Editor, a role he already held at Vogue Italia. He said yes to Coddington, but admitted to The New York Times that it wasn't always smooth sailing.
"Did you see The September Issue? My story was in the bin," he told them, referring to a photoshoot that Anna Wintour turned down, in a scene in the documentary.
He was a close collaborator with the late Franca Sozzani.
During his time at Vogue Italia, Enninful created a ton of controversial and thought provoking editorials, all under the watchful eye of Sozzani. The most famous must have been "The Black Issue," which featured only black models, actresses and women in art, politics and entertainment. The four separate covers featured Naomi Campbell, Liya Kebede, Jourdan Dunn and Sessilee Lopez.
The July 2008 magazine sold out in the U.S. and the U.K. within 72 hours; due to high demand, Condé Nast ended up releasing an extra 60,000 copies around the globe.
But he's also done a lot of commercial work. 
Enninful's reach goes beyond just pretty fashion editorials. The editor has been hired by quite a few top fashion brands to style their campaigns and fashion shows, including Comme des Garçons, Christian Dior, Giorgio Armani, Céline, Valentino, Fendi and Calvin Klein. He has also worked with a handful of mass brands, such as Gap and H&M.
He has a really cute dog.
Loyal Instagram followers of Enninful are familiar with Ru, the adorable Boston terrier that he shares with Alec Maxwell. The pup has garnered a few fashion credits, due to his famous parents, and even has his own page on Models.com.
However, Enninful wasn't always a fan of pups; according to Pat McGrath, he was actually terrified of them. When the duo saw a hypnotist to help quit cigarettes, Enniful also asked to be rid of his dog fear. According to this tale, he acquired Ru just a few months later.
He has acquired some seriously impressive awards.
Not only did Enninful receive an Order of the British Empire (OBE) in 2016, for services to diversity in fashion, but he was also the recipient of the Isabella Blow Award for Fashion Creator at the 2014 British Fashion Awards. Earlier that same year, New York Urban League awarded Enninful with the Frederick Douglass Medallion Award. In 2015, he took home a CLIO for commercial styling.