Tom Hanks is famous for using his Twitter account to post pictures of missing gloves, baby shoes and other items he finds around New York City. That may seem quaint, but in a discussion at Twitter headquarters yesterday the actor revealed his reasoning.
"There's a story there," he said. "Some mother is wondering why her baby is crying and realizes 'Oh my God, her feet are cold.'"
Hanks' Twitter goodwill was one of many topics of discussion during the hour-long roundtable that was livestreamed on Periscope. The event was part of the promotional campaign for The Circle, a new film about a woman (Emma Watson) who lands a job at a secretive tech company led by a Steve Jobs-like genius (Hanks). Watson, comedian Patton Oswalt (who co-stars in the film) and director James Ponsoldt also took part in the talk, which was moderated by Twitter CEO Jack Dorsey.
Ponsoldt said he first became interested in The Circle (based on Dave Eggers' book) because he was upset by its theme of tech and surveillance taking over peoples' lives. In a similar way, Watson said the film "haunted" her.
Much of the discussion, however, focused on the movie's larger themes—and some of the actors' comments were made even more resonant by the fact that a tech CEO was sitting right next to them.
The first segment focused on diversity in tech—Watson, a noted gender equality advocate, shared the dispiriting statistic that only 18 percent of computer science graduates are women. She then asked Dorsey what he was doing to tackle diversity issues in his own company.
"We want to build a service that's accessible to everyone," Dorsey said. "We can't build something for a customer if we don't know who they are."
By that standard, Twitter still has quite a bit of work to do—90 percent of employees at the social media giant are either white or Asian, and two-thirds are men.
To his credit, Oswalt held Dorsey's feet to the fire over this.
"Wouldn't you want to draw the absolute best you can get, outside of social boundaries?" Oswalt asked. "It just feels weird that we have to address this in 2017."
Dorsey stayed silent during many of these critiques, and even when he did respond it was mostly with platitudes.
"Twitter is a venue for people to offer support faster," Dorsey said at one point. "We can't just be toolmakers, we have to advocate for positive usage." (This advocacy doesn't seem to be working, given the increased number of trolls on the site since the 2016 election).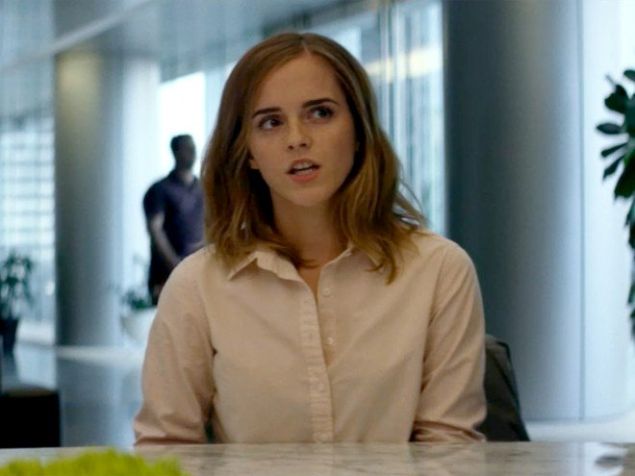 Hanks then compared his character, tech CEO Eamon Bailey, to Dorsey and other Silicon Valley disruptors with "big ideas."
"Twitter has put us exactly in the middle of everything," he said.  "You open yourself to contact you never asked for, but there are people out there with a Twitter account who are bringing injustice to light."
Hanks contrasted this to the throwback approach in his film You've Got Mail—in the '90s, the privacy of email was "a connection you couldn't get any other way."
Watson said she truly grew a thick skin on the internet after taping one of Jimmy Kimmel's "Mean Tweets" segments.
"You have to be so much more resilient," she said. "But some days I just want to wear sweatpants and pick my nose."
Oswalt agreed—"fame isn't being achieved anymore, it's being inflicted on people because of social media," he said.
But the panel also gave Twitter credit at certain points—Oswalt told a story about being at the Sundance Film Festival during the Women's March. When a group at the festival asserted that the march only mattered in big cities like New York and Los Angeles, Oswalt whipped out his phone to prove them wrong.
"The marchers were literally everywhere," he said. "I was able to erase the lie of coastal elites."
Watson agreed that Twitter had value, especially when she wanted to publicize a particular issue.
"Social media is an amplifier and a megaphone that can be used for good or ill," she said.