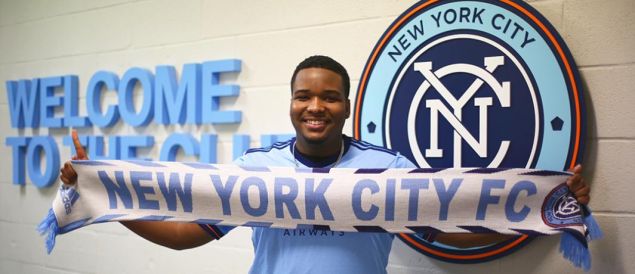 It's no secret that there's big money in professional sports, but the latest athletic cash cow is eSports, or competitive computer gaming. Unlike fantasy sports sites like DraftKings or FanDuel, eSports values video game prowess over athletic acumen, which has led some to debate whether they're even sports at all.
What's not in doubt, however, is that eSports makes big money, with 43 percent year over year revenue growth in 2016.
Professional sports leagues have also gotten in on the fun. EA Sports' FIFA video game series has become a global sensation, with billions of matches played annually—and 2.3 million soccer fans attempted to qualify for last year's FIFA Interactive World Cup.
Given these staggering numbers, it was only a matter of time before American sports leagues started signing eSports players of their own. And now, it's finally happened.
New York City Football Club (NYCFC) announced this week that 20-year-old Christopher Holly of Hempstead, New York would be the club's first eSports player—and the first in Major League Soccer overall. As part of his new role with NYCFC, Holly will represent both the club and EA Sports FIFA at fan events and gaming tournaments around the world. His exploits will be livestreamed on YouTube and Twitch.
"At New York City FC, we are always looking for new ways to innovate and get closer to our fans," Diego Gigliani, the club's senior vice president of media and innovation, said in a statement.
Holly, who was born in Haiti, has been playing FIFA for 12 years, first on PlayStation 2 and now on PlayStation 4—he plays roughly 25 hours a week.
That may sound excessive, but it was enough to make Holly the top-rated FIFA Ultimate Team player on the planet in December, with a record of 197-3. He qualified for the Regional Finals which will take place in Vancouver later this month, and if he finishes in the top three there he'll compete in the World Championship in Berlin.
"I would describe my game as mostly freestyle," Holly said in a post on NYCFC's website. "I don't really have a set play; I adjust to what my opponent does."
This method even applies when Holly's opponent is one of NYCFC's own players—Holly recently played team forward Sean Ugo Okoli in FIFA 17. He scored his first goal less than three minutes into the match and ended up beating Okoli 4-0.
While NYCFC's move is a first for soccer in America, international fans are already aboard the eSports bandwagon—Manchester City Football Club in England signed its first eSports player, Kez Brown, last year (Manchester City and NYCFC are both owned by City Football Group).