Fargo's most interesting villains have always been the men who do their dirty deeds through deadpan–Billy Bob Thornton's empty-eyed Lorne Malvo, for instance, or Zahn McClarnon's world-weary Hanzee Dent–but David Thewlis' V.M. Vargas is a different beast altogether. Rolling into an Emmit Stussy-owned lot with an eighteen-wheeler in tow, Varga is a menacing presence, for sure, the man is clearly terrifying, but the harder point to pin down is…why, exactly? It can't all be because of the teeth. Mostly, it's the fact that under the disarming chumminess there's nothing to Varga, not a background, a motivation, or even a specific crime he's committing; he's the mist from a Stephen King novel drifting into town, weightless and destructive. Or, as he himself describes Minnesota, "perfectly, sublimely bland." And that's always been what gives a show as often funny as Fargo its horror-show shades, the ever-present possibility of violence that simmers just underneath the Midwestern bland. So, no, at this point there is no way into the head of V.M. Varga, as Emmit Stussy and Sy Feltz are increasingly finding out, but you can discover a lot about a person by the company he keeps. Namely, his thug-for-hire Yuri.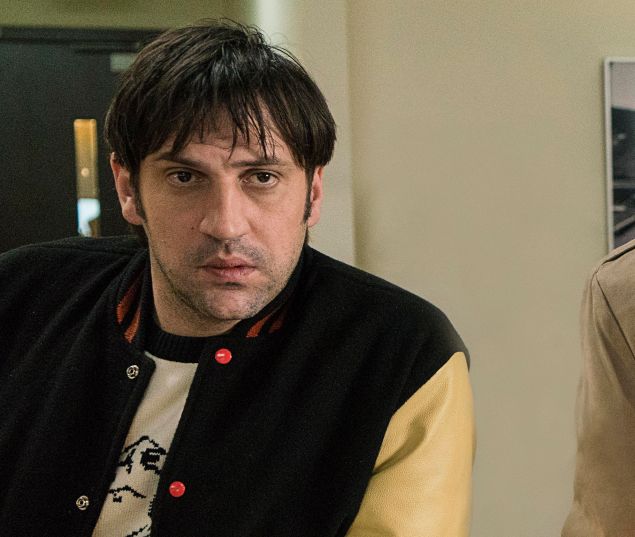 I know what you're thinking: "Why are we talking about anything other than Mary Elizabeth Winstead dropping a used tampon into Ewan McGregor's desk drawer?" I get that, I do. But I am fascinated by the presence of Yuri–who with his partner, Nemo, dropped Emmit's lawyer Irv Blumkin off a parking deck–because of what it means for the increasingly widespread tale Noah Hawley is telling in season 3. The premiere opened in Berlin, 1988, with an officer telling a man who almost definitely was not Yuri Gurka that he was Yuri Gurka, a 20-year-old emigree from Ukraine who strangled his girlfriend, Helga Albrecht, to death.
Flash forward to 2010, and Yuri (Gulka, if the captions on FX's press photos are correct) is in Minnesota, "back from the old country," tossing men to their deaths for the crime of Google'ing V.M. Varga's name. The same Yuri Gurka? It's possible; he'd be 42, not a far cry from actor Goran Bogdan's 36, and Varga basically explains to Emmit his operation has traversed the globe ("Putin's done some great things with Russia" is an unnerving thing to hear in 2017). Either way, his appearance is indicative of just how far a lie can spread, how things like decades and miles and walls are nothing in the face of death. That is what makes Fargo a "true" story; yes there's the accents, the snow, the puffy coats, but the great violence that arrives on these characters' doorsteps isn't unique to the American Midwest. That it can happen to anyone, anywhere in the world is the fact, and anything else is just stories.
Now, about that tampon.
One of the most interesting currents underpinning "The Principle of Restricted Choice" is the near-undeniable fact both Stussy brothers would be better–at least, more moral–men without the devils sitting on their respective shoulders. Emmit has Sy (the Bannon to his Trump, says McGregor), who prods the successful Stussy away from his surprisingly warm-hearted thoughts of reconciliation–"maybe I should just give him the stamp"–toward coldness. "Don't go getting soft here," Sy insists, more than once.
With Ray, it's interesting, because his relationship with Nikki is clearly genuine, maybe even the best thing to ever happen to the paunchier of the Stussys, but god is it going to get that poor poet-souled son of a bitch killed. Sure, Nikki pretty much had to drop that air conditioner on Maurice LeFay's head, any parolee/bridge-expert being blackmailed over a postage stamp would've done the same. But it fucked up Ray's chi something fierce, she says, and the best way to unblock it (and nail down those sweet, sweet bridge sponsorships) is to break into Emmit's mansion and take back the holy-stamp themselves.
The conversation between Ray and Emmit–which doubles as a distraction so that Nikki can sneak through the back door–is masterful not only for its McGregor-on-McGregor technical wizardry but for how plainly it paints the differences between the brothers; be it Ray's mismatched shoes ("why not just put on both the other pair?" asks Emmit) or Emmit's repeated comments on the lateness of the hour ("it's 10:30!" points out Ray). But it is sweet, in a way, and McGregor is incredible at displaying two types of relief on both brother's faces as they genuinely lift separate weights off their chests.
Unfortunately, Nikki is inside dropping a metaphorical air conditioner on any chance of brotherly bonding. Equally unfortunate is the fact the stamp isn't there, and in its usual hanging place is a hand-drawn picture of a donkey, clearly, clearly a grandstanding metaphor for Emmit's superiority, and not just a crayon drawing from one of Emmit's children. Clearly. Without a major appliance to kick on to anyone's head, Nikki, ever the thinker, does the next best thing; she leaves the aforementioned used tampon as a warning message, but not before writing "Who's the ass now?" in blood over the donkey.
This is the classic Fargo escalation, in which a lit match quickly becomes a supernova through the most ridiculous means possible. And escalate this does: "I'm gonna' step in and make this problem go away," Sy tells Emmit, a quiet statement for what ends up being what you might call a loud course of action.

Where does Gloria Burgle fit into all this? It's hard to say, because Gloria doesn't seem to fit in anywhere, to the point where she's forced, after yet another automatic door fails to open, to ask her partner Donny Mashman (Mark Forward), "I'm here, right? You can see me?"
It may be less that the world can't see Gloria but that it's simply passing her by; she still uses a Telex (I had to look it up) to write her police reports, one of many points of frustration for her new chief of police Moe Dammick, played by the fantastic Shea Whigham. "You're being absorbed by a different county," he tells Gloria, a matter of fact. "You work for me now."
But Gloria is on to…something, definitely, something strange. At least as strange as the title Space Elephants Never Forget, one of many cheap pulp-fiction paperbacks written by a Thaddeus Mobley that Gloria found in a safe inside her murdered father-in-law's house. Or were Thaddeus Mobley and Ennis Stussy one and the same? It appears so, just another way specters from the past–be it a former life as a famed sci-fi writer, or a murderous Cossack with the name Yuri Gulka–continue to materialize in, of all places, Minnesota. But I guess that makes Gloria Burgle uniquely qualified to take this case on; if you're fighting the past, you may as well employ someone who is stuck there.
Extra Clicks and Buzzers: 
This season's main players are all fantastic, but Michael Stuhlbarg as Sy Feltz is a gosh dang delight. His terrified delivery of "slave girls?" straight up momentarily ended my life. Amazing.
Overall, really, the sheer amount of charming quips and colloquialism Hawley has managed to fit into the dialogue so far is astounding. I'm still working on a way to fit the phrase "unfathomable pinheadery" into everyday conversation.
A charming touch, if you look closely enough, is the article next to the announcement of Thaddeus Mobley's Golden Planet win, which enthusiastically describes this incredible, amazing advancement in dining called a "drive-through."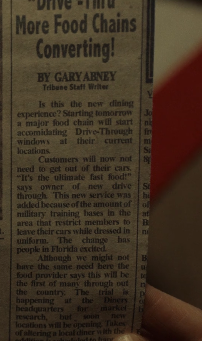 And, to delve far-too-deeply into unlikely theory territory…tell me the dude on the right (is that Thaddeus Mobley, or is Thaddeus on the left? Terrible photo-caption job) doesn't look like a young David Thewlis: