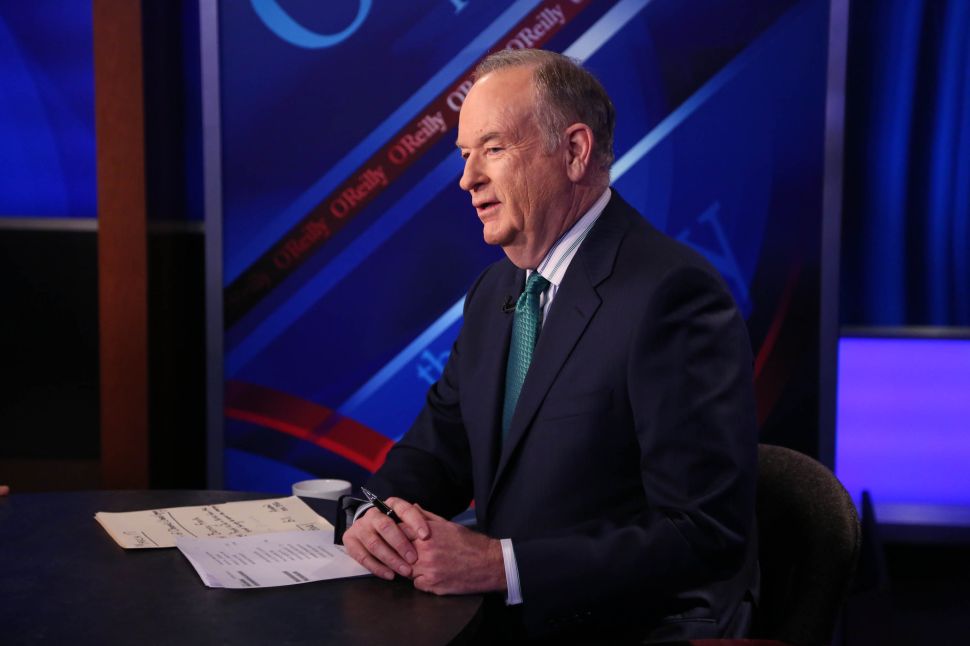 Right-wing sex creep Bill O'Reilly shook hands with the Pope Wednesday while on vacation at the Vatican. Too bad the Holy Father didn't have time to hear his confession: "Bless me, father, for I have sinned…"
A few hours later, in one of those ironies too fake for fiction, Fox News Channel (through 21st Century Fox) fired O'Reilly amid a growing sexual harassment scandal. Perhaps Rupert Murdoch and his sons—who run Fox—can ghost-write O'Reilly's next book: "Killing O'Reilly's Career."
At least O'Reilly still has friends in other high places.
"He's a person I know well, he's a good person," amateur President Donald Trump said earlier this month of O'Reilly. "I don't think Bill did anything wrong."
Trump spoke in defense of his pal after revelations by the New York Times that five women had settled with either Fox or O'Reilly for a combined $13 million after sexual harassment allegations against O'Reilly in the 20-plus years that O'Reilly has hosted The O'Reilly Factor.
Last summer, before Fox emperor Roger Ailes was dethroned amid a similar sex scandal, Trump made a similar defense of his pal, Ailes. Just by coincidence, Trump once bragged on an audio recording that he likes to approach strange women and grab them by the crotch. (As of now, Trump still has his job.)
Fox announced Wednesday that The O'Reilly Factor would be replaced next week in the 8 p.m. hour by Tucker Carlson Tonight, a show currently hosted by a smarmy frat boy at 9 p.m. Carlson's 9 p.m. spot will be taken by The Five, a panel discussion that has run at 5 p.m.
The Fox decision to dump O'Reilly may have been spurred by a growing advertiser boycott against The O'Reilly Factor. Angelo Carusone of the progressive website Media Matters spoke of this on The Last Word with Lawrence O'Donnell Wednesday night on MSNBC.
"A large contingent of advertisers were preparing to walk away from the entire network," he said. "That fear is still there."
O'Reilly grew to fame as a shouting, bellicose host who attacked African-Americans, liberals, Muslims, college professors and doctors who perform abortions. One was Dr. George Tiller, who O'Reilly called "Tiller the baby killer." When Tiller was murdered by an anti-choice extremist, O'Reilly took no blame.
In his own defense Wednesday, O'Reilly issued a statement blaming "unfounded claims" for his dismissal. True to the end, he used a favorite Fox trope, "We're the real victims here," a perverse logic that appeals to the core Fox audience of bitter, older, poorly-informed white people who vote a lot. O'Reilly is 67 years old, part of this base demographic.
But his show in recent years—usually recorded earlier in the day—had lost its edge. Despite a biggest-in-cable-news audience, it had become stale, tepid and schlocky, filled with predictable, tired bits.
His B-list personalities include former comedian Dennis Miller and minor Fox figures like Jesse Watters, an O'Reilly flunky who stalked interview victims and tried to make fools of ordinary people on the sidewalks with embarrassing Q&As.
In O'Reilly's defense, it  must be acknowledged that he helped launch the television career of Stephen Colbert, who mocked O'Reilly on The Colbert Report on Comedy Central before moving up to The Late Show on CBS. Colbert, in character as a cable-news blowhard, called O'Reilly "Papa Bear."
And in terms of a larger influence on American life, it is hard to underestimate the effect of O'Reilly and Ailes. Without their strident, low-brow and effective propaganda that coarsened political discourse and overall culture, an ignorant, lying, emotionally stunted and egotistical bully like Trump never could have become president.
Trump is the perfect Frankenstein monster fashioned by two decades in the Fox laboratory. It is common knowledge that Trump watches copious amounts of television and believes most of what he sees and hears on Fox. Curiously, Ailes, Trump and O'Reilly display similar sexual attitudes.
Joan Walsh, on The Last Word Wednesday, said "We have a man in the White House who boasts of doing the things that Bill O'Reilly and Roger Ailes have now been brought down for." Congresswoman Maxine Waters said on CNN that O'Reilly and Trump "are cut from the same cloth. They're two of a kind."
O'Reilly's contract was recently renewed for as much as $60 million over three years, CNN reported, and Fox knew about his sexual reputation since the first payout to the first known victim in 2004. Only the advertising boycott seemed to change Fox's corporate mind about him.
"He was a huge money-maker," Gloria Borger told Anderson Cooper on AC-360 on CNN. "It was a business decision to keep him. It was a business decision to fire him."
O'Reilly's departure is one of several to jolt Fox in recent months. He and Ailes were at least partially responsible for last year's departure of celebrity news actress Megyn Kelly, who hosted The Kelly File at 9 p.m. Greta Van Susteren also left Fox for MSNBC.
Both these women have blond hair, which—along with sleeveless red dresses—was part of the Fox female formula under Ailes. Another woman with blond hair, pundit Kirsten Powers, said she appeared on O'Reilly's show and he offended her with his comments about her hair.
"Thank you for your blondness," O'Reilly said.
She said she complained to several Fox executives, including Ailes, who told Powers that O'Reilly is the sort of man who shows "dirty pictures" to young women and asks them to talk about them.
"I don't like him," Ailes told Powers. "But he makes so much money there's nothing I can do."
Powers left Fox for CNN, where she made Wednesday's comments. Kelly is soon to return to TV—on NBC. And the Ailes sex scandal began when Gretchen Carlson, the former Miss America who just happens to have blond hair, was dumped from Fox.
Her revenge was telling her story about her former boss's sexual advances and settling for millions of dollars.
It remains to be seen what fallout O'Reilly's fall will cause in the cable news solar system and its many stars. The other two major planets, CNN and MSNBC, covered the O'Reilly story at length in recent days and filled Wednesday night with it.
Fox barely mentioned it, even Wednesday, with only a short read on "Special Report" in the 6 p.m. hour and a few comments from Dana Perino, the guest host of O'Reilly's show. Incidentally, the show was re-labeled on screen Wednesday as merely "The Factor," its lonely logo looking like a bullseye.
"It is the end of an era," Perino said of O'Reilly. "He raised the bar for interviewers everywhere. We wish him the best."
But it might not be the end of the story. Another new allegation this week came from lawyer Lisa Bloom, who has counseled several former Fox women in their charges against O'Reilly. Bloom said the woman, an African-American and former clerical employee at Fox, wished not to be named.
She told Bloom that O'Reilly called her "Hot Chocolate" and made grunting noises when passing by her desk. Bloom made the rounds Wednesday night, on CNN in the 9 p.m. hour with Cooper and on MSNBC in the 10 p.m. hour with O'Donnell.
"The plan was 'We've got to bring down Bill O'Reilly,'" Bloom said. "We know how to do it."
Her strategy, she told O'Donnell, was to build sustained public awareness of and pressure on Fox and O'Reilly by going public with charges by women who were not suing him and were free to speak. In recent weeks, demonstrators have gathered outside Fox headquarters in Manhattan.
Part of the plan was to create courage in numbers. As more victims came forward, Bloom said, others would get bolder. "These guys who are so arrogant and powerful, there's always multiple accusers," she said, "and they're always afraid."
In a more public accusation recently, former O'Reilly guest Dr. Wendy Walsh told Bloom and multiple television audiences that O'Reilly ruined her career at Fox when she turned down an invitation to join him in his hotel suite.
The accusations were more lurid in 2004 when a Fox producer, Andrea Mackris, sued O'Reilly for—among other things—calling her up at night and talking dirty to her on the telephone.
"It became apparent that Defendant was masturbating as he spoke," the lawsuit said. "After he climaxed, Defendant O'Reilly said to Plaintiff: 'I appreciate the fun phone call.' . . . She was shocked, frightened and upset. She felt trapped."
As for O'Reilly's more conventional verbal intercourse, recordings of his greatest hits on camera made the rounds of social media Wednesday. On one, called "Bill O'Reilly Freakout, Part 1," was this exchange with Barney Frank, then a U.S. Congressman from Massachusetts.
O'REILLY: "C'mon, you coward! Say the truth!"
FRANK: "Bill, here's the problem with going on your show. You start ranting and the only way to respond is to almost look as boorish as you . . . I'm not going to be bullied by your ranting. You're not going to shut me up . . . Your stupidity gets in the way of rational discussion . . . You think toughness is yelling and ranting."
Another politician with reason to celebrate Wednesday night was Waters, a California Democrat, who was insulted recently when O'Reilly compared her hair to that of James Brown.
"There's something wrong with him psychologically," she told Cooper. "I hope he seeks some help."