When Fyre Festival was announced in December, it redefined buzz-worthy, thanks to a round of #sponcon from Kardashian accomplices and Taylor Swift squad members on Instagram. Seriously, remember those Instagram pics from Emily Ratajkowski, Bella Hadid and Elsa Hosk? But unlike Coachella or Governor's Ball, it's a brand new fest without the power of a monster booking company, like AEG Live or Live Nation, behind it. Instead, it's being organized by early aughts rapper Ja Rule, most famous for collaborating with Ashanti.
In recent years, festivals have become more corporate than ever, just like the prescient Josie and the Pussycats. There's sponsored makeup booths and Pepsi-hosted stages. But how could an unknown festival, set to take place two weekends in a row, have enough money to pay supermodels for promotion ahead of time? Apparently, they can't, at least according to The Wall Street Journal.
"Its organizers missed a series of deadlines to make advance payments to performers. Last week, some artists still hadn't been paid what they were owed based on the terms of their contracts, according to people familiar with the matter, but the event's promoters in recent days made progress in catching up with payments, and in some cases have paid acts in full," they reported.
https://www.instagram.com/p/BTVHXy9hqHF/?taken-by=fyrefestival
It's not unheard of for luxury festivals to materialize out of thin air. There's Iceland's million dollar ticket, and Saint Martin has a similar, albeit much smaller, festival started by a DJ. Plenty of hopefuls festival organizers want to convince wealthy millennials to dole out their (parent's) money for the chance to improve their Instagram game, with less of a focus on the actual artists playing and more on partying on the beach in bikinis.
And Fyre can certainly provide the Instagram moments, but for a rather hefty price. While the fest is apparently sold out, there are still single day and VIP tickets available on its site. The VIP packages cost up to $12,780, which includes complimentary flights, a place to stay and access to a yacht. Unfortunately, many guests haven't received images of their accommodations yet, leading to some angry comments on the festival's Instagram page.
The fest also boasts a veritable cornucopia of wellness activities, including excursions on a luxury catamaran, plus seaplane tours, paddle boarding, sound baths, massages and yoga.
The lineup itself is certainly on trend, but there aren't any A-list acts to bring people all the way to the Exumas. And honestly, if a millennial needs to ask their parents for tickets, there's no way anyone over the age of 25 has heard of the majority of these acts.
Kanye West's label G.O.O.D. Music has artists on the lineup; Kendall Jenner shared that factoid on Instagram, which certainly helped with ticket sales. Kylie Jenner's sometimes boyfriend Tyga will be headlining, alongside Desiigner of "Panda" fame, Migos and cool teen Lil Yachty. For EDM fans, Disclosure will have a DJ set and Major Lazer will play. Most inexplicably, Blink 182 will be there, but only for one weekend. The models promoting the festival might be the biggest draw, if they appear (sorry, Tyga). Alessandra Ambrosio, Bella Hadid, Elsa Hosk, Bieber's ex Hailey Baldwin, and other Angels all promoted the festival on social media.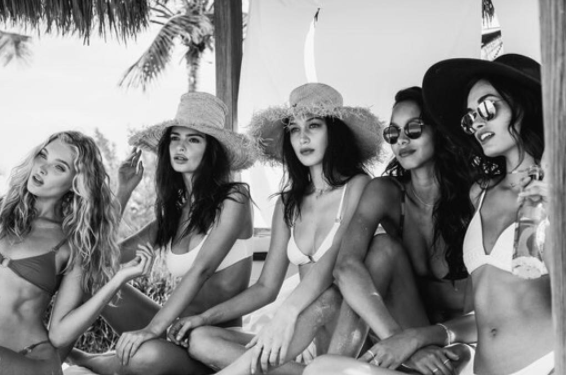 Weekend one starts this Friday, but according to Twitter account Fyre Fraud, it's too soon. According to the anonymous account, the festival is out of money and the supposed "private island" is actually located just steps away from a Sandals resort.
"These people deserve jail and the 'influencers' need to be called out for shilling for them," the anonymous Twitter account told the Observer, over direct message. The account claims to have someone on the island who is providing intel, but the majority of messages they're receiving are from people desperate to reach the organizers behind the festival. They predict complete chaos, with the headliners canceling after week one, forthcoming tent issues and no refunds issued.
But hey, anything for an Instagram.