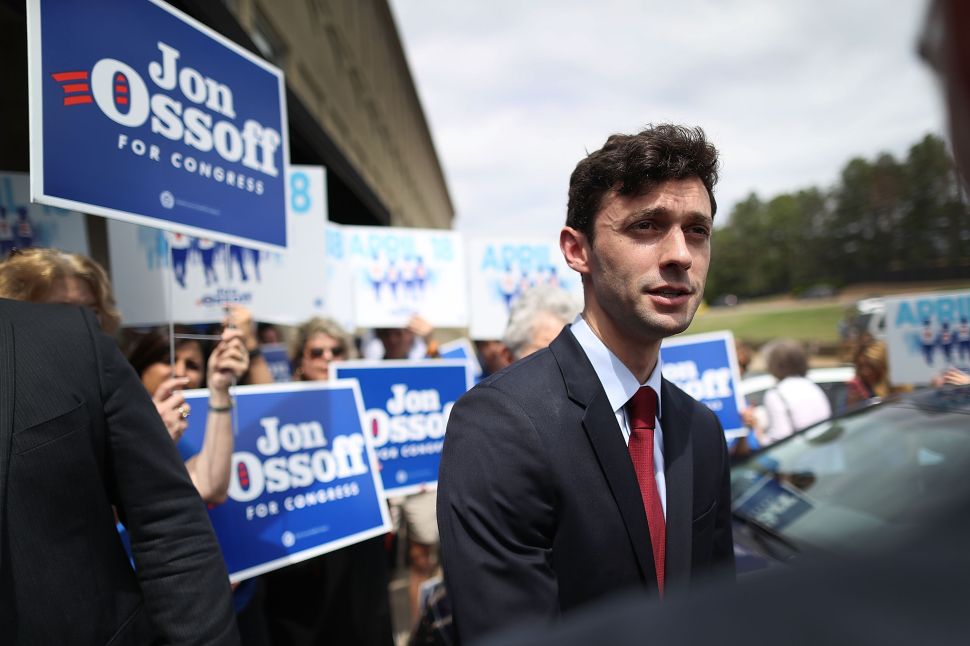 Since the 2016 election, we've heard everything from now on will be a referendum on Trump. But here in Georgia, the special election for Rep. Tom Price's seat is a referendum on a man nobody talked about in 2016: Jon Ossoff.
Jon Ossoff: The "Justin Trudeau of Georgia"
On paper, the former congressional aide and filmmaker's chances should be pretty slim. He's never run for office before. He's young and looks even younger. It's a red state, and Republicans have held Price's seat for quite some time. But there are several reasons why Ossoff has a chance to be the 2017 candidate that the Democrats can use as a role model for 2018.
First and foremost, Ossoff has run an amazing campaign. His ads are some of the best I've ever seen from a Democrat and focus on issues that appeal to both Republicans and Democrats. He's energized the voters, basically becoming the Justin Trudeau of Georgia. People flock to his events just to meet him.
"It was a nice, unexpected opportunity to meet him," wrote Georgia resident Laura Fagan. "My husband, who is a Navy veteran, spoke to him briefly about his plans to reduce spending. He has big goals and seems to be willing to work hard and negotiate."
Moreover, the region is trending bluer than it has in the past. Though Price won his races comfortably, Trump only won the district by a single point in 2016.
Republicans are taking the race pretty seriously, and they've made the race about Ossoff. "Sending Ossoff to Washington would mean another vote for Nancy Pelosi's failed agenda," writes Georgia Republican Party Chairman John Padgett in an email communique to supporters. "In fact, she and her friends in Hollywood have bent over backwards to raise money for him—only 3 percent of Ossoff's campaign contributions have come from Georgians! Jon Ossoff supports Obamacare, even though premiums have skyrocketed by double digits this year. To top it off, Jon Ossoff doesn't even live in Georgia's 6th District, the district he's running to serve!"
But fellow Georgians aren't as upset about Obamacare as Padgett thinks they might be, as the health care repeal debacle indicated. The whereabouts of Ossoff donations and whether he lives outside his district haven't exactly caught fire either. Early ads focusing on Ossoff dressed as "Han Solo," seemed only to increase his popularity ("Any time you are linked to Han Solo, it can only help you," he said in a television interview). Ossoff has climbed from being tied at 18 percent in the race to coming close to winning it outright. Now, the GOP has shifted to noting his support for the Iran nuclear deal, practically an admission that the other ads weren't working.
"The Democrats are doing everything they can to win this seat for the first time since 1979 and reverse all the progress President Trump has accomplished in his first few months," wrote former House Speaker Newt Gingrich, who once held this Georgia seat, in an email message to supporters.
Could a Republican Get a "Handel" on This Race?
Republicans have a good front-runner in former Secretary of State Karen Handel, who came within less than a percentage point of winning the GOP gubernatorial primary in 2010, losing by a whisker to Nathan Deal. She also lost a close but crowded Senate primary in 2014 to David Perdue and Rep. Jack Kingston.
In both prior contests, she visited LaGrange College, where she impressed my students as being a Republican who can reach out to Democrats, as well as keep the GOP base. She impressed me with her honesty. At a 2010 gubernatorial debate in West Georgia, when asked to name her favorite Republican outside of Ronald Reagan, she made the case for Abraham Lincoln in a room full of portraits of Confederate war heroes. That bold stand didn't stop her from finishing first in the state's first round of the GOP primary.
But the GOP has problems, and it's getting nasty between the GOP candidates. Ads attacking Johns Creek City Councilman Bob Gray, a technology executive and GOP candidate, for being insufficiently pro-Trump have dominated the airwaves during Atlanta Braves games. And besides Handel and Gray, there are many more Republicans in this race: State Senator Judson Hill, ex-State Senator Dan Moody, businessmen David Abroms and Kurt Wilson, ex-congressional candidate William Llop, ex-Gwinnett County GOP Chair Bruce LeVell, economist Mohammad Ali Bhuiyan, Air National Guardsman Keith Grawert and Tea Party activist Amy Kremer. On the Democrat side, Ossoff has only four challengers, and none match his new star power.
These Republicans may beat each other up so badly that even if one makes the run-off, she or he may be too bruised to prevail in the first round—or the June 20 runoff.
Currently, a WSB/Landmark Communications poll has Ossoff at 45 percent within striking distance of winning the seat outright. Among the Republicans, Handel leads at 17 percent, followed by Gray at nine percent, and Hill and Moody at eight percent each. Fox 5 Atlanta/Opinion Savvy also has Ossoff with a commanding lead, while Handel leads Gray by ten points and Hill and Moody by 12 points.
When it comes to facing Ossoff in a potential runoff, all four of the top Republicans are within striking distance. Moody does the best in the Fox 5 Atlanta/Opinion Savvy poll against Ossoff in a runoff, but he's polling behind all others in the first round. Ossoff leads Handel by two points, Gray by a point, and Hill by three points in this Fox poll.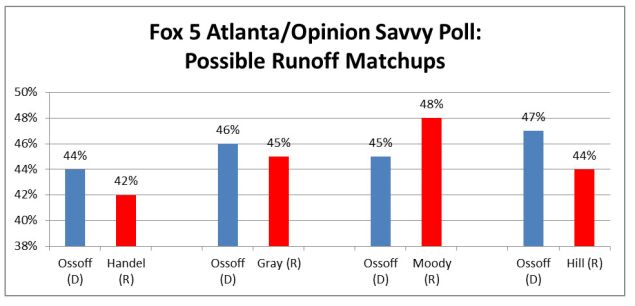 The GOP needs to unite behind a single candidate and come up with a more effective strategy to counter Jon Ossoff's improbable success to this point. If the Republicans don't win, they may lose more than just Rep. Price's old seat.
John A. Tures is a professor of political science at LaGrange College in LaGrange, Ga. He can be reached at jtures@lagrange.edu.