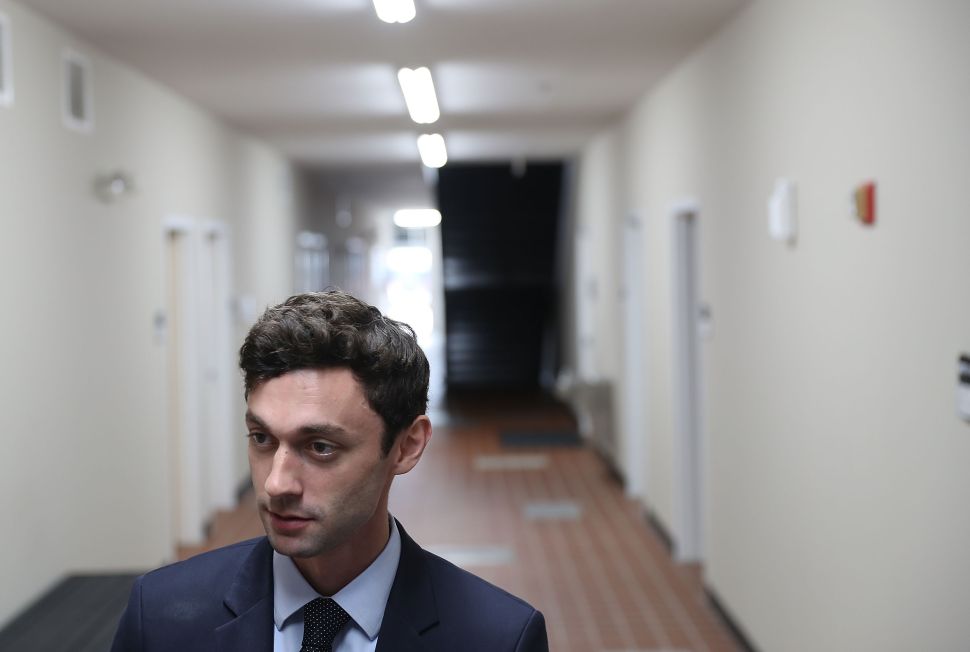 Quick: What do Harris Wofford, Kay Bailey Hutchison, Paul Hackett and Scott Brown have in common? Answer: All four unexpectedly won a special election that enabled their party to dominate congressional elections the following year.
Georgia Democrat Jon Ossoff hopes to be insurgent number five, in his state's Sixth Congressional District. He finished first in the April 18, 2017 primary, narrowly missing the chance to avoid a runoff. But can he win the seat once easily held by GOP Rep. Tom Price against Republican Karen Handel? And could his success really launch a Democratic comeback in 2018?
There's A Reason They Call Them Special Elections
Four times since the end of the Cold War, a special election for a legislative seat helped set the tone for a strong showing by a political party the following year. The question is whether the same will happen in 2017-2018.
Little known ex-Peace Corps Director Harris Wofford upset Pennsylvania GOP Governor Richard Thornburgh in 1991 to capture a GOP Senate seat open due to the death of Sen. John Heinz. The following year, Bill Clinton knocked off President George Bush, and a number of Democrats were swept into Congress—especially women.
Two years later, it was State Treasurer Kay Bailey Hutchison knocking off interim Sen. Bob Krueger in Texas, appointed to fill the post vacated by Lloyd Bentsen—who left to become Bill Clinton's treasury secretary—in a special election. Her win was a harbinger of the GOP sweep of 1994, where the party won both houses for the first time in several decades.
Back in 2005, Lt. Col. Paul Hackett III, a political neophyte, took GOP state legislator "Mean Jean" Schmidt down to the wire in a special election for a Ohio congressional seat vacated by Rob Portman to serve in the George W. Bush. His showing, the best for the party since 1974, gave the Democrats the boost they needed to retake Congress in 2006.
And, of course, there's Scott Brown of Massachusetts. The little-known Republican state legislator took down Attorney General Martha Coakley to occupy the seat held by Senator Ted Kennedy until his death. Who can forget the memorable GOP wins of 2010, retaking the House of Representatives and several Senate seats?
Can Ossoff Be The Next Special Election Hero?
Ossoff's candidacy clearly excited the base, in a way that Democrats haven't ignited since Bernie Sanders jumped into the race back in 2015. While he's a contrast with Sanders in youth, he matches the Vermont Senator in spirit and vigor. And both can certainly raise a lot of money in a short amount of time. Plus, Democratic Party antagonism toward Trump has fueled the fire for Ossoff supporters.
6th District Ossoff Volunteer Sarah Spavone summed it up. "This special election in suburban Atlanta has shown the rest of the country that people are not happy with the current administration and that everyday people will fight for what is right," she sent in a message.
With a nearly two-to-one lead over Karen Handel, the race would appear to be Ossoff's to lose, right? He only needs to make up two percentage points to be the newest Georgia Congressman.
But it may be a margin too far for him to take the district.
How The Republicans Can Win…And Lose The Seat
Before resigning to become President Trump's Health and Human Services Secretary, Tom Price won every legislative election easily since 2004. And before then, current Sen. Johnny Isakson and House Speaker Newt Gingrich held the seat—a GOP trend that goes back to the 1970s.
Opponents have maligned GOP candidate Karen Handel as a "Martha Coakley" with a Southern accent, a reference to the hapless Massachusetts Attorney General who lost that winnable Senate race to Scott Brown in 2010, and the Massachusetts Governor's race as the Democratic nominee in 2014.
But Handel's not that candidate, having won statewide office as secretary of state. In two highly-crowded GOP primaries, she came within a whisker of winning the 2010 GOP primary for governor and the 2014 GOP Senate primary, in a state that has never elected a woman to either. I've seen her win over a moderate audience effectively.
Moreover, as Eric Ostermeier found, the party out of power only wins about 20 percent of the time, while the party that held the seat beforehand retains it in four out of five times.
Could Handel lose the seat? It's unlikely, but it could happen.
1) Several conservative Republicans gave up their seats and spots to challenge Ossoff and Handel, only to come up short.  They or allies may find ways to withhold support for the moderate Handel, hoping she'll lose, in order to run against Ossoff in 2018, when they feel that better political winds might be blowing. It's an unlikely scenario, but one that can't be completely discounted.
2) Outsiders might overplay the GOP's hand. Fearful of an Ossoff win—or concerned that Handel may lack the campaign skills necessary to excite the crowd—they might try to land a decisive blow that quickly turns into blowback when it doesn't sit with those suburban voters.
3) Donald Trump really needs to stay out of this race. In a district that went double-digits for John McCain, Mitt Romney, and Tom Price, Trump could only manage to win by less than two percent. And his many tweets about the race may have stimulated Democratic turnout. Before he got involved, Democrats under Ossoff managed just under 40 percent. After several Trump tweets, Ossoff came close to 50 percent of the vote, which would have given him an outright win.
In conclusion, the district demographics, and odds, favor the Republican Party—not the Ossoff camp. But the party could still blow it by overplaying their hand, which could include too much exposure by the President himself.
John A. Tures is a professor of political science at LaGrange College in LaGrange, Ga. He can be reached at jtures@lagrange.edu.  His Twitter account is johntures2.