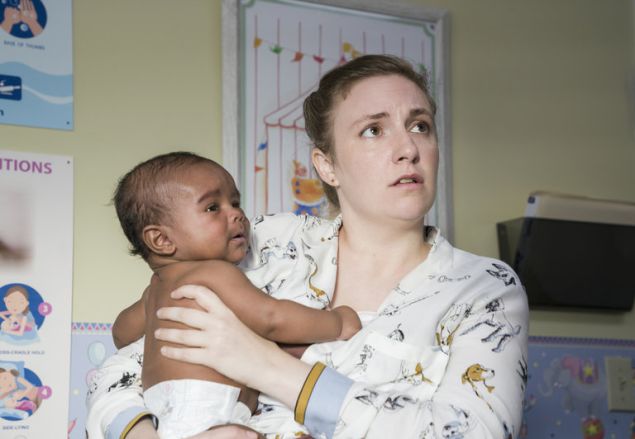 Last night saw the ending of Girls, a show that will go down in television history as one of the most divisive comedies of all time despite having the same racial makeup of just about every other comedy throughout the ages. Why did Lena Dunham's show about four narcissistic friends and their blithely ignorant, sometimes sincere but ultimately—as we found out during last night's finale—fruitless attempt to make their mark in the world turn into such a lightning rod? Because some of us couldn't identify and others identified a little TOO hard?
As last night's finale whizzed by—Hannah went from living in New York to being really pregnant in her new upstate faculty housing (which, damn, school isn't even in session yet! Way to motivate, lady!), right down to that smash cut of "five months later" with her new baby son Grover who refuses to drink her breast milk straight from the nipple (which is where we get the title of the last episode of show, "Latching")—I felt…nothing. Which is a first for me!
Because, like Guelda argued, a lot of people in Girls intended demo will not—and possibly never will—admit that they even like the show.
Yes, the characters are entitled. They think the world should be just and fair and that they're talented and will eventually find their places in it. For this charge, I have only one rebuttal: isn't that what we tell people to think in America? It feels like entitlement is a great psychological edge when you're a man working in business—look no further than our president—but ugly when you're a young, confident woman who wants to work in the arts.
I couldn't agree more. It feels like samizdat to even write an Internet blog post saying "You know, the writing on Girls was pretty tight, the directing was superb, and I want to find out where I can buy Hannah's lizard shirt from a couple seasons back."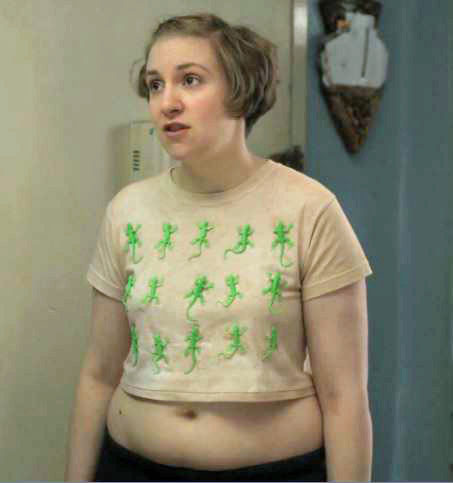 Sex and the City, It's Always Sunny in Philadelphia, Friends, Seinfeld, Togetherness, Transparent, Love, Search Party…none of these shows suffered from the deluge of impotent, rage-filled thought-pieces the way Girls did, despite most of them featuring just as few minority characters in leading roles. No one bats an eye when Patrick Wilson turns out to be a predatory pervert luring Juno back to his house like the big, bad wolf in Hard Candy (or, gosh, I dunno, remember in Insidious 2—which side note, is the best Insidious movie), but people are still complaining about how unrealistic it was that a hot, rich doctor would even deem to speak to someone with the BMI of Hannah Horvath.
The other hard thing about writing about the show Girls is that it feels pointless: your hot take on the show's finale is competing with Jia Tolentino's brilliant essay about binging the show in The New Yorker, James Poniewozik's review in The New York Times, Jen Chaney at Vulture and that 10 percent of your Facebook feed that's not about how we're all going to die in a nuclear war tomorrow. Which will thus render this particular essay completely irrelevant and I will get no hate-mail about it, god willing.
What I'm saying is, Girls has always had a tough time relationship of balancing the desires of its audience (people who actually watched the show and were emotionally invested in these characters) with the bullseye target Dunham has to schlep around on her back 365 days of the year. And somehow Girls, which even in its more aimless seasons always cracked me up, made me cry and had me relating a little too hard, never felt like it was trying to say something bigger than its telescopic view of these four ladies and the guys who orbit around them. Until this final season, when, for better or for worse, shit got real.
So, now that I've defended what I still believe was a great show, here are some disclosures about my relationship with it: I went to Oberlin with Lena Dunham (she was really sweet and nice; didn't know her that well); I once watched the Oscars with her and her mom and her sibling over at her parents' Tribeca loft (I wanna say eight years ago?); one time, Dunham reached out and offered to pay me (along with several other very successful, cool ladies) $200 for a picture of a sexy selfie for that episode last season when Hannah finds nude photos on Fran's (Jake Lacy) phone. I took that money and damn if I didn't watch that particular episode frame by frame so I could screenshot my boobs being on TV.
That first season, I laughed my ass off and quoted Girls nonstop. It was only later, after everyone from the alt-right to the left-of-Bernie fellow Oberlin alums got their chance to eviscerate everything they thought the show—and by extension, Lena—was trying to say, even if they had never seen more than one episode, that I learned to keep my mouth shut and keep my high opinions about this show to myself.
But then came the final season of Girls, which was so pitch-perfect and spectacular (up until last night's ending, anyway); which actually tackled thorny issues instead of neatly side-stepping them; which actually felt like maybe the 'self-described voice of our generation' protagonist had finally had accumulated enough life experience that she could hold her own arguing with, say, a famous novelist that is very clearly based on a real person that it made me realize something.
Every season since its debut, Girls slowly slid into irrelevancy and a kind of toothlessness about real-life issues not because its writers or creator had run out of things to say but because when you continue to make a show under this much scrutiny, it's easier to say nothing of substance. To let your characters play into everyone's criticism of them by making them worse: more entitled, more mockable, impossible to take seriously or form an emotional attachment with.
This final season of Girls, all the characters grew, but their growth happened off-screen, for the most part, between seasons. It's like Dunham and Jenni Konner, knowing that the show was ending, said "Fuck it" and decided to go with their gut, haters be damned. Jessa learned how to eat humble pie (spoiler alert: she's terrible at it, but to be fair Jemima Kirke doesn't look like she's eaten pie in her whole life). Marnie…also eats a lot of crow this season, but it's a delightful exercise in shaudenfreude. (Though, like Dunham, the problem with Allison Williams is that her role on the show is often conflated with the actress who plays her, but I think Get Out went a long way towards fixing that.) Shoshanna, always treated like the kid mascot by the rest of the Girls, surprised everyone by finally addressing the elephant in the room during the penultimate episode. "Maybe we should just call it," she Adderwailed right before her own quickie wedding…a perfect mirror to her older cousin's in season one. Elijah got on Broadway after one audition that was also the same day his famous TV anchor ex-boyfriend showed up at his front door, begging to be taken back and I don't see anyone writing about how unrealistic that was. Adam was…ultimately irrelevant? Ray…shit, I forget what happened with Ray. Did he and Shoshanna get married?
And then there was Hannah. Hannah, who finally seemed to be finding her way in the world, whose intelligence, empathy and maturity were finally—finally—catching up to and then bypassing the second, third and fourth least-Woke Brooklynites. (These guys, btw.) Which is, of course, when she also learns she's pregnant.
I could give you a list of reasons this plotline didn't work for me, specifically: why doesn't Hannah even think about getting an abortion when she literally went to Planned Parenthood for her friend's (ultimately aborted) abortion in the second episode of the series? By this I only mean Hannah is clearly pro-choice; not that entering a Planned Parenthood to support a friend means you are signing up for the "Get 10 Stamps, And Your Next Abortion is on Us!" punchcards that Planned Parenthood is so well-known for.
Why would Hannah even want a child? Why would anyone choose to be a single mother based on a one-night stand with The Night Of? Why would she name her son Grover? Because the surf instructor knocked her up had an IQ of a Muppet and told her to? Why did she take that job teaching upstate, when she knows that the world of liberal academia—and all its associated trigger warnings and microaggressions—are not a good fit for her?
You can make the argument that Hannah as a character is reckless, contrary and oppositional, so if the obvious end result of her pregnancy should be either abortion or adoption, she's going to do the opposite, just because. (See also: Hannah's feelings about being paid to write sponsored content, having a nice boyfriend and finishing grad school versus Hannah's feelings about living with a  gay college ex-boyfriend who gave you HPV for the majority of your mid-20s.) It doesn't make sense why Hannah would suddenly be so obsessed with both having this baby and raising it alone: she doesn't want the father, Paul-Louis in the picture; she only indulges in the Adam-as-surrogate-father fantasy for half an episode, and she only grudgingly accepts assistance from Marnie in the latter's desperate, final attempt at "winning" the friend race. (Hot-tip, Marnie: When all the other candidates drop out, you're only winning by forfeit. But, take them where you can get them, I guess.)
I didn't like the Girls finale, but I don't think it's on the show. If I'm being honest, I couldn't get down with Hannah's decision because I am not yet ready to do what she did…and I may never be. Girls, and Hannah Horvath, may have finally outpaced my own maturity level, my own self-reflexive narcissism and identity.
That's right, the problem with Girls' finale episode, in my opinion, is that Hannah's decision to have a baby is one of these great signifiers–and the most common—that we use as a culture to mark the transition from adolescence to adulthood, between those that are drifting along and those who have found their purpose. Hannah is no longer a girl; she's officially a mother; a woman. So, to channel an earlier incarnation of this character: What does that make me?