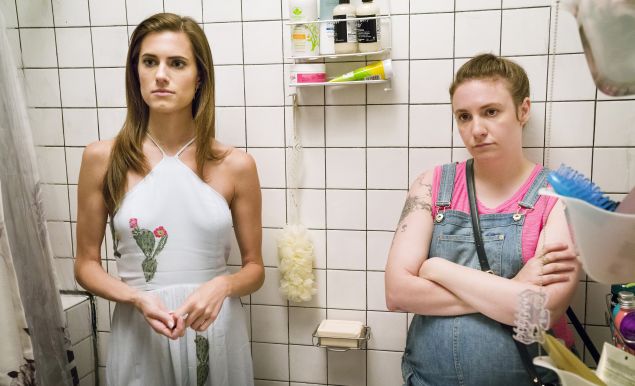 The penultimate episode of Girls opens with Hannah on campus upstate, overhearing a few students chatting about a guy. She offers some advice that foreshadows the theme of the episode: "I'd like to remind the three of you not to sleep on this friendship, because I know it feels like it's just gonna be like love and lust looking forward, but lust fades and friendship never does if you nurture it."
She interviews for a professor position teaching "the internet" to students, and discloses to her hilarious potential boss that she is indeed pregnant but would definitely work through it if she is offered the position. On her bus back to the city she gets the call offering her the position. She decides to sleep on it.
Talking to Elijah, he doesn't think she should take it: "I just don't understand why you would want to leave New York? That's like something your family makes you do when you're too deep into crack to stop them?" She maturely talks about how hard it would be to support a baby in the city, without health insurance. He notes that he will not move upstate and be her Tad. It is interesting that they are choosing to make her path so similar to that of her own mother. And the whole professor storyline seems odd considering she quit teaching once already.
Talking to her father about the move, he is, as always, encouraging. She tries and fails to reach Marnie, and while shopping witnesses some young friends talking about finding a halfway affordable apartment in the city, as she once did. Meeting up with Elijah outside his fourth callback for White Men Can't Jump, he still tries to talk her out of moving. On the subway, she locks eyes with a guy who seems interested, until she stands up and he realizes she is pregnant.
Back at her apartment, she runs into Caroline on the steps. This show has focused on motherhood in the past, most memorably with this character and her postpartum depression that saw her leaving her child behind with Laird, worried for Sample's safety. She is encouraging of Hannah's move, and says leaving the city, along with a "very short but powerful stay in the hospital" is what cured her.
Hannah still can't reach Marnie, who we see dressed up with a gift in hand. She decides to visit Shoshanna, only to discover she is having a party. Hannah is insulted that she wasn't invited, and even more so when she realizes it is Shosh's engagement party – which is also confusing for the audience because Shosh has been in this season with Ray – but never once was it mentioned that she was dating anyone. Shosh notes that she didn't even bother to tell her she was pregnant, "So that kind of says who we are to each other." Shosh allows her to stay, but when Jessa shows up and Hannah is unenthused, she wants to walk away from the drama. Marnie calls a group meeting, and for the first time in a very long time, we see the four girls together in the same room.
Marnie encourages they talk about their feelings instead of throwing grenades at each other. Hannah and Jessa discuss their hurt feelings while Marnie notes her anxiety about their deteriorating friendship, and her desire to fix it. But Shosh is ready to walk away from the friendship completely: "We can't hang out together anymore, because we cannot be in the same room without one of us making it completely and entirely about ourselves. I think we should all just agree to call it."
Hannah tells Marnie and Jessa they won't have to worry about seeing her anyway since she decided to take the job offer, which she decided after seeing a person take a shit on the street: "This is a city where people take shits on the street." Elijah interrupts with the good news that he got the part.
Back inside the party, the Hannah and Jessa reunion finally happens when Jessa comes up to Hannah to comfort her with the news that she herself was barely invited to the party. She asks her about school, which Jessa quit: "It turns out that I wasn't as ready to help people as I thought, and I just needed to take a long hard look in the mirror."
Jessa gives Hannah a present for the baby, assuming it would be a girl. Hannah reveals for the first time that it's a boy. Jessa finally apologizes for her betrayal, and Hannah tells her she doesn't have to say sorry and instantly cries and forgives her – which makes absolutely no sense considering how upset she has been with Jessa for so long. They decide to stay at the party and try to enjoy it. We see Hannah admiring her friends for exactly who they are: Shosh deep in her romance, Jessa being silly, Marnie surrounded by men.
Finally, we see her driving upstate to move into her new home, contrasting her new life alone as a soon to be single mother with her old life and friendships in the city. Next week's finale will be interesting, and I'm still placing all my money on it being a flash forward (especially since this episode felt like a finale itself), hopefully with a lot of Adam.