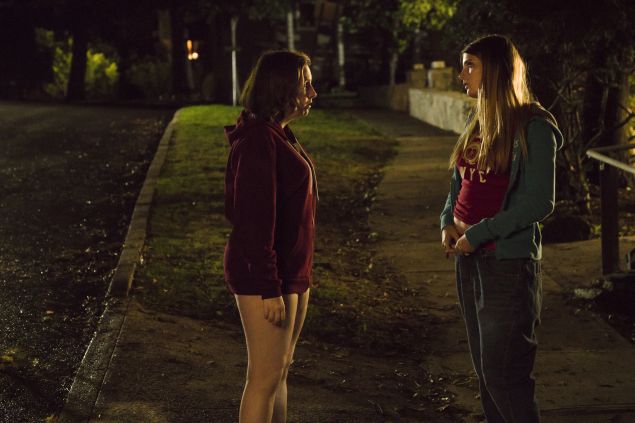 Welcome to our TV Fashion column, where TV Ate My Wardrobe's Emma Fraser discusses the trends in television apparel. This week: Girls ended its run without flash, style or pants.  
A hoodie with no pants is pretty much the most appropriate Hannah Horvath costume to end Girls and while "Latching" is lacking in the out-there plastic dress and neon string tank department, the series finale does highlight costume designer Jenn Rogien's eye for everyday outfits. There is no time for fantasy or even aspirational dressing as Hannah is finally confronted with a decision she can't quit on. Instead, it is a whole lot of pajamas, prints, yoga pants and a breast pump ensemble that has Marnie comparing Hannah to a Ghostbuster.
A subject I have returned to on numerous occasions this season when talking about Girls is how costuming reflects a shift in attitude between expectation and reality; Marnie found out she has a terrible bullshit detector when it comes to jewelry and also learned to finally take responsibility for her actions. This isn't to say there has been a dramatic transformation in how any of the core characters dress and it is subtle shifts in fit and style that demonstrates these changes in attitude.
And yet in the finale, Hannah reverts back to some of her more reactionary behaviors including stomping out of the house after having an argument with her mother wearing ill-fitting jeans and a hoodie with nothing but a bra underneath. She doesn't even take a phone with her. The bagginess of the jeans is in part to underscore the visual later on when Hannah gives them to a pantsless teen girl, but she also only recently gave birth so she's not really thinking about the skinniness of her denim. Comfort is all that matters and Hannah's never been all that bothered by what other people think about how she dresses.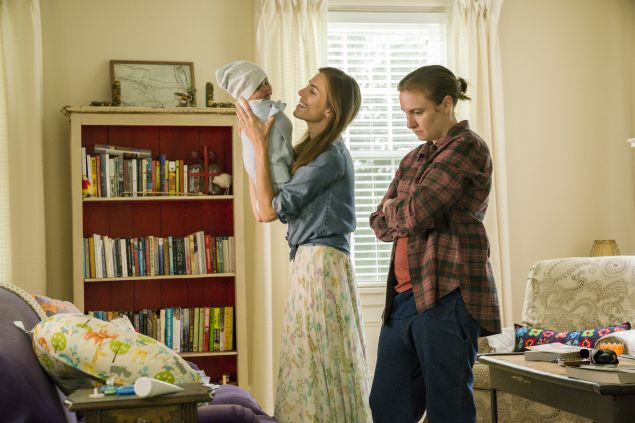 What this conversation with the teen girl–who has also just had a fight with her mom–does is underscore everything Hannah's mother has just been trying to impart to her. God bless everything Loreen Horvath for pointing out that of course it is hard and there's no way her baby hates her. He's a baby and this is a concept that doesn't exist to the adorable Grover. The last time we saw Loreen she was wearing Hannah's lemon print shirt after getting really high off some cannabis gummies. She was also not responding well to the news about becoming a grandmother as she saw it as a sign of her impending demise.
Bu, of course, Loreen drops everything when Marnie calls. The evolution of Loreen deserves an essay of its own, but what I will say is that it has been a pleasure watching Becky Ann Baker and seeing her go from higher necklines and sensible mom pants to graphic print T-shirts and jeans.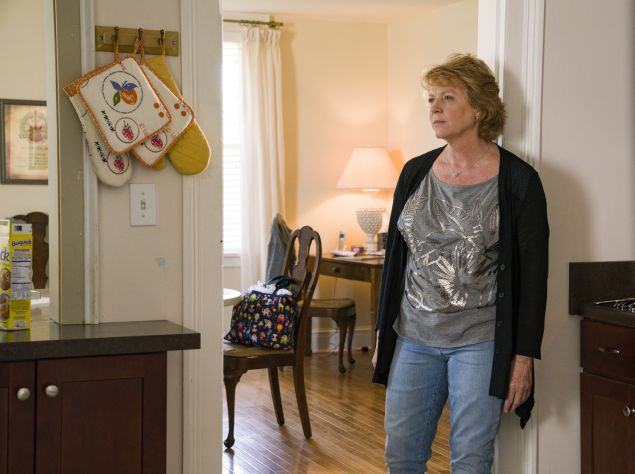 Loreen gets to impart some wisdom on Marnie, but not before she walks in on her in the midst of FaceTime sex; which explains the sexy underwear and selfies from earlier. Marnie always does the most whether it is trying to be the best "best friend" or in her romantic endeavors. She also misses the mark a lot of the time. Marnie is the queen of thinking in terms of how things should be; even though she had a wake-up call in the wake of Desi (who I am still convinced is dead in a ditch somewhere) she still can't help herself.
With Hannah, she's incredibly supportive in that super patronizing way including singing Tracy Chapman, reading up on all the baby related literature and not going out for the evening. This could spill over into season one "You're the wound" territory rather than "Dancing on My Own" Robyn fun times and the finale opens in the same way as the pilot; with Marnie sleeping next to Hannah. The difference here being is that Hannah had not let Marnie into her house. Surprise! In other ways that are likely to cause friendship irritation, Marnie looks the picture of perfection in floral maxi dresses and glowing smiles, while Hannah's all oversized shirts (again this makes comfort sense) and tired crankiness.
Drinking red wine on the porch while waiting for Hannah to return leads to probing questions from Loreen. Taking a step back helps; Marnie mentions going to law school, which actually makes a lot of sense since my second spinoff idea is "Good Wife influenced with Marnie becoming a lawyer and then a judge." In fact, Marnie would be a perfect character on The Good Fight and Becky Ann Baker also happens to be on this show; she'd make a great tenacious second chair. You know Marnie could definitely work the prints and pussy-bow blouses as favored by the lawyers on The Good Fight.
"Latching" is a rather low key finale in that it is pretty self-contained. The bigger farewell came courtesy of the penultimate episode "Goodbye Tour" in which Hannah made a choice to leave New York. Shoshanna's engagement party was the scene of most of these last chance interactions. Between the dancing to dreamy electro-pop (this time "Crowded Places" by Banks), that conversation in the bathroom and the Jessa/Hannah reconciliation there was a strong sense of finality.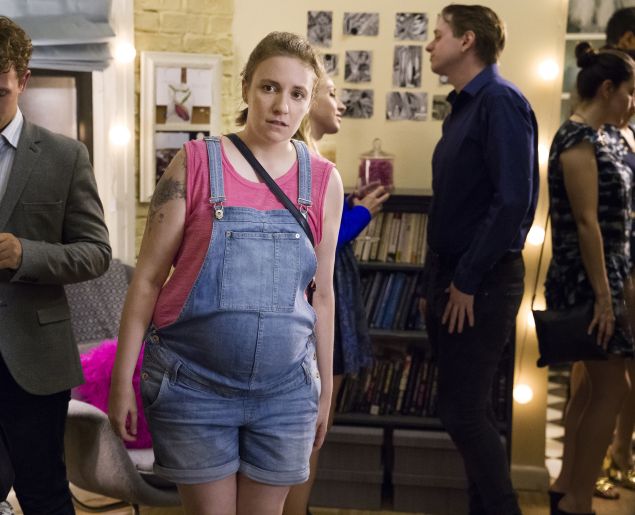 The hoodie with no pants is very Hannah, but the denim shorteralls she wore all last week is the most Hannah and while she didn't know about the engagement party Shoshanna quips that she would've probably shown up wearing that outfit even if she did. In Hannah's defense, she has scored highly on the fancy party ensemble as witnessed at Jessa's surprise wedding at the end of season one.
What the impromptu bathroom meeting highlights is that these characters all still have their distinct styles. Marnie has moved away from her boho leanings now that her time with Desi is over and despite her dire financial straits she's still got the perfect dress in her closet for an engagement party. Jessa is on trend in a silk bomber jacket and she'd probably say she was there first. Meanwhile, as it is Shosh's party and she's getting married, the expensive white dress very much leans into the role of newly engaged and we all know what Hannah is wearing.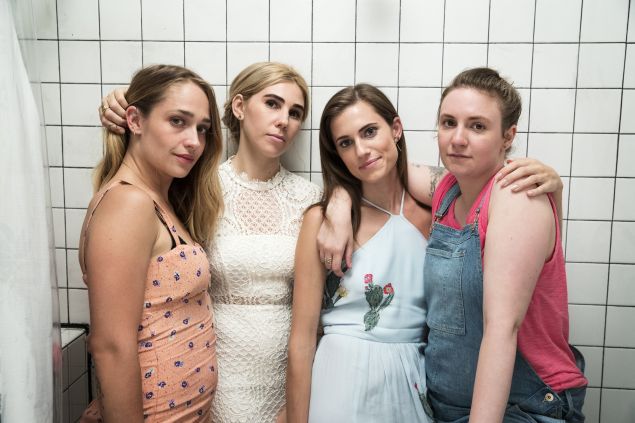 Jenn Rogien created a specific look for each person and this vision has played a big part in helping craft character. There have been the natural shifts because of the way fashion changes and evolution of style in reaction to the inner worlds of Hannah, Marnie, Jessa and Shoshanna as well as supporting players like Loreen, Elijah, Adam and Ray. In the finale there's no single showy garment. Instead, "Latching" is a great example of how to get everyday costuming right. Keeping in line with what we have seen these characters wear over these six seasons and proving that a hoodie is often the ideal comfort item of clothing.
And when it comes to explaining to her mom and Marnie why she isn't wearing shoes or pants this answer from Hannah is all they really need. And like the rest of the costuming of Girls it makes the most sense for this character in this moment.
"You know. Kinda what you think."
Emma Fraser is the creator of TV Ate My Wardrobe and spends most of her time writing about TV, fashion and costuming; Abbi and Ilana's Broad City style, the wigs on The Americans and Mindy Lahiri's pajamas are just as vital as talking about '90s, '00s teen shows. Emma has a MA in film and television, and she probably holds Angela Chase responsible for this path. You can find her on Twitter @frazbelina.