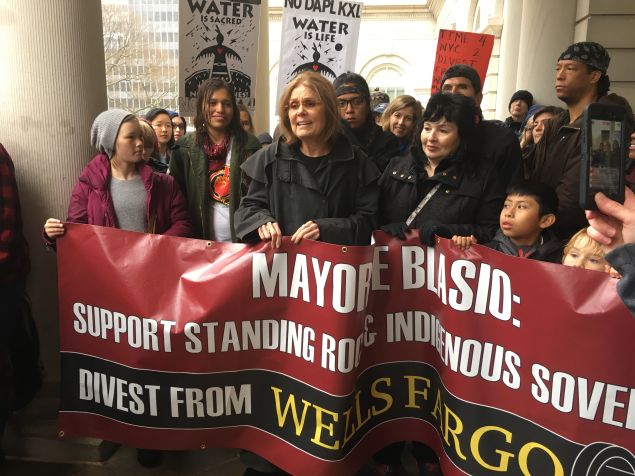 Feminist icon Gloria Steinem joined indigenous people and allies at City Hall this morning to call on Mayor Bill de Blasio and Comptroller Scott Stringer to "take our dollars out" of banks financing the Dakota Access Pipeline and other oil conduits—and to "take our power back."
On Wednesday evening, the activists began an overnight protest encampment outside the Wells Fargo branch at Grand Street and Broadway in Manhattan to issue a "moral call" to de Blasio and Stringer—both of whom have separately declared their opposition to DAPL—to end the city's business with banks financing the petroleum transport tube from North Dakota to Illinois, which will run upriver of the Standing Rock Indian Reservation. They also demanded similar divestment of pension dollars and contracts from institutions underwriting the Keystone XL oil Pipeline from Canada to Nebraska and the Pilgrim Pipeline between Albany and Linden, N.J.
On Thursday morning, the encampment broke with a protest march to City Hall, where they held a rally.
"We're starting to use our individual power and that includes the power of the dollar," she said. "We are no more going to give our votes or our dollars to those who don't represent our democracy. So we call on the comptroller, we call on the mayor, we call on each other to take our dollars out of all the banks that support the Standing Rock Pipeline or any other death-bringing measures."
Steinem—who joined a DAPL protest calling for a boycott of Citibank in December—said that President Donald Trump was not elected by the majority of the people and that his presidency "has caused us to learn how to become a democracy again." Trump overturned previous President Barack Obama's decisions to deny crucial permits to the Dakota Access Pipeline, allowing construction to continue.
The Ms. magazine founder told the crowd that she weighed a run for comptroller in 1969, but ended up not doing so because she was "too terrified to speak in public." She said she had researched the position and knows that the comptroller "has the full power to take our dollars out of banks" that engage in this type of action.
She ultimately endorsed Stringer four years ago.
"There is a great deal of social and political power in the comptroller's office and we are here to call on the comptroller to say we are taking, I am taking, we are taking our dollars out of these banks and we call on the mayor and the comptroller to do the same," Steinem continued.
She reiterated that indigenous people and their allies should not take their rights and powers for granted.
"This is a vote, a dollar that we have in our power," she added. "We are destroying democracy, we are here today to say that we are going to take our power back."
Indigenous sponsoring organizations include the American Indian Law Alliance, the American Indian Community House, Seventh Generation, NYC Stands with Standing Rock and Native American, the Indigenous Student Group of NYU and the International Indian Treaty Council. Allied supporters include New York Communities for Change, Citizen Action of New York, People's Climate Movement NY and Bronx Climate Justice North.
The crowd—which noted that Seattle recently ended its business with Wells Fargo over its investment in DAPL—yelled chants such as, "We stand by Standing Rock! City by City, Block by Block!"
Betty Lyons, president of the American Indian Law Alliance, said that she and other leaders will continue to push for divestment.
"Indigenous rights are human rights," Lyons said, with the crowd repeating the chant in response. "These pipelines cause nothing but destruction in all of our communities, in all of our lands and all of our territories and there is no remediation for contaminated water and I want everyone to keep reminding themselves of that."
The leaders have previously noted that the city has significant clout over the banks as a key institutional investor—$165 billion in five pension funds—and as a larger customer for services that the banks provide.
De Blasio and Stringer—both Democrats—have been outspoken critics of the Trump administration's policies. But Roberto Borrero of the International Indian Treaty Council argued their refusal to totally pull city resources out of the banks involved showed they were ultimately aligned with the Republican president.
"What we're here today to say to Comptroller Stringer and Mayor de Blasio: are you a Trump supporter?" Borrero said. "I know these people are not right here. Are you a Trump supporter? Do you support the policies that this administration is pushing forward, which are anti-environment, right, anti-planet."
Both Democrats have lobbied banks to withdraw their support for oil pipelines, but have warned that pulling city pension dollars out of participating lenders could damage returns for retirees—and would require the support of the system's full board of trustees.
In March, Stringer and other investors and groups assembled a briefing for global investors with Dave Archambault II, chairman of the Standing Rock Sioux Tribe.
"This is about human rights and basic dignity," Tyrone Stevens, a spokesman for Stringer, said in an emailed statement. "We have the same goals as those protesting, and there's no doubt the Standing Rock Sioux's sovereignty is threatened by this project. This pipeline poses a real risk to the banks, their investors, and the tribe. That's why Comptroller Stringer believes that the firms involved have a responsibility to act."
The mayor's office did not immediately respond to a request for comment.
Activists carried out a similar action, also at City Hall, in February.
This story has been updated to include a statement from Comptroller Stringer's office.