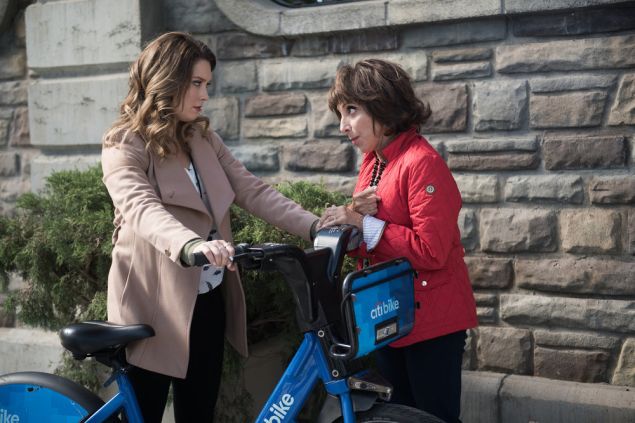 When she was working as a writer on 30 Rock, Tracey Wigfield's mom would constantly come to her office. This gave her an idea – for a comedy series.
Great News tells the story of Katie Wendelson, an up-and-coming news producer who discovers her way‑too‑involved mom, Carol, has rejoined the workforce as an intern at the same cable news show.
Tina Fey and Robert Carlock, who worked with Wigfield on 30 Rock, serve as Executive Producers of the comedy.
"It's [set in] a workplace, which always becomes its own kind of family in any sitcom, but one of the things I think that Tina and I really liked when Tracey brought us this idea was, [that] there's this relationship in the middle of it, this mother/daughter," explained Carlock at a television critics event.
Wigfield readily admits that her mom has some unique characteristics that make for a good TV character. "She's not like one of these sexy L.A. moms with long, weird blonde hair. She sort of talks to everyone exactly the same, whether they're the lady at the grocery store or, like, Alec Baldwin. My mom is very honest and just has this like happiness about her that is very motherly. She's a straight‑up mom."
Stepping in to portray Carol is TV and Broadway veteran Andrea Martin.
"I grew up watching Andrea on SCTV," explains Fey. "I was an advocate of us going out to get her as soon as we had the script. [I was] like, "Oh, let's definitely go chase Andrea."
Wigfield gives kudos to Fey for the idea of bringing Martin onboard. "Tina was very smart to immediately think of Andrea because she has such a warm kind of maternal energy, and she's like a hilarious elf. She is so funny and magical."
Asked if her mother took any offense to Martin's portrayal of her, Wigfield said, "Yeah. My mother was always complaining, [saying], 'I don't dress like that. I would never wear shoes like that,' and then she showed up on set, and Andrea's costume was the same as her real‑life outfit."
Also in the cast are Nicole Richie and John Michael Higgins, who play the (wacky!) on-air anchor team at the news station – he the veteran newsman and she the up-and-comer.
Higgins says, "I realize that my character is sort of on the wane. I have a lot of reverence for Peter Jennings and certainly [Walter] Cronkite, obviously. There is something distinguished and reassuring about that type of presence, but it is a style of interaction with the public that's fading and our stories deal a lot with the fade."
It didn't take long for Higgins to realize that he's in fact a lot like the character he portrays. "It was evident that there was just a hair's breath between him and me, that my character's reading newspapers with reading glasses on, and it's 'cut,' and there I am reading the newspaper, and nothing's changed."
Nicole Richie, in her first scripted role, described stepping into this new arena. "I auditioned a few times, actually. When I got it, I had no idea what I was walking into. I was the new kid on the block and they all kind of knew each other. I met the hair and makeup people first, and they were like, 'Everyone's really nice.' I'm like, 'Yeah, okay. Whatever.' You know what? Everyone was. They welcomed me with open arms."
Fey said that she'd always had an eye on Richie. "I've been a fan of Nicole since she was basically a little kid on [the reality series] The Simple Life.
I think she's a really funny person. The kind of instincts that she has, you cannot teach them. People have it or they don't. So yeah, we were all thrilled when she said that she would come in."
Great News might be set in a television news station, but Fey clarifies the political nature of the show, explaining that all ten episodes were completed months ago. "We shot these knowing that we would likely be on midseason," explained Fey. "So with the delay of broadcast, you sort of take ideas from the headlines, but you want to avoid doing a joke that's going to feel really old by the time the show airs."
While the series comes from the creators behind 30 Rock, it is unique in its own right, says Wigfield. "Yes. I think where this show and 30 Rock share some DNA is that it's a funny show with a lot of fast‑paced jokes. But, the show is very different. At its core, it's about a mother and a daughter."
Fey, who knows a thing or two about producing good TV, added, "This show is about the relationships. For a series to sustain itself, it does have to be about the people and the relationships."
Higgins agreed, pointing out that there are more than just workplace laughs to be had in Great News. "Our stories are driven by generational motors — between the two different types of news anchors, between the mother and the daughter — and there's a lot of comedy there. A lot of comedy."
Great News premieres Tuesday, April 25 with back‑to‑back episodes each week at 9:00 and 9:30pm et on NBC.