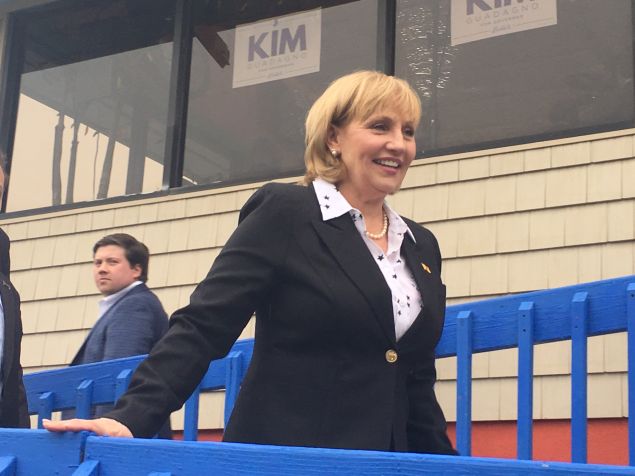 One of Gov. Chris Christie's big ideas this year is to force Horizon Blue Cross Blue Shield, the state's largest health insurer, to pony up some of its $2.4 billion in cash reserves for a new state fund to treat addiction among the poor.
The plan has a big opponent: Christie's own lieutenant governor, Kim Guadagno.
A candidate for the Republican nomination for governor, Guadagno has been distancing herself from her boss on several hot issues. She came out against a 23-cent gas tax increase Christie signed last year to fund road and rail upgrades. She publicly criticized Christie's plan to raise salaries for high-ranking government officials to the tune of $10 million a year, and has been skewering his $300 million plan to renovate the statehouse, saying there's no need for a "Palace of Versailles" in Trenton.
On Tuesday, Guadagno added the Horizon plan to the list, saying it's not the government's role to "demand" funds from a health insurer.
"You can negotiate and that's one thing, and that's something that's perfectly legitimate," she told reporters in Trenton after giving a speech to the New Jersey Bankers Association. "But to demand it and take it is another thing. I don't think that's something government should do."
Christie in his budget address in February called on Horizon to dip into its $2.4 billion in reserves and dedicate a portion to a new state fund covering drug-addiction treatment for the poor. The company can afford big salaries for its top executives and in-house lobbyists, Christie says, so the new addiction fund should be no skin off their backs.
Horizon, a not-for-profit company, says its reserves are a critical contingency fund that would cover 75 days of expenses for its 3.8 million policyholders. Christie says the company's reserves are above the levels required by the state Department of Banking and Insurance and by the Blue Cross Blue Shield alliance, of which Horizon is a member.
"Their single largest and most profitable line of business last year was Medicaid," Christie told reporters last week. "They made over $165 million on Medicaid alone. That's money from me and you … and it's profiting off the poor. Well, OK, that's fine, but then you've got to meet your nonprofit mission. But instead they pay millions of dollars to their in-house lobbyists. They pay millions and millions of dollars to their senior executive. They're driven around in chauffeured driven cars. The fact is, if you want to be a nonprofit, be a nonprofit and meet your mission."
Although Christie has not said publicly how much money Horizon should devote to the drug addiction fund, lawmakers in Trenton have been discussing a potential $300 million a year. Any action from Christie would require legislation passing in the Democratic-controlled Assembly and Senate.
"My objection is that it's not the government's role to take $300 million from the reserves from a 501(c)3 or anybody," Guadagno said, using the tax-code shorthand for nonprofit charities. (Horizon is not a charity, although it has not-for-profit status.)
A similar proposal worked in Massachusetts, she said, because all sides were in agreement. In New Jersey, Horizon opposes Christie's plan. A tentative deal between the health insurer and the Christie administration, in which Horizon would have agreed to send $125 million to the new fund, fell through before Christie's speech in February. Guadagno said she "wasn't a party to any of the negotiations."