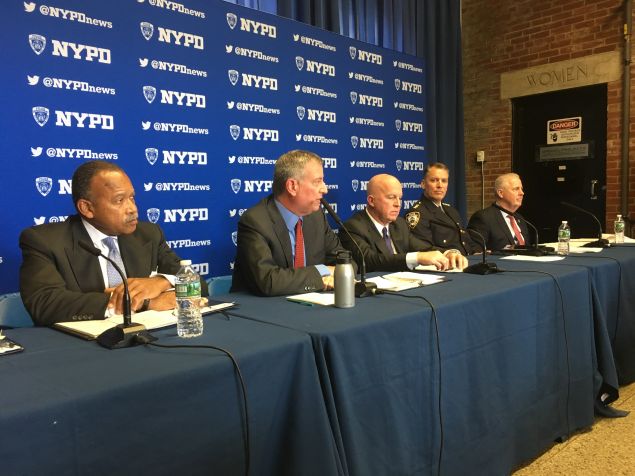 Despite reporting a continued reduction in violence and overall crime in March, the NYPD revealed today that the city had witnessed yet another uptick in hate crimes in March, again primarily targeting Jewish and black people—an announcement that came just days after the funeral of Timothy Caughman, an African-American murdered on the street in Manhattan by a white supremacist.
The NYPD reported a "huge spike" in the number of hate crimes in the immediate aftermath of President Donald Trump's victory in November, which the department said had crimes "leveled off" somewhat by February. Nonetheless, the department told the Observer the trend had continued upward through the month of March, which saw Caughman's killing.
"They remain up right now, 144, this is to April 2," Robert Boyce, the NYPD's Chief of Detectives, said at a crime update press conference on Randall's Island this afternoon. "Up by 72 percent last year and that's a 72 difference so it's 100 percent increase. Again, driven by the same things we've been seeking out for some time."
Last month, then U.S. Attorney Preet Bharara, the Federal Bureau of Investigation and the NYPD announced that they charged Juan Thompson—a disgraced former reporter for the Intercept—with allegedly stalking a former romantic interest by making bomb threats in her name to Jewish Community Centers and the Anti-Defamation League. Weeks later, Israeli authorities arrested a 19-year-old hacker in connection with a rash of bomb threats lodged against similar Jewish facilities.
But Boyce pointed to the continued proliferation of pro-Nazi graffiti across the five boroughs, a key part of the 123 percent increase in anti-Semitic incidents so farthis year.
"The fact that there are swastikas throughout the city and that's where it is right now…but that continues and anti-Semitic is the most right now," he said.
Boyce also reported an uptick in hate crimes against black people.
"We do see an anti-black, it's 14 versus five, which is is 180 percent increase so we've seen an uptick in the last couple weeks on that as well," Boyce continued.
One of those attacks was Caughman's March 20 killing at the hands of James Harrison Jackson, who traveled all the way from Baltimore with the intent of murdering an African-American, gaining mass publicity and scaring people out of interracial relationships.
Jackson turned himself over to authorities and was charged last week with first- and second-degree murder as an act of terrorism, second-degree murder as a hate crime and three counts of criminal possession of a weapon,
The surge in bias crime has come in spite of what NYPD brass described today as the safest quarter for the city in modern history.
Boyce said that they investigate each hate crime as it occurs, noting that the NYPD is "increasing our investigative powers" and engaging the community to "get their help on these things."
"Hate Crimes Task Force was bumped up several individuals to go out immediately make arrests if we can," he said. "The swastikas are particularly problematic for us 'cause sometimes they're in transit, they're in buildings, we don't always have video. It's a difficult to prosecute, to investigate and prosecute."
De Blasio said that the way to deal with hate crimes is "part education and it's part consequences," saying that the NYPD has "done a very good job on the consequences" side of the equation.
"That's been proven over and over again, even some cases that were very complicated and took a while, they still got the people involved and you remember the threats that were so prominent a few weeks back and some of that took a lot of investigation, too, as Bob can attest," de Blasio said. "But they did find the people behind it."