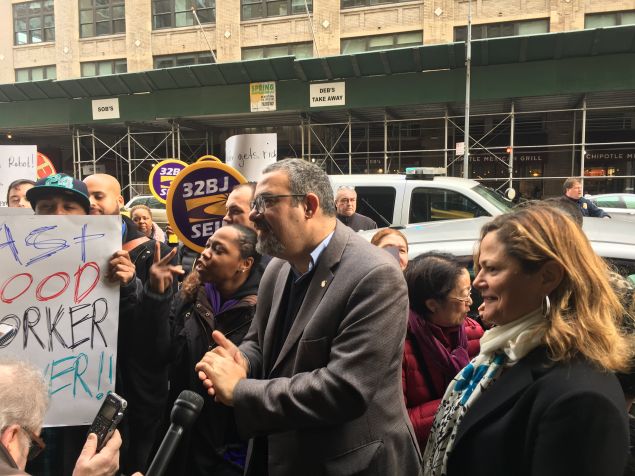 The head of influential building service workers union 32BJ SEIU today celebrated the release of the undocumented husband of one of his members from Immigration and Customs Enforcement Detention—and asserted that it is the duty of organized labor to help other foreign nationals facing arrest and expulsion to remain in the United States.
Union President Hector Figueroa held a press conference at his union's Manhattan headquarters this morning with doorwoman Yahaira Burgos and her husband, Juan Vivares—a man held since last month in ICE detention centers in the South pending his scheduled deportation. Vivares entered the United States illegally in 2011 fleeing what he described as political violence in his native Colombia, and has since sought asylum in the country, repeatedly appealed an immigration judge's order for his removal.
Nonetheless, ICE decided to hold Vivares in custody when he visited their Lower Manhattan office in March for a routine check-in—and Figueroa's union launched petition drives lobbied pols all the way up to Senate Minority Leader Charles Schumer to try to secure his release.
"Our heart goes to you, our continued energy and our commitment to continue again to fight for every single family that we can bring about and we have the power to do," Figueroa said. "And I want to thank very specially the members of 32BJ, our 160,000 members who understand that this is a union issue. They understand that Yohaira is one of us, and an injury one of us is an injury to all of us."
The Board of Appeals has granted Vivares a temporary stay, which will allow him to press his case to remain in the country on the basis of his American citizen wife and son. Burgos and Vivares gave their emotional thanks in Spanish, which the Puerto Rico-born Figueroa translated.
"To have gone through what we have gone through is the worst that can happen to any family," Vivares said. "Most immigrants, we contribute to the economy, we are hard-working."
Two-thirds of 32BJ's members come from foreign shores, and Figueroa and his union have become increasingly outspoken in opposition to President Donald Trump's aggressive immigration enforcement agenda.