Now 78 years old, Hermann Nitsch is a founding member of the Viennese Actionists, an art movement that captured the public's attention during the 1960s for its extreme performances involving ritual sacrifice, crucifixions and sex. Nitsch's work in the years since has continued to utilize animal blood, as a catalyst for both performance and painting. But, while the use of animal blood has certainly attracted attention to Nitsch's art, it has also drawn its fair share of criticism, most recently leading to the cancellation of a planned 2015 exhibition at Mexico's Museo Jumex.
Once again, animal rights activists are out for Nitsch's blood—specifically for that of a bull the artist plans to sacrifice on June 17 as part of a performance for Hobart, Australia's Dark Mofo festival, an annual music and arts event organized by the Museum of Old and New Art. A Change.org petition with over 6,000 signatures posted by the group Animal Liberation Tasmania is calling for the performance to be removed from the festival's programming on the grounds that it "trivializes the slaughter of animals for human usage, and condemns a sentient being to death in the pursuit of artistic endeavors," reports the Art Newspaper.
The festival is billing Nitsch's "Australian exclusive" as a "bloody, sacrificial ritual performance." A page for the event includes a biblical quote, courtesy Matthew 26:26, "Take and eat; this is my body," as well as a short film documenting some of the artist's past work for those unacquainted (complete with a warning flagging it as not suitable for viewers under 18), depicting a crucified man drinking what appears to be blood, which pours from his mouth down the front of his naked figure.
"Intensity is not a war. Intensity is not a killing," Nitsch told Vice's the Creators Project whild discussing his work in a 2015 interview. "Intensity is a painting by Cézanne. That's intensity. A performance with blood and meat. That is intensity."
But while Nitsch's unique brand of sacrifice has animal activists up in arms over whether or not it's seemingly right to shed blood for art, how much do Nitsch's performances differ from sacrifice performed for any other reason, religion or otherwise, considering that the practice has been maintained by humans for millennia? The ancient Greeks sacrificed animals to their deities, often consuming the meat and entrails to complete a ritual. Pre-Columbian Mayan and Aztecs are known to have practiced human sacrifice, and debate continues in the scientific community as to whether or not the Vikings did as well. And today, the artistic output of all the aforementioned cultures are both revered and preserved in the collections of the world's most prestigious institutions.
Nitsch and the Viennese Actionists began their unorthodox artistic practices decades ago, but ritual sacrifice has continued to be performed by other artists (see our interview with Vincent Castiglia, who regularly uses his own blood to make paintings), musicians, and in some cases even captured on film in some of Hollywood's most notable big budget titles, in the years since. In director Francis Ford Coppola's award-winning 1979 film Apocalypse Now, a water buffalo is killed in a ritual by machetes, an event which was not simulated and resulted in the death of animal who had allegedly been marked for slaughter. And in 2004, the Norwegian black metal band Gorgoroth performed their now legendary Black Mass concert in Krakow, a show which featured sheeps' heads impaled on spikes, nude models crucified on stage and a bath of sheeps' blood. In Coppola's case, Apocalypse Now won several Golden Globes, the Palm d'Or at Cannes and a few Oscars, and Gorgoroth became subject to police investigation, their concert footage confiscated and they were dropped from the rest of their tour.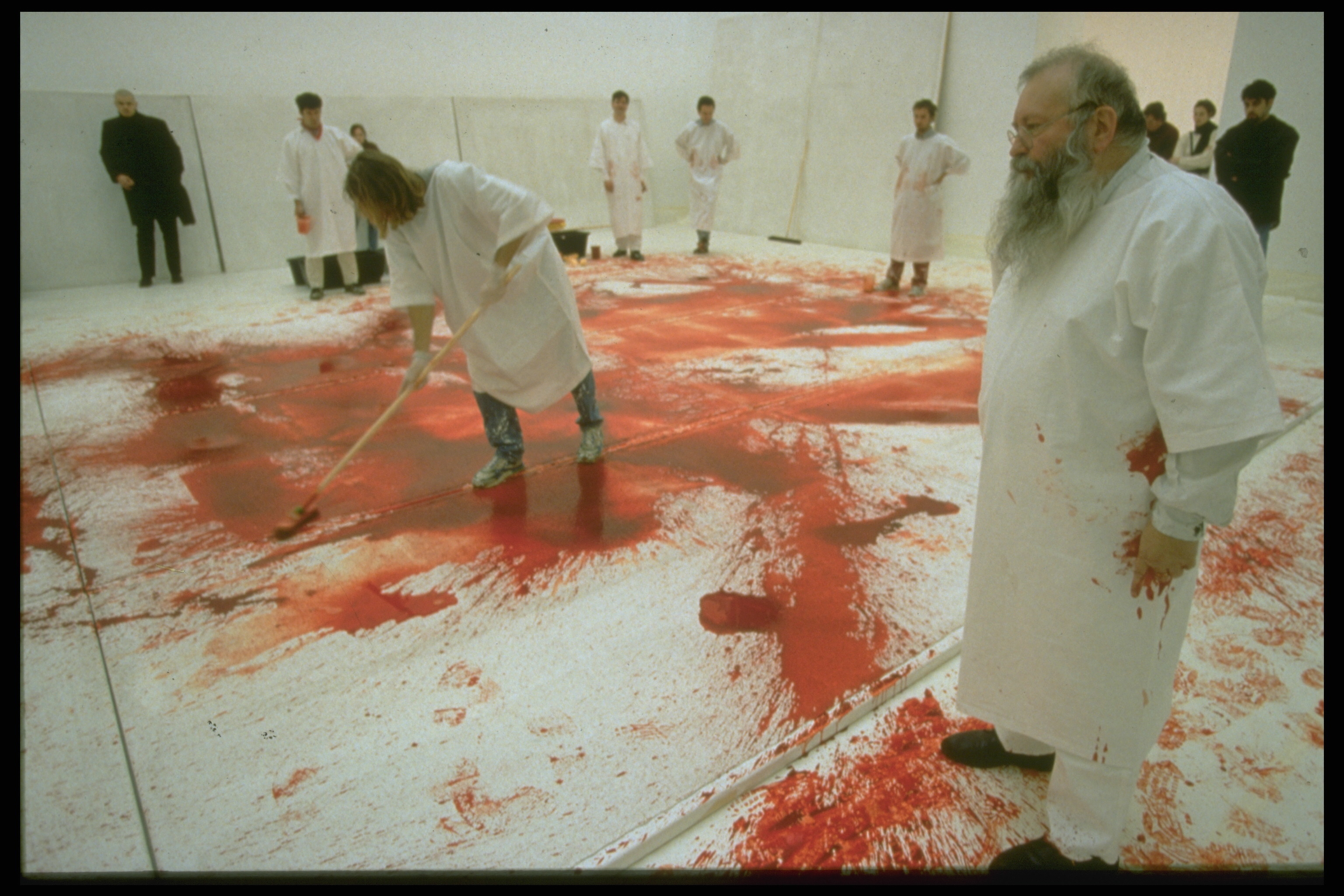 Ritual sacrifice for religious purposes continues throughout the world today. Nepal's Gadhimai Mela Festival near Kathmandu, which takes place every five years and honors a Hindu goddess, features the slaughter of over 500,000 animals, including buffalo, goats and pigeons. And in 2015, New York's Supreme Court ruled to allow the Orthodox Jewish community to continue practicing a 2,000-year-old tradition of killing live chickens in the streets for Rosh Hashana.
Responding to the protest against Nitsch's pending performance, MONA founder David Walsh wrote in a blog post, "I want the audience to ponder why meat for food is okay (at least people aren't protesting at Mona's barbeque) but meat for ritual or entertainment isn't."
"The animal to be used is specifically on the market for slaughter. The carcass will be sourced locally, and the animal will be killed humanely, adhering to Australian standards," said Dark Mofo creative director Leigh Carmichael in an email to the Art Newspaper.
Carmichael clarified in an interview with ABC Radio Hobart that the bull would not actually be killed during the three-hour show, but "slaughtered humanely before the performance," and that actors would simply be "using the carcass," adding that "it is the artist's intention that the meat be eaten after the event."
In his interview with ABC Radio, Carmichael emphasized that Dark Mofo has focused on "exploring ancient ritual and ceremony" since it began in 2013. Nitsch's performance happens to be preceded by his early work in the 1950s with the Orgien Mysterien Theater, which nodded (not very subtly) to the Greek tragedies and Great Dionysia celebrations, with performers wearing white smocks against a backdrop of orchestral music, often fusing ritualistic symbolism from both Pagan and Christian ceremonies.
There is an episode of History Channel's Vikings which explores that culture's alleged sacrificial practices in depth. Characters make a pilgrimage to the temple at Uppsala, where every nine years they sacrifice nine of every animal—chickens, goats, and so on—along with nine humans. The episode focuses on humanizing its sacrificial victims, and parsing the purpose of such extreme sacrifice. Since the show never shies from violence, viewers witness the entirety of the exhaustive bloody ritual, which is both horrifying and incredibly moving.
Of course, the show is fictional, and its dramatization is only meant to stir audiences. On the other hand is Nitcsch's work; if his performances are truly attempting to explore ancient ritual and ceremony (as the festival suggests) and intensity (as he suggests) then the sacrifice of an animal as a means for creating a very real, unavoidable and visceral experience about life and death isn't necessarily justified but it is an effective vehicle for exploring such themes.
"Some artists use paint, he (Nitsch) uses blood and meat. It is pretty powerful stuff, it is confronting, and it certainly makes me question my own ethical take on the work," said Carmichael.
Whether activists like it or not—and I'm not arguing whether Nitsch is right or wrong in his actions—art and history have set a strong precedent for blood sacrifice. No matter if it's in tribute to art or God or anything else for that matter, there's no substitute for the real thing.