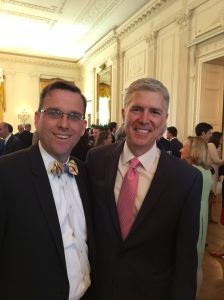 New Jersey lawyer Bill Hughes Jr. was one of the lucky guests invited to the Rose Garden ceremony where Neil Gorsuch took the oath to become an associate justice of the U.S. Supreme Court on Monday.
Hughes and Gorsuch have known each other for some time; they both attended Georgetown Preparatory School in Maryland. Hughes said he was "honored to witness my good friend Neil Gorsuch become a member of our nation's highest court."
The son of former U.S. Rep. William J. Hughes (D), Bill Hughes Jr. ran for his father's seat in 2014, mounting an unsuccessful challenge to Rep. Frank LoBiondo (R-2). Hughes joined the Morristown law firm Porzio, Bromberg and Newman this week as a principal.